Update
KNYSNA NEWS - A poignant interchange between one of the accused of Victor Molosi's murder and the investigating officer in the 18 months-long case reflected the tension that could be felt in the Knysna Magistrate's Court last week, moments before Judge RCA Henney finally handed down sentence.
As convicted murderer Vela Patrick Dumile was led down to the holding cells during a break before sentencing, he asked Sergeant Wilson Barnard: "Are you happy now?" To which an unperturbed Barnard retorted, "Go rot in jail."
Hundreds of Knysna residents and others who have followed the case since Molosi's murder on 23 July 2018, marched down from Concordia to the magistrate's court on Thursday 12 December to hear the sentencing of the three men who were found guilty of the crime the previous day.
The perpetrators
Former ward 4 councillor Velile Waxa (59) alongside his two co-perpetrators, former Knysna municipal official Mawande Makhala (43) and Cape Town's Vela Patrick Dumile (38) were sentenced to life imprisonment on the charge of murder, and five years in total on the charges of conspiracy to murder and possession of an unlicensed firearm, to run simultaneously with their life sentence.
Before delivering their fate, Henney called Waxa the "author and the brain of the conspiracy", who used his co-accused and the state witness to execute the murder, and labelled it an ''act of cowardice''.
Mawande Makhala, Velile Waxa and Vela Patrick Dumile were all found guilty of Victor Molosi's murder. Photo: Nwabisa Pondoyi
The judge said Dumile was the "ultimate killer", and added, "He pulled the trigger and his disability didn't prevent him or deter him from committing the murder." As for Mawande, Henney said he played no lesser role in the commission of the crime than the other two.
Initially the case was built around statements that Luzuko Makhala, Mawande's brother who turned state witness, made to the police. But when he later recanted his statements while testifying in court, the case was balanced on a knife's edge and many feared the state's case might fail altogether.
After hearing testimony from the two police officials who took down his statements, Luzuko was declared a hostile witness, but the court found enough grounds to admit the statements and for the case to continue.
Mawande 'used by Waxa'
During submissions in mitigation of sentence, Susanna Kuun, Mawande's lawyer, explained that Mawande was loyal to Waxa, looked up to him and was grateful that he had given him a job, but that her client was "was used" by Waxa. She also downplayed her client's role and tried to imply that he was not directly involved in the crime, upon which the judge replied,
"He actively participated. We are not dealing with a child… He was a participant. If it wasn't for him, this wouldn't have happened. He showed Dumile were Molosi stayed." Daan Dercksen on behalf of Waxa acknowledged the seriousness of the offence and conceded, "I cannot convincingly argue that there any outstanding or compelling circumstances to convince my lord to give another sentence other than life sentence; however, the only argument I can make is that my client's unblemished record is deserving of leniency."
Velile Waxa.
'Cold-blooded murderer'
Dumile's defence, Flip Theron, cited his client's epilepsy and permanent injury in mitigation of sentence. But Henney stated: "He [Dumile] is a cold-blooded murderer, his health didn't prevent him from committing the crime."
Theron also said his client was unemployed when he was offered money to do the job. Henney replied, "Are you saying that's why he committed the murder?"
All three defence lawyers also mentioned the fact that their clients are fathers. But state prosecutor MP Heyns, when it came to arguing in aggravation of sentence, said: "These men will still see the sun rise, tomorrow their children will still have fathers – his [Molosi's] won't."
Calling them "grown men, not children", Heyns added, "They made their choices and they must live with them. They had ample chance throughout the case and now they must live with their choices. It cannot be said that there was any remorse from them."
Mawande Makhala.
Killing 'left a big void in Knysna'
The prosecutor also referred to political killings being rife in the country, and said, "We cannot allow it, nobody should be taken out of the system except through democratically being voted out… The killing of the deceased left a big void in Knysna. It is clear he was a loved leader, played a vital role. From my discussions with people, this man was destined for greater things."
As the men were brought back into court before Henney delivered his sentence, they were seen chatting and laughing, with Waxa even showing peace signs to the media. And Dumile lashed out at the gallery with words such as "hayisuka" (loosely translated as "bugger off") and Mawande seemed indifferent.
The news of their sentence was received by thrilled community members who erupted into liberation songs and continued dancing outside the courtroom before marching in high spirits to Molosi's residence.
In an unexpected turn – after Heyns, upon an enquiry from the judge, told the court last week that the state witness was "evading the police" – Luzuko handed himself over on Friday 14 December.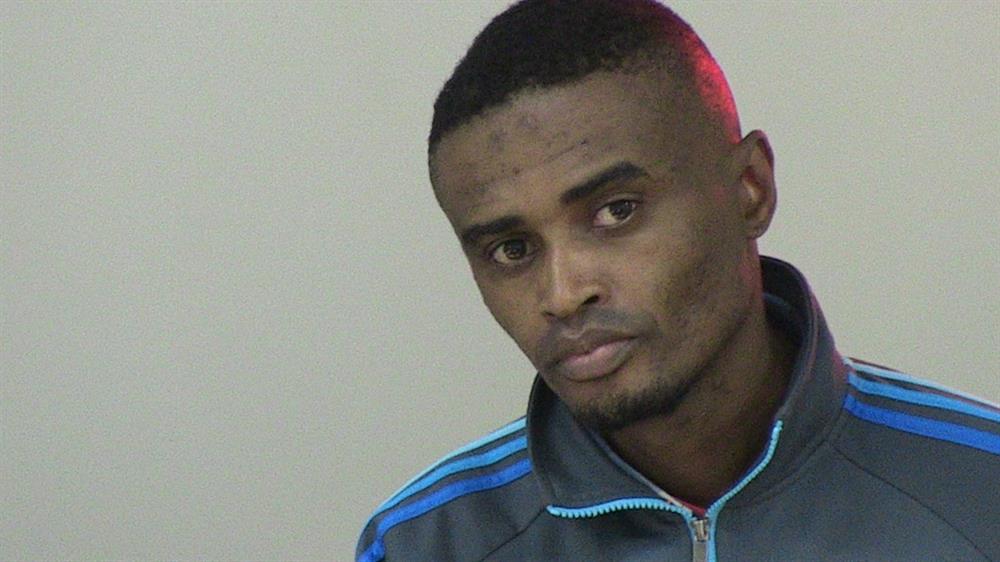 Vela Patrick Dumile.