KNYSNA NEWS - The three men charged with the murder of Victor Molosi had to set their feet where Molosi last walked, pass through his property, and visit the crime scene 15m from his home as well as a couple of other places mentioned by witnesses during a sombre site inspection with the judge, defence attorneys and police officials on Thursday 24 October.
This procession involving the accused Velila Waxa, Vela Patrick Dumile and Mawande Makhala through Concordia – the ward where Molosi lived and was revered as ANC councillor – was met by angry comments from the community, who shouted, "Please give Vela to us", "Waxa, where is your traditional healer now?", "Waxa, are you wearing diapers now?"
A day before the site inspection, the declared hostile state witness, Luzuko Makhala – who is the brother of the one accused – finished his testimony in the Knysna Circuit High Court where judge RCA Henney indicated he should get himself ready to explain why he believes he still qualifies for indemnity from prosecution.
Next on the witness stand was Zamubuntu Blaai, acting principal at Concordia High School during the time of the murder and the person who drove Molosi to hospital after he was shot.
Events on night of murder probed
Blaai said on the fateful night of Monday 23 July they attended a school governing body meeting with Molosi who was the chairperson. After the meeting Molosi was waiting at the gate with Ms Mbalo, Ms Mqeke and councillor Aubrey Tsengwa (who has since been elected as Knysna's deputy mayor) and according to Blaai, Molosi asked for a lift for all of them. "As I was about to take my first left, Molosi stopped me and said I should not use that gravel road, it's bumpy. I proceeded to the tar road and dropped him close to the church."
Molosi, who had walked to the meeting, was the first to get off. Blaai said it was quiet and he remembers seeing a girl who goes to the school and a boy. He then proceeded to drop off the other people. "Tsengwa was the last person to be dropped off. His phone rang, I don't know who called him but I could hear his replies. I heard him say the meeting is finished and we dropped Buda (Molosi as he was affectionately known by some) next to his house, and then he said 'Yoh, lets turn around' and told me it was 'sister' (Molosi's wife) who called saying Buda was not home and that she had heard three gunshots."
'He had a wound on his cheek'
He said they rushed to the scene and on arrival, where he was expecting to see Molosi, it was Molosi's son Dumisani he saw instead, calling him and saying, 'Meneer, nanku Tata' ('Sir, here lies my dad).
"And indeed, there he was lying opposite his house," Blaai said. "We called an ambulance but they were taking too long asking about street names.
A policeman who was there suggested we drive Molosi to the hospital in my car. He was still breathing, unable to speak, gasping, and he had a wound on his cheek. We loaded him in the vehicle and his cap fell off."
A few minutes later, while still waiting outside the hospital, Blaai said, a doctor called to inform them of Molosi's passing.
Mawande's laywer Susanna Kuun had no questions for the witness. Daan Dercksen, who represents Waxa, questioned Blaai about Tsengwa's behaviour during the school meeting, his activity on his phone and in what capacity he attended the meeting. Blaai replied that Tsengwa's behaviour was "normal" and that being on a phone during meetings was a norm for Tsengwa as also for the deceased councillor.
Dumile's lawyer Flip Theron only wanted clarity on how Blaai could see the girl after dropping Molosi off if it was dark, and Blaai replied that there were streetlights that illuminated the girl and boy referred to in his testimony.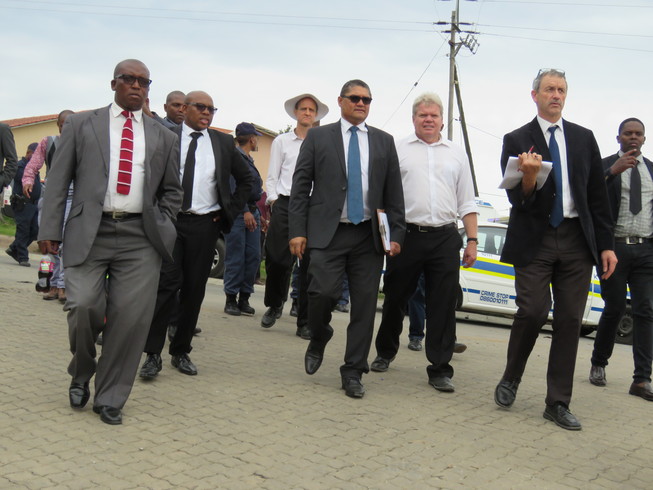 Interpreter Aubrey Jonase, Bulenani Bans (Dercksen Attorneys), lawyer Flip Theron, judge RCA Henney, lawyer Daan Dercksen, and state prosecutor MP Heyns, among others, during a site inspection in Concordia on Thursday 24 October. Photos: Nwabisa Pondoyi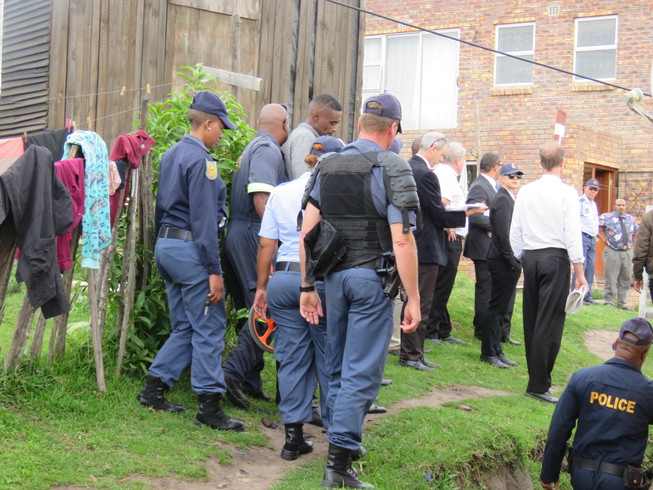 Law enforcement officers at the site inspection.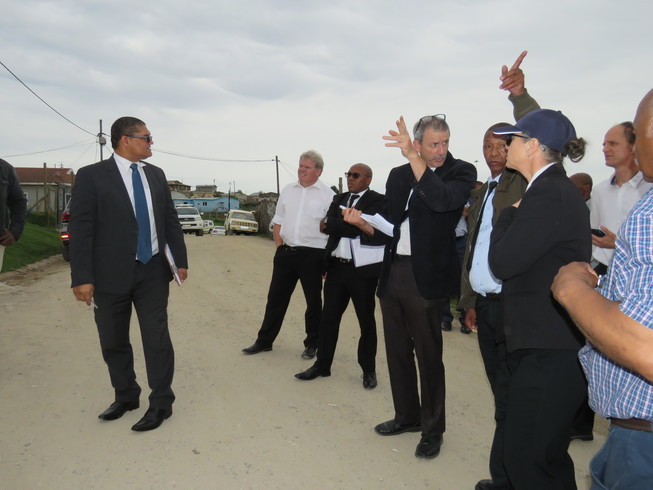 From left: Judge RCA Henney (in front), Daan Dercksen and Bulelani Bans (Dercksen Attorneys), state prosecutor MP Heyns, Captain Reginus Quine, and lawyers Susanna Kunn and Flip Theron (at the back, with white shirt).
Read previous articles:
'We bring you the latest Knysna, Garden Route news'