KNYSNA NEWS - While doubts were mounting that the prosecution's case in the Victor Molosi murder trial would not hold water, the decision by judge RCA Henney to allow the original statements by key state witness Luzuko Makhala in evidence has afforded the prosecution some breathing space.
Because this would mean Luzuko's statements could now be used to show possible cracks in the testimonies of the accused.
After the state had called all its witnesses and concluded its case last week, Henney had the onerous task to decide whether to admit the state's star witness's original police statements – on which the prosecution's entire case pivots. This became an issue because Luzuko, the brother of one of the accused, deviated so drastically in court from the statements he made to the police shortly after Molosi's assassination last year, that he was subsequently declared a hostile witness.
Molosi was gunned down near his home in Concordia on 23 July 2018 and four men were subsequently arrested. The trial of murder accused, former Knysna councillor Velile Waxa, former municipal employee Mawande Makhala and Cape Town resident Vela Patrick Dumile, has been ongoing since early October this year, and the trial of former Knysna Taxi Forum secretary Mandla Tyololo, charged in a separate case of conspiracy to murder Molosi in 2016, will commence as soon as this murder trial concludes.
Instrumental testimony
Luzuko was instrumental in the arrest of all three murder accused, which included his brother Mawande. According to his original statement, Waxa masterminded the murder and got Mawande to contact him (Luzuko) in Cape Town to organise a hitman (allegedly Dumile) and transport him to Knysna. He further alleged it was Mawande who pointed out Molosi's house to the hitman and fetched the money from Waxa the day after the murder.
On Wednesday last week, Henney had told state prosecutor MP Heyns: "Without the evidence, you have no case. If I don't admit the statement, they [accused] walk. That is the importance of the evidence."
Heyns acknowledged that the state had put all their eggs in one basket but argued that Luzuko lied in court to protect his brother and went as far as paying for his legal costs.
Daan Dercksen, for Waxa, did not mince his words when he said, "This is what happens when you bet all your money on one horse… The state failed." He asked the state, "Where are your bank statements? Where are the crutches of this story? Crutches could've been provided with a little bit of diligence."
But after weeks of anticipation from all those in the gallery who have been closely following the case over the past year, let alone the parties themselves, judge Henney's decision to admit Luzuko's original statment as evidence before the court was met with an almost visible sigh of relief.
'Shameless liar'
"Luzuko Makhala is a liar, a shameless liar who walked into court with a purpose to absolve the accused, recant the statement the case was built on. Why would the court close its eyes to that? Would it be in the interest of justice to accept the statement?" the judge said.
According to Henney, Luzuko on 9 October deviated from his statement in a cunning manner after he saw where he was going and the enormity of it all. "He himself knew it depended on him… There is a likelihood that an advocate swayed him to protect his brother."
Determined to explore all their options, the defence attorneys nevertheless then formally filed for their clients to be discharged according to Section 174 of the Criminal Procedure Act on Monday 11 November, which the court dismissed the same day after their arguments fell flat. This opened the floor for the accused to take the stand for the first time this week since the trial started more than a month ago.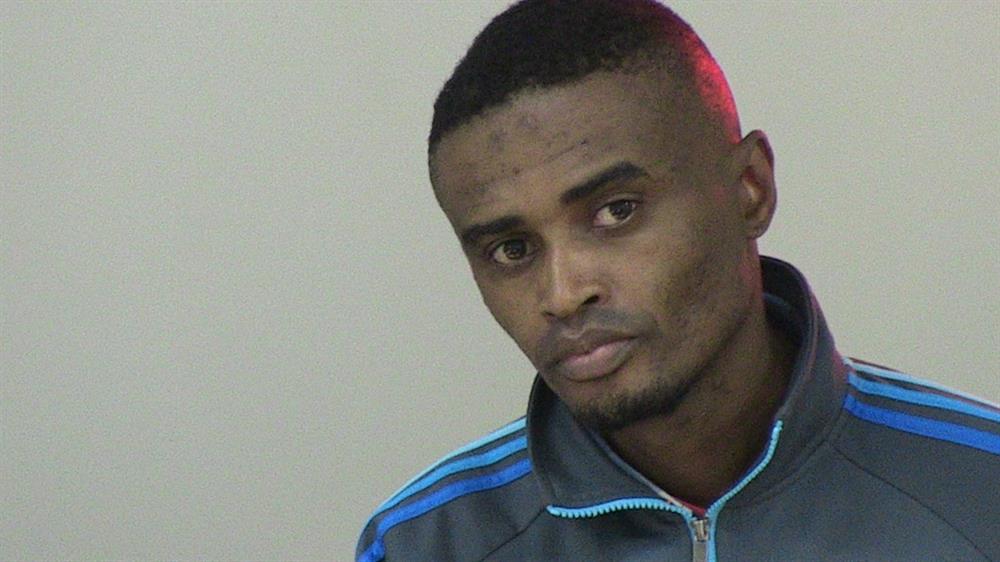 Vela Patrick Dumile. Photo: Mike D'Eboux
---
Mawande first to field crossfire
During his testimony this week, Mawande Makhala contradicted his original statement made to investigating officer Xolani Petros on 2 August last year on several points, as follows:
In the statement, he said that on 22 July 2018 (a day before the murder) he was with his brother and key state witness Luzuko and others at the Pop Inn tavern in Concordia. However, when confronted this week with the cellphone data records that showed calls between him and his brother when they were supposedly sitting together in the small tavern, he said he was drinking at the time and doesn't remember the events, but he seemed to remember what he drank on the night, what time he got home, who took him home and where he slept.
After he first denied knowing the person (Dumile) who was with his brother at the tavern – saying it was "someone from the Eastern Cape" who Luzuko had given a lift – and later admitting he knew the man, Mawande replied that when Petros wrote down the statement he might have confused events.
When Mawande was arrested on 14 August 2018 after his brother Luzuko turned state witness the day before (13 August), all his belongings had been loaded onto a truck, as was testified by officer Petros. The reason for this, Mawande said, was that he had feared for his life – reprisal from a community who loved Molosi – because his name had come up during the first appearance six days earlier (on 8 August 2018) of Mandla Tyololo, the fourth man arrested after the murder (whose case on a charge of conspiracy to murder Molosi in 2016 is being tried separately from the murder trial).
The state argued, however, that he did this because Luzuko had called him to say the police were on their way to him (Mawande) after he had spilled the beans.
After denying that he pointed out Molosi's house to Dumile, the judge asked him who out of the three men (Dumile, Luzuko and himself) knew Molosi and where he stayed and was in other words most likely the person to point out the house, he conceded it would have to be him.
Mawande said it was Waxa who first got him a job at the municipality in 2003, to replace his oldest brother when the latter could no longer do the job (demolishing illegal structures), due to health issues.
In 2005, Mawande, who admitted that he only has Standard 1 (Grade 3), was appointed as a senior clerk at the municipality in 2005 but he has denied that Waxa had organised this position for him. When judge RCA Henney asked him based on what qualification did he get the job, he replied, "I don't have qualifications. The first job was a better fit because I am illiterate … it was my luck."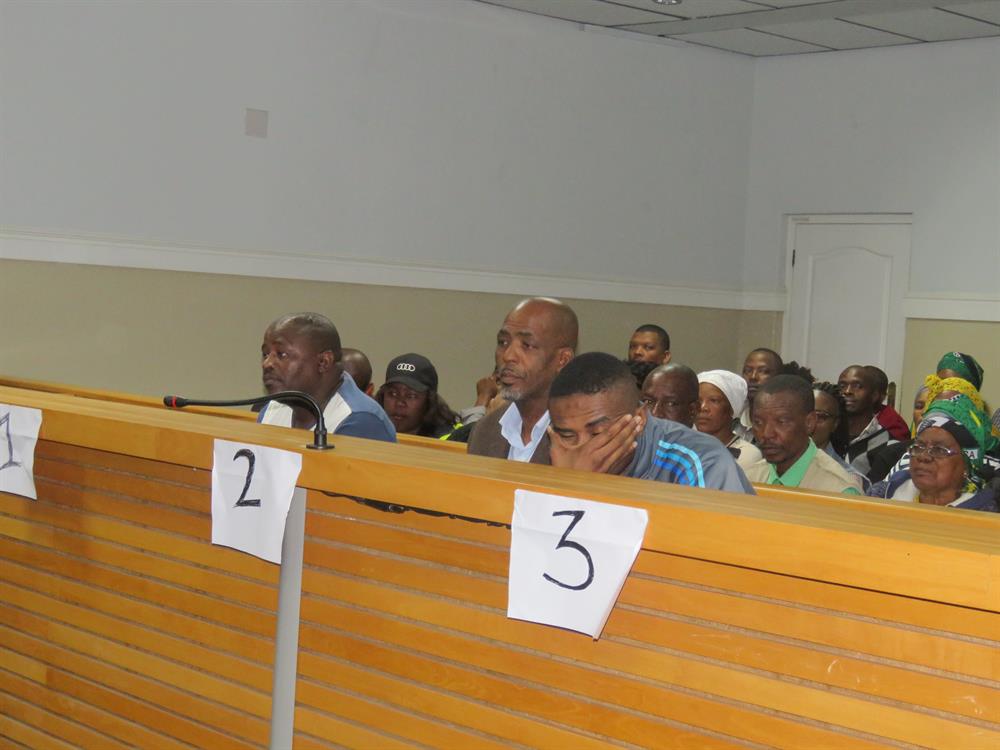 Murder accused Mawande Makhala, Velile Waxa and Vela Patrick Dumile. Photo: Nwabisa Pondoyi
Read previous articles:
'We bring you the latest Knysna, Garden Route news'