Gallery Update
KNYSNA NEWS - The provincial minister of human settlements has promised residents of Rheenendal answers to their housing issues by 14 June, but until then the residents say they will carry on building their own makeshift homes.
Minister Bonginkosi Madikizela's visit to this community just outside Knysna may have left a bad taste in some residents' mouths, but it was generally well received on Sunday 27 May.
The people have been protesting the lack of housing in their area since 18 May, by erecting informal dwellings on open pieces of land previously earmarked for development. Scuffles with public order policing units and law enforcement followed, but by 22 May had died down completely.
Minister 'surprised'
Some residents expected the minister's visit to culminate in a Q & A session, but Madikizela merely addressed the community briefly before leaving. He did, however, do a quick inspection of the areas where residents had started erecting informal dwellings. Some feel that the minister left them hanging, and they still don't know what will happen next.
Click here for a photo gallery.
Madikizela told the mass of residents who turned up that he was very surprised that nothing had been done for the people of Rheenendal since he visited several years ago. "I understand the issue of this area… I think it was in this hall (Rheenendal community hall) four or five years ago that we discussed it... and I said to the municipality then that they need to include this community in their business plan. I even said to the mayor how surprised I was, but this was before her time."
At this point some residents chimed in with a "thank you!".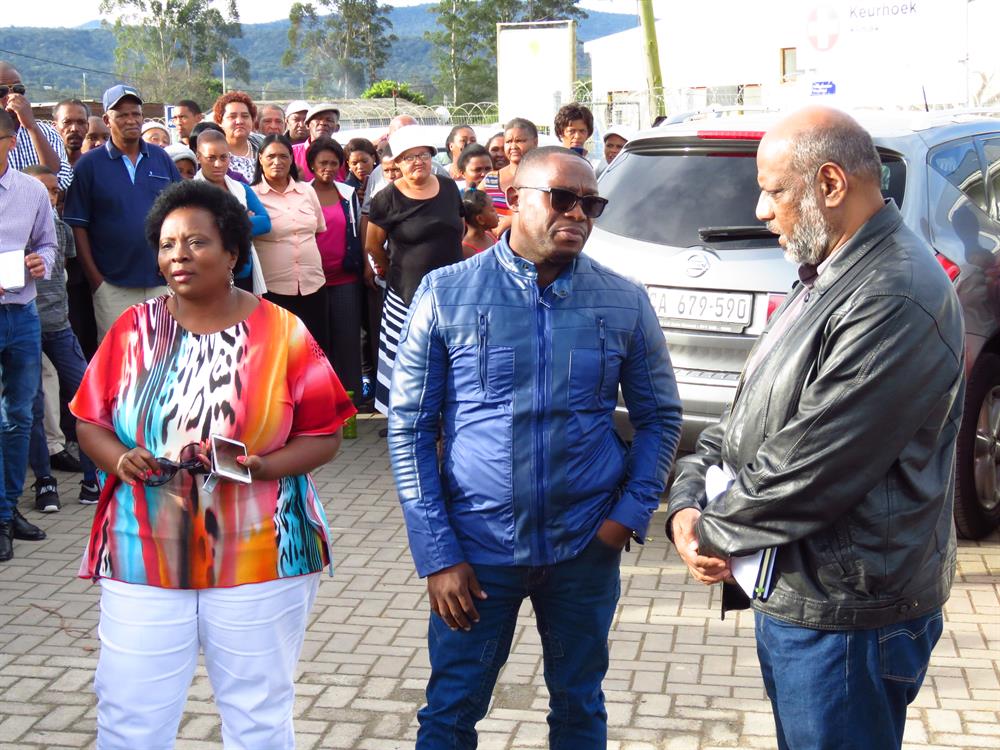 Knysna Ward 5 councillor and also mayor Eleanore Bouw-Spies (left), provincial minister of human settlements Bonginkosi Madikizela, and municipal manager Kam Chetty on Sunday 27 May in Rheenendal just before the minister addressed the community. Photos: Stefan Goosen
'I am taking this seriously'
He added that he has now taken it upon himself to deal with the matter and will revert back to the community by 14 June with answers to their many questions. He also asked for the community leadership to work with him, and for residents to be patient. "I am taking this very seriously," Madikizela said.
His main concern, he stated, was that people would continue building structures and that those deserving of housing would not be able to get them. "We need to subdivide everything properly to ensure that development can continue in an orderly manner," he said.
According to the municipality, Madikizela came to Knysna at the request of Ward 5 councillor and Knysna mayor, Eleanore Bouw-Spies.
"I phoned the MEC and asked that he and his officials visit the area. A visit would allow him to assess the situation for himself, making it easier to formulate a plan of action," said Bouw-Spies.
Draft plans to be considered
A municipal press release stated that during a meeting with the provincial department of human settlements on 21 May it was agreed that the draft plans for plots on the municipal land "would be considered for approval of conditions".
These conditions included that:
the municipality be given access to the land to demarcate the plots;
beneficiaries of the plots be confirmed in terms of the Human Settlement policies;
the community refrain from building any further illegal structures;
interim services will be supported by the provincial department of human settlements; and
further housing phases in Rheenendal must be developed and planned jointly.
After the minister's address, many community members still wanted to talk to their ward councillor Eleanore Bouw-Spies (centre of picture).
Operational centre to be established
It further said that in the interim, Bouw-Spies will ensure that an operational centre is established at the Rheenendal community hall. Residents would be able to check if their names appear on the updated Rheenendal housing waiting list.
In closing, Bouw-Spies said, "Irrespective of whether housing is legally and/or technically a municipal function, it is important that the constitutional rights of all our residents to adequate and sustainable human settlements are upheld."
Laya Kiewiets of the Rheenendal housing committee reported that most residents have continued building as they have already measured out their own plots and won't stop building. "They want the municipality and province to provide them with alternative plots first before they move," she added.
Kiewiets said that municipal engineers were on site on Monday 28 May, identifying and measuring out plots, and told them that if things went well and plans could be submitted as soon as possible, the process of building could start as soon as two weeks from then.
"But we are waiting to hear from the municipality. The primary goal is still the supply of temporary services," she said.
She added that the committee has a meeting scheduled with officials from the municipality for Thursday 31 May at 18:00.
Read previous articles:
'We bring you the latest Knysna, Garden Route news'