Gallery Update Video
KNYSNA NEWS & VIDEO - "You are not a woman, you are a monster making empty promises to good people!"
This is how Justin Lamini of Rheenendal referred to Ward 5 councillor and mayor of Knysna, Eleanore Bouw-Spies on Monday 21 May.
Click here for a photo gallery.
He is just one of scores of Rheenendal residents, specifically Keurhoek, who say they are fed-up with Bouw-Spies and the Knysna Municipality for failing to address their housing needs.
'Squatting' protest action
Since Friday 18 May, residents have expressed their anger and frustration towards the municipality and its mayor by erecting informal dwellings on a disused sports field, almost right in the centre of Rheenendal. To date, various police units have been on the scene to occasionally disperse the incensed crowd with rubber bullets and tear gas.
More than a year ago, on 23 January 2017, the community had reverted to protest action over the same issues. They said at the time that they were tired of empty promises from the municipality and wanted answers as to when they would receive housing.
Shortly after, during February 2017, the Keurhoek Housing Committee was formed to try to address these issues.
'Just empty promises'
Since then, locals say, they have just been met with more empty promises. During a visit to the community, this journalist was surrounded by the hordes of residents who wanted to tell their stories. The housing committee stepped forward as the voice of the Rheenendal people.
According to representatives Elroy Barends, Yolanda Pietersen and Laya Kiewiets, Bouw-Spies has been promising them housing since 2015 during her election campaign. "There haven't been any houses built here since 2000. She kept on promising us that we would get housing, and according to the mayor clearing of land would have started by 1 April this year. But here we are, still without houses and no answers as to when we will get any," the highly upset group said.
"Nothing happens and we have had enough," Barends emphasised.
'Communicate with us!'
According to Pietersen, the mayor knew the community would start squatting if their needs were not met. "We had a housing public participation meeting scheduled by the municipality for 10 May. We contacted the mayor's office beforehand about the meeting and were informed by her secretary that she had no knowledge of the meeting. But how could this be? She is the mayor! I also spoke to a different municipal official and asked him that if the meeting is cancelled they should communicate that to us, but they didn't and Eleanore never showed up for the scheduled meeting," Kiewiets said.
"On 10 May we were left standing like fools outside the civic hall, waiting for her," added a furious Pietersen.
Mayor 'sent to police to attack us'
During a meeting on Tuesday 15 May, said Kiewiets, the community unanimously decided that they would start protesting by erecting dwellings on property supposedly earmarked for housing, and about 100 families did just that by setting up structures around Rheenendal.
"Then she still sent the police to come attack us – she didn't even come herself!" Kiewiets exclaimed. "The gas that police shot at us affected children and the elderly."
The three committee members admitted that at one point the protesters had placed a tree across the road to keep other residents and motorists from leaving or entering the community. "But we did this to ensure everyone stood together because this issue affects us all – everyone is in need," said Pietersen.
They maintained that they acted peacefully, but that the police "just shot at us for no reason".
"We would have removed that tree if Eleanore just came to talk to us, that is all we wanted."
'Police fired gunshots'
According to the three, on Friday the mayor sent a man called Luvuyo Molitshwa who told them that because they were farmworkers they would not get housing.
"And from then on we were attacked by police. At one point two actual gunshots were fired by a policeman, a woman was beaten by law enforcement, and they pelted us with tear gas," Pietersen added.
Lamini then told how shots were fired into houses and gas grenades thrown into gardens.
On Monday 21 May, at about 17:00, Bouw-Spies finally visited the community following a meeting at the municipality earlier that day with the housing committee. She was accompanied by Integrated Human Settlements manager Mawethu Penxa.
All went well as Bouw-Spies and Penxa in turn explained the processes involved in erecting proper housing for the community, along with the necessary infrastructure.
Watch videos below.
Amicable solution sought
Bouw-Spies said the municipality, along with provincial and national government, are going to work with the housing committee and the community to find an amicable solution to the community's needs.
The peace was short-lived though, when a scuffle broke out as residents started fighting over who could address the mayor next. The meeting was immediately stopped and Bouw-Spies along with other municipal officials were ushered off the scene in a hurry. The community was not happy.
Some of the people there started complaining that Bouw-Spies had not given them proper answers. "We still don't know when we will get houses. She must come back and give us answers," one shouted. Public order police stepped in immediately and sent residents running.
Southern Cape police spokesperson Captain Malcolm Pojie confirmed this week that the Knysna police, the George public order policing unit and municipal law enforcement were dispatched to the araea on Friday 18 May to stop the invasion of about "300 aggrieved residents of Rheenendal (who) forcefully claimed and marked off plots … where they started to erect structures."
'Riotous crowd threw stones'
Pojie said that the next day, Saturday, as well as on Monday 21 May the community became riotous throwing stones and barricading the roads with burning tyres and huge tree stumps. "Police members on the scene had to use stun grenades and tear gas to disperse the crowd."
He said a public violence dossier has been opened for further investigation, but that no arrests have been made yet. "The situation is closely monitored with the deployment of adequate members and resources attached to our public order policing unit from George," he said.
On the allegation of live rounds being fired, Pojie said it was unfounded and untrue, and urged the source of the information or rumour to report the incident for further investigation.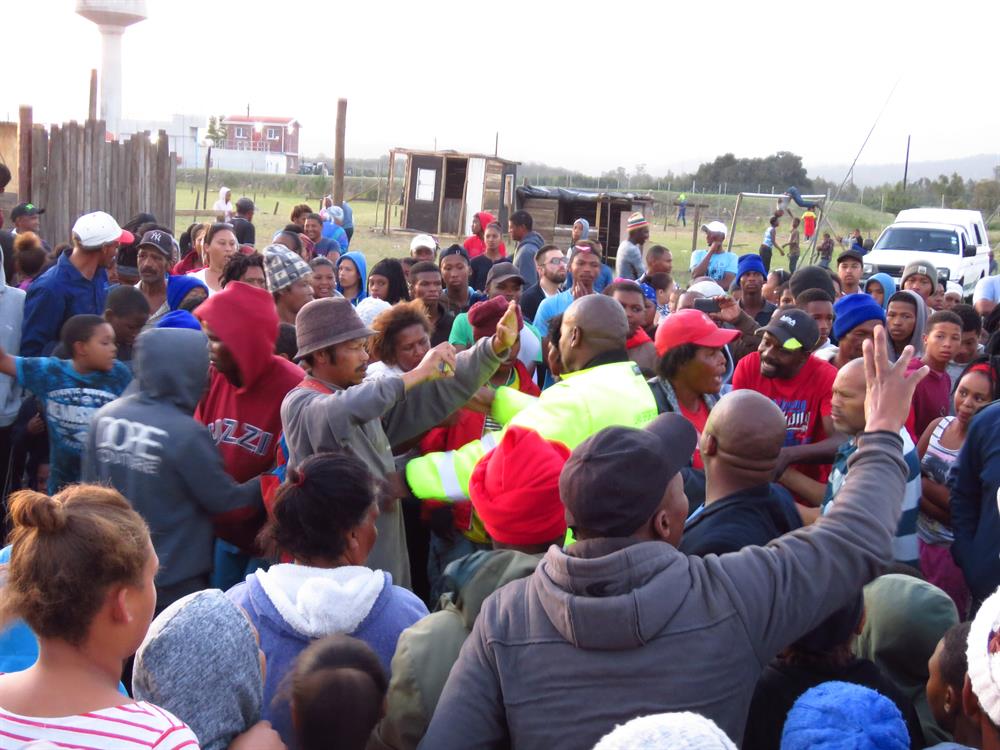 Residents get involved in a scuffle with local law enforcement (yellow jacket) as they fight for a chance to say their say. Photos: Stefan Goosen
'Protest action continues'
On Wednesday morning, 23 May, Kiewiets reported that a meeting had been set between the housing committee and the municipality for 18:00, but that they were continuing with their squatting action.
Not only has this protest affected all Rheenendal residents, but all neighbours including those in Keurhoek and Bibby's Hoek.
Some living in the Keurhoek area say they heard gunshots and loud bangs all weekend, while some farmers could not transport their employees to work. In town, residents have become worried that this incident will have a severe knock-on effect in town, possibly spurring on other communities to do the same.
One anonymous Brenton resident, whose one employee has also been affected by the protest, said he suggested to an official that the municipality should put their proposed plan in writing and place it somewhere in the Rheenendal community for all residents to access, and to ensure they do not interpret feedback from the mayor incorrectly. "This will clarify their position, along with publishing a map of where houses will be erected," he added.
Muni an 'implementing agent'
Knysna Municipality spokesperson Christopher Bezuidenhout reiterated Bouw-Spies and Penxa's comments that the provision of housing is a provincial and national mandate, and that the municipality is merely acting as an "implementing agent".
"Knysna's responsibility is to assist in the planning, identification of suitable land, assistance to qualifying beneficiaries, and these developments must form part of the IDP and SDF processes," he said.
Answering questions about why the process is taking so long, he said, the municipality had submitted a feasibility and planning application with the provincial human settlements department during the past year. "The pre-feasibility study is with province and we await their response in this regard," he said.
Plans moving forward
Regarding what the municipality is doing to address the issue at hand, Bezuidenhout said an urgent application for the provision of interim basic services is being packaged and will be submitted to province. "Engagements with private landowners for the acquisition of additional land for housing is in progress," he added.
Asked for a timeframe, Bezuidenhout said it is an "extremely complex" matter.
"It is therefore very difficult to give an exact timeframe considering all the factors that must be taken into consideration. Province will give clarification on the development stages, which will be communicated with the community once available," he said.
In total, the municipality has applied for 322 serviced sites and top structures.
Land invasion illegal, says muni
The municipality further said it could not condone the action by residents. "The invasion of municipal or private land by anybody is illegal…we appeal to residents to abide by the laws of the country. Land seems to be a burning issue in our country at the moment. We wish to call on all our residents to be patient – please do not take the law into your own hands. We understand their frustration, but we are working with provincial and national government to address current backlogs to the best of our ability. We cannot do it without them," said Bezuidenhout.
Asked whether the municipality wanted to comment on residents' statements that their ward councillor lies to them, makes empty promises, and is not involved in the community, and why it took her three days to visit her ward when the protests started, Bezuidenhout offered the following reply:
'Mayor engages regularly'
"The executive mayor has regular engagements with the communities of her ward, including ward committees, youth council and the council of stakeholders. These engagements are also reported on to council. Ironically, the latest meeting in Rheenendal was on Thursday 17 May. The mayor's diary for the day included a number of engagements and topics including the status of housing in the area. It is extremely harsh to allege that the mayor is not involved in her ward. The mayor had to attend the funeral of her cousin over the weekend. The deceased was a teacher at Rheenendal Primary and the community is well aware of their close relation."
Regarding comments made by Luvuyo Molitshwa, Bezuidenhout said that the community member or members must provide the municipality with an official complaint for investigation. "We cannot comment on hearsay statements."
At the time of going to print on Wednesday 23 May, no official response to questions directed at Bouw-Spies as ward councillor, was received from her office.
A horde of Rheenendal residents clamour around journalist Stefan Goosen all eager to tell their story.
Read previous articles:
'We bring you the latest Knysna, Garden Route news'