KNYSNA NEWS - After nearly 18 months of hand-wringing, sorrow and anger, the verdict is finally out. Guilty, guilty, guilty!
This was the verdict for all three accused in the controversial and dramatic case following the tragic shooting of respected community leader Victor Molosi.
Judge RCA Henney finally delivered his judgement a few minutes short of 18:00 on Wednesday 11 December in a packed courtroom at the Knysna Magistrate's Court.
Speaking on behalf of the slain ANC councillor's family, Aseza Gungubele, Molosi's brother-in-law, said justice has finally prevailed and this now means the family can start healing.
Former independent councillor Velile Waxa, former municipal employee Mawande Makhala and Cape Town resident Vela Patrick Dumile were charged with the murder on 23 July 2018 of Molosi after he was gunned down mere metres away from his home.
"I am convinced beyond reasonable doubt that all three men were involved in the planning of the murder. The evidence against them is overwhelming and I'm satisfied that all three together with the state witness planned and executed the murder."
The state has built its case largely on the testimony of Luzuko Makhala (the brother of Mawande) who turned state witness. In his statement, Luzuko fingered Waxa as the mastermind behind the murder, Mawande as having assisted in the execution of the plan and Dumile as the hitman. However, when it came to testifying in court, Luzuko left out all the material details of the murder, said he was led by the police when he made his initial statement, and he was subsequently declared a hostile witness by the court.
Apart from the hostile state witness backtracking on his initial statement to the police, the judge said there is strong independent, objective evidence made by Molosi's wife Nomonde, son Dumisani and another witness which made his first statement credible.
"People cannot get away with murder," the judge concluded.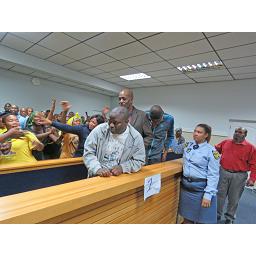 Community members cheer as Mawande Makhala, Velile Waxa and Vela Patrick Dumile are preparing to leave the courtroom in custody. Photos: Nwabisa Pondoyi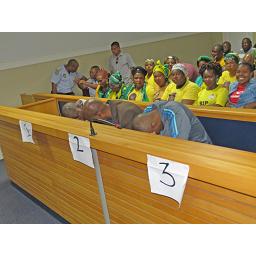 The three accused in court.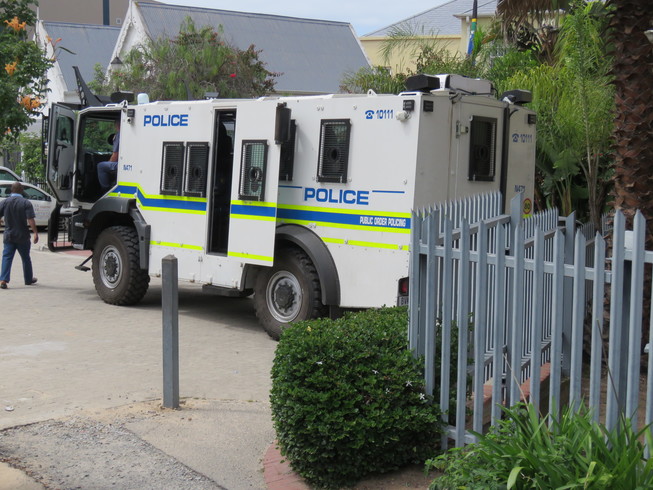 A strong police presence both outside and inside the courtroom prevailed throughout the day in anticipation of the judgement.
See details of the accused Velile Waxa's testimony here: Waxa waxes and wanes in the witness box
Read previous articles:
'We bring you the latest Knysna, Garden Route news'