Gallery Video
GARDEN ROUTE NEWS AND VIDEO - The third accused in the Meghan Cremer murder case, Shiraaz Jaftha (34) who is charged with kidnapping, abandoned bail during his application for release at the Athlone Magistrate's Court in Cape Town yesterday (Wednesday 11 September).
This, after representatives of the new activist movement SA Women Fight Back (SAWFB) were also there to deliver a no-bail petition that had garnered 62 000 signatures.
Both accused nos. 1 and 2, Jeremy Sias (27) and Charles Daniels (39) respectively, charged with murder, abandoned their bail applications during the previous appearance on 15 August. Daniels is also charged with theft of motor vehicle.
State prosecutor Enver Hartnick already revealed that all the accused have pending cases against them, including murder in the case of Jaftha.
Cremer lived on a horse farm in Philippi on the Cape Flats when she went missing on 3 August. Her body was found on sand dunes in the area about a week later.
Watch a video below:
Video: Supplied.
Since 8 August when the SAWFB movement was started, its members have grown to a staggering 187 000 and counting. This was the same day Cremer's body was found and the day before South Africa celebrated Women's Day.
SAWFB administrator Kim Bouchier commented, "No suspects with pending cases should ever get bail."
The movement's founder Bronwyn Litkie was among the handful of supporters dressed in black at court and said she never expected the movement to be so big. She said the biggest challenge is moving forward. "We have a massive task ahead of us with regard to the country's lack of resources like rape safe-houses and making sure our president sticks to his words.
She added, "The Facebook page has its own challenges. Keeping women unified in such hard times is difficult."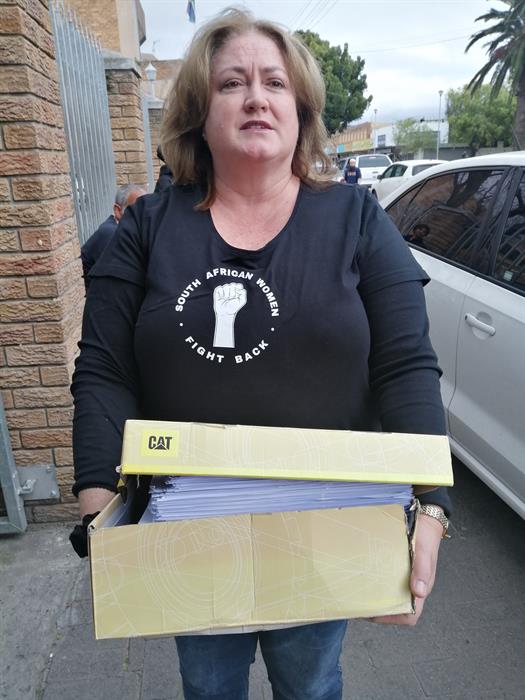 SA Women Fight Back's Kim Bouchier delivers the Meghan Cremer no-bail petition with 62 000 signatures at Athlone Magistrate's Court on Wednesday morning. Photos: Lee Jay
Read previous articles:
'We bring you the latest Garden Route news'