KNYSNA NEWS - A Grade 11 learner at Knysna Secondary School has been left traumatised and embarrassed after an SAPS member singled him out and stripped him naked in front of classmates during a "search and seizure operation" at the school last week.
The 20-year-old learner, who will remain anonymous, said that on Tuesday 13 March police officials entered his classroom and ordered the boys in the class to go outside – bags to one side.
They then commenced a search of the boys and bags before sending them all back into class. According to the learner nothing was found in his bag or on his person.
Searched a second time
"Then a second group of policemen came in and searched us again. They asked us when last we smoked – they were referring to cigarettes and weed. I told them I had a cigarette before school to which a policeman said I was talking sh** and pinched me on the inside of my thighs," the learner said.
Fighting back emotions, he and his mother were visibly upset and embarrassed to relay his story.
'Pinched me near private parts'
At that point, the learner said, he grabbed the policeman's hand and asked him what he was doing. "He said he was doing his job. Then he pinched me again, this time near my private parts."
Then another policeman came closer and asked, "What are you doing, kwedini," said the learner, who explained that "kwedini" means "boy" or "small boy".
He says it was insensitive to his Sotho culture, since he had already gone through the ceremony that defines him as a man. "And this policeman knew this, he knows my son," added the mother.
'Policeman slapped me'
"When I told him respectfully that I wasn't a boy he replied I have a 'k*k' attitude. I told him it was my attitude and he said he would slap me. He grabbed me by my tie, pulled me towards the steps outside my classroom and slapped me about five times across the face," said the learner.
"Everyone was watching at this point. There was no teacher around so the other learners were standing outside. I was getting very angry and embarrassed. Then he started fiddling with my belt," he said.
'Pulled down my pants'
When the learner told the policeman that nobody should touch him there as it is culturally wrong to do so, "the cop said he didn't care, called about five other cops over to hold me, and pulled down my pants and underpants".
Struggling to get through his sentence, he said, "It was not a search, he didn't even check my pockets."
"I could understand if maybe the policeman was not aware of our culture, but he was, and he should have respected that," added the learner's mother.
Charges laid
The learner said he immediately reported the incident to the principal, who said there was nothing he could do.
"But I can't understand that – he is there to protect the learners," said his mother. They went to the Knysna police station that same day to lay charges.
The learner, due to his extreme embarrassment, only went back to school two days later.
According to Southern Cape police spokesperson Captain Malcolm Pojie a common assault docket was opened for further investigation following the alleged incident.
"The investigation was transferred to the Independent Police Instigative Directorate (IPID) for further investigation," said Pojie.
'Serious allegations investigated'
"An internal departmental investigation will also be launched into these serious allegations of misconduct by the member implicated. The matter will be dealt with in terms of our disciplinary regulations," said Pojie.
He added that the search-and-seizure operation which was conducted as part of the police's Safer School policy, in conjunction with school management and the Department of Education.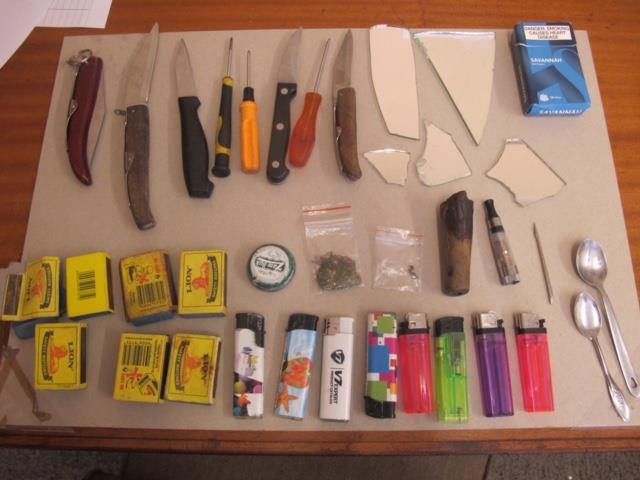 According to spokesperson of the Southern Cape Police, Captain Malcolm Pojie these are the items confiscated from other learners at Knysna Secondary School. Photo: Supplied
Drugs, weapons confiscated
"The police confiscated drugs, knives and other sharp objects during the operation," Pojie added.
School principal Christopher Stander said in an email to the Knysna-Plett Herald that the matter has been referred to the provincial education department.
A spokesperson for the department, Jessica Shelver, who confirmed that the police operation was conducted on request of the principal, only offered to provide the boy with counselling "if required".
"The district and principal are currently investigating… We cannot comment until the investigation has concluded," she said.
'We bring you the latest Knysna, Garden Route news'