Update
KNYSNA NEWS - The criminal case against the Plettenberg Bay computer engineer who pleaded guilty to possession of child pornography came one step closer to completion this week when the State and defence presented their final arguments in the Thembalethu Regional Court in George.
When William Beale was arrested at his seaside home in January 2015, police found sections of files containing thousands of videos and violent assaults, which included the torture and murder of babies as young as only a few days old.
There were also internet address of more than 300 alleged paedophiles.
He pleaded guilty to about 19 000 charges of possession of child pornography in February this year.
He is currently out on R10 000 bail and living in Kimberley with his brother and his family.
While presenting her heads of argument on Monday 23 October, State prosecutor Gerda Marx urged the court to impose a 20-year sentence.
Marx said the images found in Beale's possession were so gruesome that "it will haunt me for the rest of my life".
She added that he was part of a group that was very difficult to track down and apprehend, and that child pornography was fuelled by people like Beale.
She added that Beale did not ask for help with his habits before he was arrested, has shown no remorse, and feels sorry for himself instead.
She also pointed out, based on expert testimony, that he is a risk of reoffending.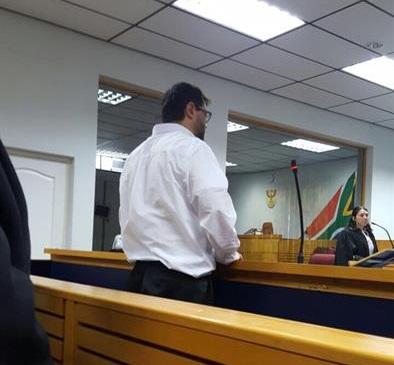 William Beale in court.
Beale's legal representative advocate Paul van den Berg was, however, adamant that Beale has a slim chance of reoffending.
He said the State did not take into account Beale's personal circumstances, which included not having a role model while growing up, he was sexually abused himself, he has never groomed children and has good social support from his adoptive family.
Van den Berg said that Beale should not be "thrown on the rubbish dump" by the court as an act of revenge, and that three years behind bars would be an appropriate sentence.
Sentencing for Beale is scheduled for 7 November in the Thembalethu Regional Court.
Click here for previous articles:
ARTICLE: YOLANDÉ STANDER, KNYSNA-PLETT HERALD CORRESPONDENT
'We bring you the latest Plettenberg Bay, Garden Route news'