KNYSNA NEWS - Friday the 13th might be deemed an unlucky day by many, but for boat-aficionados in Knysna it will be remembered as the day the Coquette arrived.
Transported all the way from Oxford in the UK, the 100-year-old vessel arrived safe and sound in Cape Town on 11 December in a custom-made cradle, tightly wrapped in bubble-wrap and heavy duty plastic.
After being offloaded in Vigilance Drive with the required skill, she was moved onto a trailer and transported to the Knysna Waterfront to start her new life as a charter on the Knysna Estuary.
Her unveiling took place on Monday 16 December to many gasps and admiration.
Coquette was originally built as an Oxford University coaching launch. The length and underwater profile guaranteed speed without wash which was the ideal combination for coaching a rowing eight. This too makes her a perfect choice for the Knysna Estuary with it's sensitive ecosystem.
In the 1950s she was taken out of service, the engine was removed and she was stored under cover for over fifty years.
In 2007 she was purchased by Classic Boatworks in the UK to be restored. Six years later, in 2013, she was purchased and the new owner requested that she be converted to steam. After two years of painstaking work, she was launched and ready for delivery. Last year saw her up for sale again just when Magic Lagoon Charters decided to complement their fleet by adding another classic boat. With the capacity to handle groups of visitors to the Waterfront, Coquette seemed like the perfect choice.
Next time you are at the Knysna Waterfront, be sure to look for Coquette, the 100-year-old beauty that will henceforth form an integral part of Knysna's history.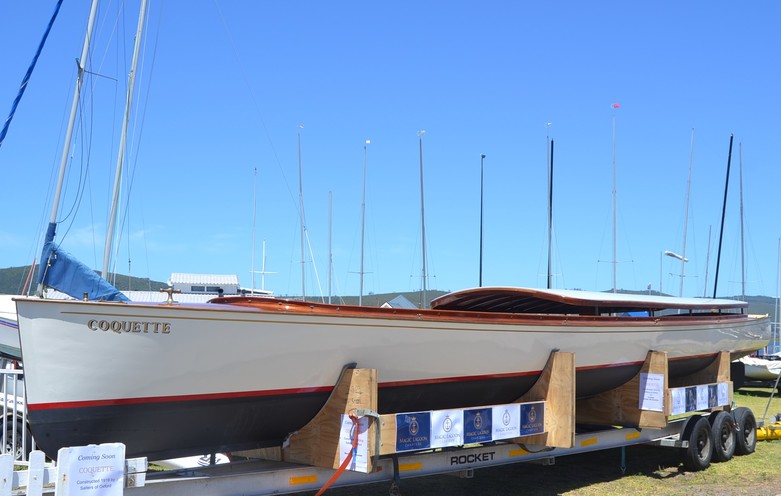 The 100-year-old vessels was transported to the Knysna Waterfront to start her new life as a charter on the Knysna Estuary. Photo: Belinda van Eyssen
'We bring you the latest Knysna, Garden Route news'