Gallery Update Video
KNYSNA NEWS AND VIDEO - One arrest, almost 2 000 cannabis plants confiscated, and a "traumatised" community was the result of a bust by police on Judah Square in Khayalethu this week.
On Tuesday 13 March a huge contingent of police resources – more than 20 vehicles and more than 60 officers according to residents – raided the Rastafarian sanctuary in Knysna.
Residents say that as the authorities left with the bounty, they were fired upon with rubber bullets, tear gas and stun grenades.
Charles Solomons was one of the people who got shot during the raid. "Over 60 police invaded our community with an intent to cause harm – they were not provoked, we didn't retaliate as they were leaving with all the trees, they started shooting at us, repeatedly," he said.
Click here for a photo gallery.
Children 'traumatised'
What's even worse, said Solomons, was that police even shot in the direction of Judah Square Preschool – the only crèche in the area – and left many of the children traumatised as a result.
Teachers confirmed that some parents had already come to fetch their children, while others were inconsolable after the event.
"Have you ever known the Rastafarian community to be violent? To be lawbreakers? There's so much crime in our country and yet they saw it fit to have 26 police vehicles invade our community, brutalise us and traumatise our children and all for what? Trees that weren't even ready to harvest," said an incensed Solomons.
He was hit by rubber bullets twice.
He believes the police went into the community ready to fight. "We're still waiting on the law that is going to advocate for us. Maybe then we too will have privacy and be treated somewhat human. I can't get over their arrogance and ignorance," he said.
Watch a videos below.
Watch two more videos at the bottom of the this article.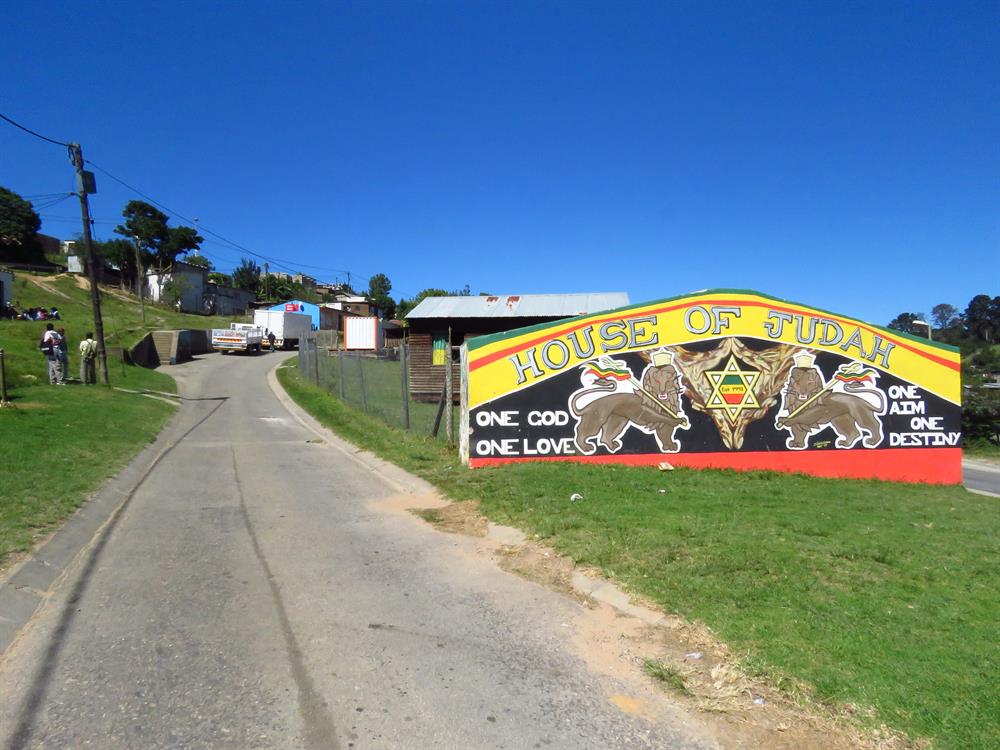 Judah Square, a Rastafarian sanctuary in Khayalethu, Knysna seems peaceful from the outside. On Tuesday 13 March the scene was quite different, though.
'No search warrants'
Another community member, Ras Ruben van Jaarsveldt, said, "They didn't even have search warrants, because if they did, they would have produced them when we asked.
"They walked around in our peaceful community with so much authority, cursing at us, breaking our fences, plucking out our trees, they threw grenades at us and shot us… If I didn't know better I'd say they came here to challenge the Rastafarian community."
Isis Jacobs was one of the eight people who got shot, but she was too emotional to give a comment.
Lwando Kraai, a teacher at the preschool, recounted the incident as follows: "Out of curiosity children wanted to go outside and see what the commotion was about, but we tried to keep them calm. When they saw some of the community members seeking refuge at the crèche they became so confused and scared they started crying."
'Policeman pointed gun at me'
She said they had to send about 13 children home, one of whom was a boy with heart problems. After the crèche was covered in clouds of smoke they had to ask his parents to take him home as they feared complications from the smoke.
A cleaner at the crèche, Nompumelelo Thembu, said the police wanted to force their way into the crèche at one point.
Teachers at Judah Square Preschool say these children were traumatised by the raid on the community by police, and that about 10 children had already been picked up by worried parents earlier that day and taken home.
"I told them there are children in here and that they cannot come in. One of the policeman then pointed the gun straight at my head and threatened to shoot me. I told him to go ahead. There was just no way that I could let them traumatise those children further than they already have," she said.
'Apartheid throwback'
A spokesperson for the Judah Square community, known as Brother Paul, described the police's actions as similar to those of apartheid days, and said he was very disappointed in how the "raid" was conducted.
"They came here to raid one house, but then invaded the whole community. Thirty-odd vehicles and almost 100 officers. I think the method used by the police here was wrong. I believe they should have taken 2017's Western Cape High Court (WCHC) ruling into consideration and should have been more sensitive when dealing with us.
"Instead they were dealing with us like it was still the old regime. It's really pathetic to see people treated like animals," he said.
Brother Paul added he was also shot with a rubber bullet, even though he was about 150m away from the commotion.
He says the community felt vexed by the police taking away what they had all worked so hard for.
"Some community members tried to stop the police – but not violently – which was also wrong on our part. But we need to deal with this in a more amicable way in future," he added.
Charles Solomons was shot twice by rubber bullets during the raid.
'What about High Court ruling?'
Other community members feel their constitutional rights have been taken from them, saying police don't respect the WCHC ruling of 2017.
"I have been totally robbed of my rights as a human being, not just as a Rastafarian," said one, who wished not to be identified.
Cliff Daniels and his daughter Shanachie both feel violated. They say they use these plants daily for its many medicinal purposes and do not understand why police had to take away what they have worked so hard to nurture.
Judah Square community leader Brother Maxi said that the community will now sit down together to gather all their facts before they move forward with any type of action.
He said all the community wants is to be able to practise their cultural and religious beliefs peacefully.
"Everyone knows we are Rastas and that ganja (cannabis) is an integral part of our culture, a part of our day-to-day life.
'Not the first time'
There were times police came to trouble us every year, but the last time an expensive operation like this was carried out was five years ago to the day.
"I believe what we are doing here in Judah Square has contributed to bringing ganja legalisation closer to the people," he said.
Brother Maxi, who also said no search warrant was presented, said the aggressive police action could have been avoided.
"Community members' emotions were running high and some had anger in them. But that is not the way to go, and the police's actions were unnecessary," he added.
A collection of rubber bullet shells, gas canisters and grenade pins found by Judah Square community members after police had left the area.
Crime prevention, say police
Knysna police spokesperson Sergeant Chris Spies confirmed that one arrest was made during the "crime-prevention operation", and that the police confiscated 1 796 trees, adding that a case of public violence was also opened "after a group of people gathered in the area".
According to Spies these people swore and threw stones at the police.
"The police used stun grenades and rubber bullets in an effort to disperse the group, and investigation into the public violence case continues. Further arrests are not excluded," he said.
Public tip-off
Spies said the operation was conducted after a tip-off from the public of "drug-related activities" at a house in the area. He said that members of the Knysna police, public order policing unit, cluster crime combating team and various K9 units in the Southern Cape were involved.
"The police first raided a residence where 16 bankies and four stops consisting of dagga were found. A further search of the area led to the discovery of large numbers of illegal dagga trees.
"A 51-year-old suspect was arrested in connection with the bankies and stops of dagga that was found at his residence. This suspect will appear in court later this week. He is facing charges of possession of drugs," said Spies.
When asked how many police members were involved in the raid, Spies said a "considerable number" of police resources were deployed as the police have met with violence in the past in similar crime-prevention operations.
'Safeguarding the community'
"It was not our intention to use weapons against the community. The necessary force was used based on the proportion of the threat. We only use weapons to safeguard the community and for the necessary prevention of crime."
This child at Judah Square Preschool was still clearly traumatised by the police raid that happened in the vicinity of the school.
Spies said it is highly unfortunate that children were affected by the incident and that it was never the police's intention to endanger the children, but he added that the crèche is near the only entrance to the community.
* Note: Knysna tourism have Judah Square advertised on their official website with the following information: This is the largest Rastafarian community in South Africa, make an appointment to go on a tour with Brother Zebs: 076 649 1034 or Brother Maxi: 078 611 2817.
Watch videos below.
Read a previous article: Raid at Judah Square
'We bring you the latest Knysna, Garden Route news'