KNYSNA RUGBY NEWS - Titans Women's Rugby Academy managed to defeat Harlequins in their second match against each other in as many weeks on 22 June in a game that was called off by the referee a little after 30 minutes.
The two teams both participate in the SWD Women's Rugby League, and less than a week prior the two sides had locked horns at the same venue – Hornlee community sports fields – on 17 June when Titans played with only nine players against Harlequins' team of 10.
The two sides tied that game 24-24, after Titans made a comeback late in the game to draw things level.
Five days later, on Saturday 22 June, the ladies military side from Oudtshoorn returned to Hornlee for another league game in the hope they could defeat Titans – who once again weren't able to field a full side. Titans did however have 12 players this time around, which meant Harlequins were able to field a full side in another attempt to have a bite at the cherry.
Harlequins were unable to make use of their numerical advantage in the first half, which indicated that the encounter would be a more balanced affair than the previous match. When the whistle blew for halftime the score stood at 14-12 in Titans' favour, despite them playing with three players less than Harlequins.
The second half's opening stages looked troublesome for Titans, who soon had their numbers reduced to 10 players following a player tearing the ligaments in her leg, and one being handed a yellow card for foul play. Despite having five fewer players than their opponents' 15, Titans managed to expose the weak links in Harlequins' defence through their strong physical presence among the forwards and superior pace among the backline players.
The scoreline soon stood at 33-26 in favour of the Titans thanks to two converted tries and one unconverted in favour of the home side, while Harlequins received a penalty try and earned a converted try.
The referee decided to call the match off before the clock reached 40 minutes in total however, due to two Harlequins players having sustained head injuries. Both were escorted away in ambulances, but once the game was called off, Titans walked away with the victory.
Carmen Uys takes a free kick for Titans and prepares to give the ball to a teammate. Photo: Blake Linder.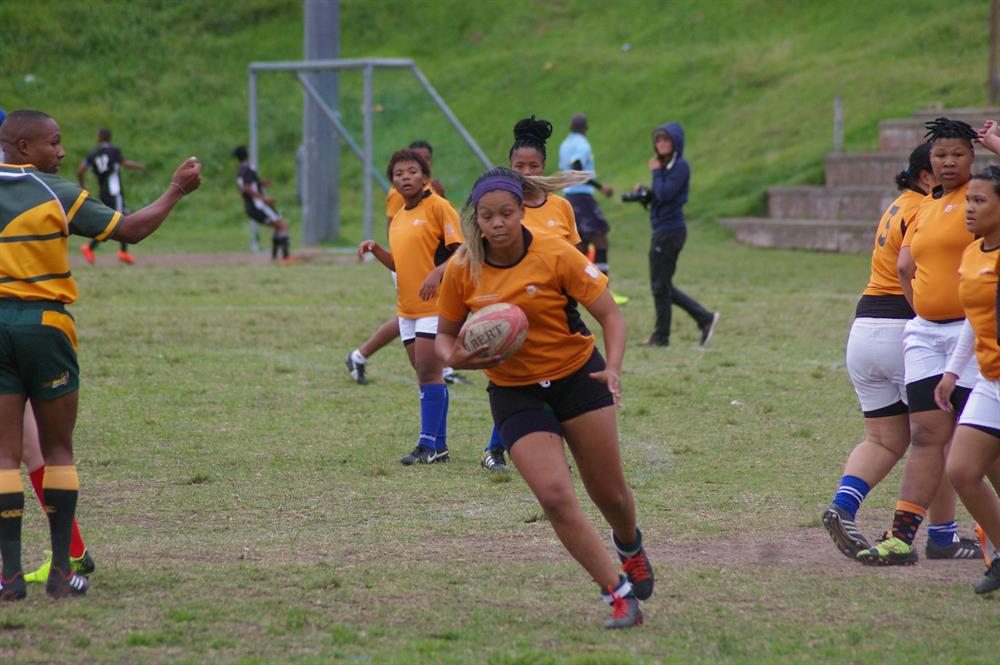 Prelene Pegram hopes to take a quick penalty before the referee waves her back. Photo: Blake Linder.
'We bring you the latest Knysna, Garden Route news'