KNYSNA NEWS - The annual derby match between the Titans Women's Rugby Academy (TWRA) Concordia High School girls' team and Knysna Secondary School was played recently and the Concordia girls came out tops.
The game was played on 21 April as a curtain raiser before the main event – the Titans Women's Rugby Club versus the Collegians from Oudtshoorn.
The Concordia team is administrated and run by the academy, and won the derby match with a comfortable margin of 55-0.
Tameron Sauers was the star player of the day scoring four of her team's 11 tries. Sauers' fast feet were just too much for the opposition while upfront captain Shanine Mostert led her charges by example, especially on defence.
Earlier that morning the u16 girls played against the Concordia Primary u14 boys' team for some added game time. The boys struggled to handle the physicality of the girls and Jody Hennies especially, who was in a destructive mood, bulldozed over the boys.
"The girls could just not finish off their great work and the boys, who clearly had too much pace for the girls, started taking the ball wide and scored most of their points that way. The girls fought back with 13-year-old Nedicha Gysman leading the charge, scoring after a power run. The girls scored two more tries but still lost the game 30-15," said academy director of rugby Aschin Klein.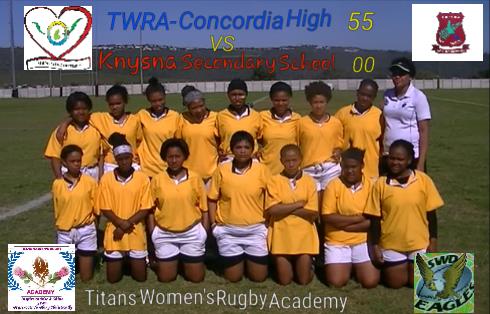 Titans Women's Rugby Academy
According to Klein, the Concordia girls' team will now form part of the TWRA Knysna team that will take part at the 2018 SWD u16 and u18 trials in George on the 1 May – "as the derby match also serves as the Knysna regional trials", Klein added.
"We are happy with the win, it shows some progress from where we were last year. The girls played well and we are proud of them.
"The score, however, does not really impress me and is of no real value. What I appreciate most is the fact that two school girls teams played rugby today. It's all about building sustainable girls' rugby programmes at all schools," said Klein.
Some Knysna Secondary Players stood out for Klein during the game. "They were Destinay van Rooyen, Zaynodine Marias, Marsha Mowers and Cleopatra Prins," he said.
'We bring you the latest Knysna, Garden Route news'