GARDEN ROUTE NEWS - NMU George recorded two important and impressive victories in the SWD Premier league to move up to the 4th position and are now strong contenders for a place in the play-off rounds.
The George students defeated Ramblers by 122 runs on Saturday and on Sunday were too strong for Mossel Bay and won by 19 runs after the result was determined by the Duckworth/Lewis formula.
George (307/5) knocked over Western Hope (99 all out) by 208 runs for a bonus point victory but Western Hope (65/3) on Sunday caused a major upset when they dismissed Ramblers for only 64 to won by 7 wickets.
The defending champions, Union Stars (208 all out), remains at the top of the table after a 145 runs victory against Pacaltsdorp United (63 all out). Mossel Bay (194/9) were too strong for Knysna Cavaliers (127 all out) while Pioneers (179 all out) caused another major shock when they beat Harlequins (82/9) by 97 runs.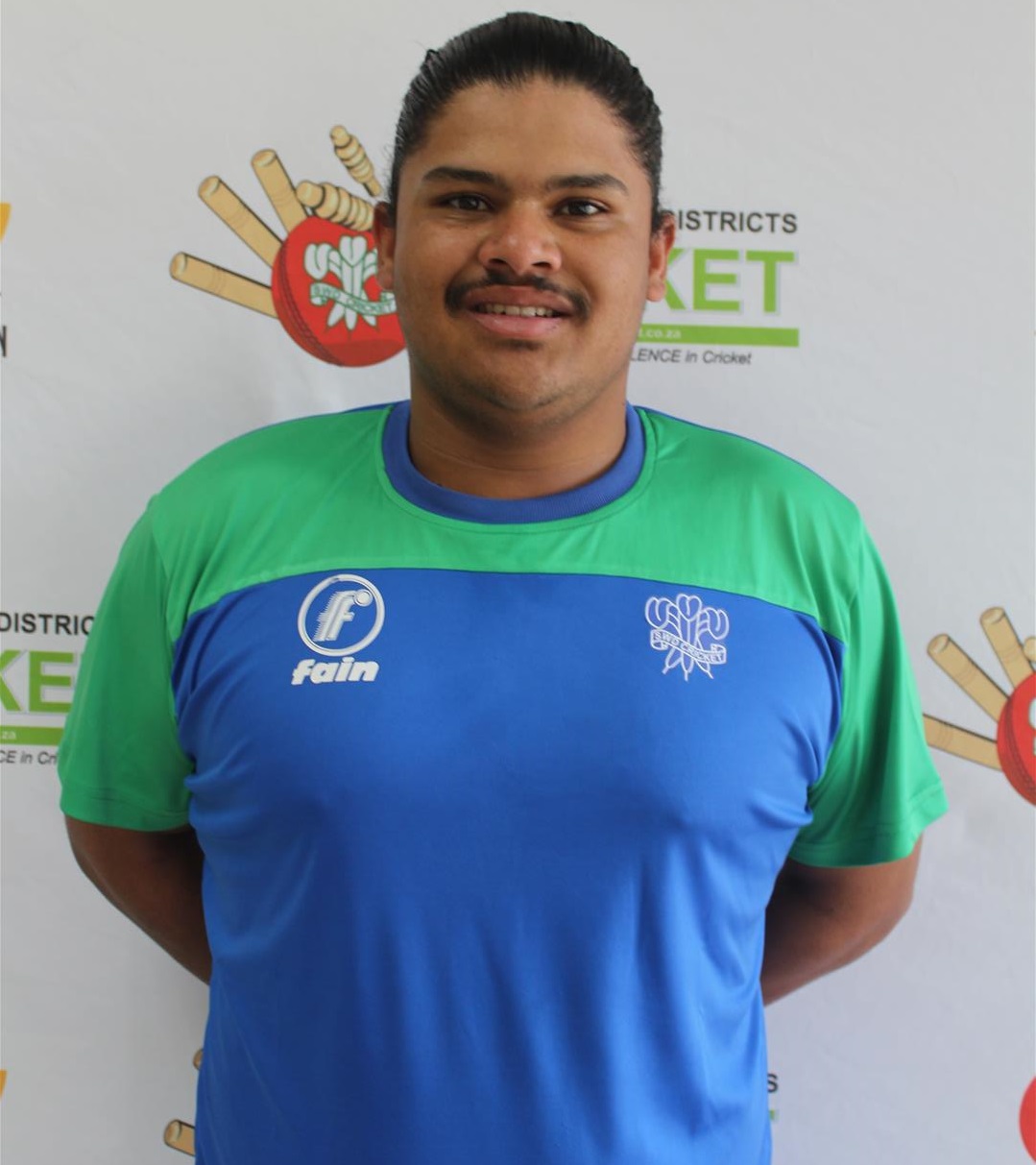 Levin Muller.
The summarised score cards are:
George vs Western Hope
GEORGE 307/5 (Jaco Janse van Rensburg 90, Marco de Kock 59,
Johandre Barnard 77, Stephan Schenck 25*, Michael Hess 2/52,
James Bruiners 2/59) WESTERN HOPE 99 all out (Joh-Ben Barends 24,
Shane Smith 4/33, Grant Simpson 3/34, Jaco Janse van Rensburg 2/3)
George won by 208 runs
Knysna Cavaliers vs Mossel Bay
MOSSEL BAY 194/9 (Tony Ferreira 44, Henk Louwrens 28, Jean-Pierre Ellis 2/21, Irvin Campher 2/36, Kyle Stuart 2/37, Neville McLean 2/42)
KNYSNA CAVALIERS 127 (all out) (Bryan Barnard 37, Maurice White 20, Ruaan Moore 4/9, Wietsche van der Westhuizen 2/31, Christo van Schalkwyk 2/39)
Mossel Bay won by 67 runs
Pacaltsdorp United vs Union Stars
UNION STARS 208 (all out) (Geoffrey Perel 60, Pieter Stuurman 47, Leroy Bredenkamp 35, Daniel Koert 4/28, Ruaal de Reuck 2/34)
PACALTSDORP 63 (all out) (Douglas Baartman 5/22, Dillan Nuys 2/11, Enverino Swartz 2/23)
Union Stars won by 145 runs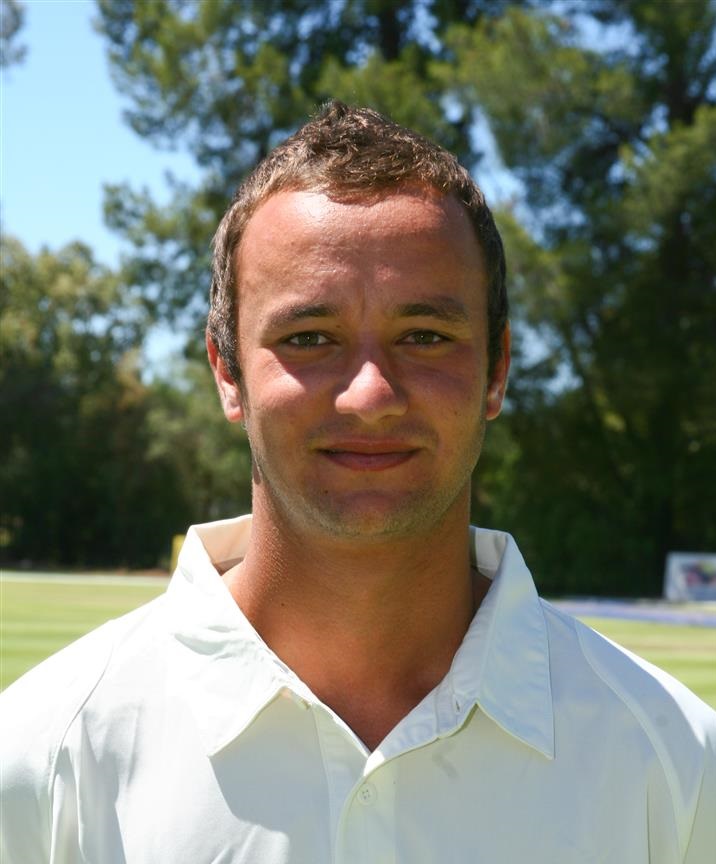 Christo van Schalkwyk.
NMU Madibaz George vs Ramblers
NMU MADIBAZ GEORGE 188/9 (Levin Muller 86, Joshua Kleu 64, Andrew Calvert 5/19, Quinton Davids 3/24) RAMBLERS 66 (all out)
(Askin Louw 33, Joshua de Ponte 7/26, Francois Barnard 2/12)
NMU Madibaz George won by 122 runs
NMU Madibaz George vs Mossel Bay
MOSSEL BAY 225/9 (Christo van Schalkwyk 46, Neil Ferreira 33, Hanlo Nel 28, Joshua de Ponte 3/35, Francois Barnard 2/51)
NMU MADIBAZ GEORGE 123/3 - 28 overs (Francois Barnard 39, Levin Muller 32, Heath Richards 30*, Morne Jonker 2/31)
NMU Madibaz George won by 19 runs on Duckworth/Lewis method
Western Hope vs Ramblers
RAMBLERS 65 all out (Byron Botha 31, Michael Hess 4/14, Miehego September 3/17, James Bruiners 2/14)
WESTERN HOPE 65/3 (Jayvier Filander 20*)
Western Hope won by 7 wickets
Pioneers vs Harlequins Forces
PIONEERS 179 – all out (Mark Vermeulen 55, Carlos Koeberg 32, Robert Cunningham 52, Rhupino Plaatjies 3/24, Regan Engelbrecth 2/25, Clayton Manewille 2/30, Marco Jansen 2/37)
HARLEQUINS FORCES 82/9 (Regan Engelbrecth 41*, Carlos Koeberg 4/17, Darryl Damons 2/12, Anschwijl Windvogel 2/20)
Pioneers won by 97 runs
'We bring you the latest Garden Route news'