PROPERTY NEWS - We live in a world that constantly strives for perfection in all aspects of life: perfect home, perfect family, perfect job. This constant hunger for faultlessness has seen stress levels rise and has formed a nation that is always looking for more.
However, many believe that if we all just paid a little more attention to the ancient Japanese philosophy of wabi-sabi, we could free ourselves of the need for a picture-perfect life, sit back, and enjoy our lives and the world around us as it really is - imperfect.
Maybe you are constantly purchasing new items, but your space just never quite feels complete.
Or maybe you have previously endeavoured to live a minimalist lifestyle, but now desire a cosy atmosphere in your living space. Whatever your story is, embracing a wabi-sabi inspired way of life could make your house feel a little more lived in and most of all, a little more like home.
Imperfection is beauty
So, what is the meaning of wabi-sabi? Established in Zen Buddhism, wabi-sabi is an age-old Japanese concept focused on accepting and embracing the imperfections that surround us. It is about acknowledging the flaws and impermanence of life and appreciating the beauty of the natural world and all that comes with it.
Wabi-sabi is present in many aspects of our lives, from our relationships with ourselves and with others to the joy of freshly prepared food and the love of family heirlooms - be it an item of clothing or a rustic piece of furniture.
Wabi-sabi interior design
When it comes to the home, wabi-sabi cannot be bought in material possessions. Wabi-sabi can be found in the quirky details of old dinnerware, handmade furnishings that are unique to your home and natural materials such as wood and stone. With such emphasis put on updating our homes with brand-new possessions, new trends and styles, we can often feel pressured to keep our homes in pristine condition.
However, by channelling wabi-sabi and embracing imperfection throughout our interiors, we can create harmonious, lived-in environments that are both welcoming and homely.
We cannot escape the fact that every so often we simply need to purchase new things, however, if you buy these new items with wabi-sabi in mind, you will find yourself investing in sustainable materials and unique pieces that stand the test of time.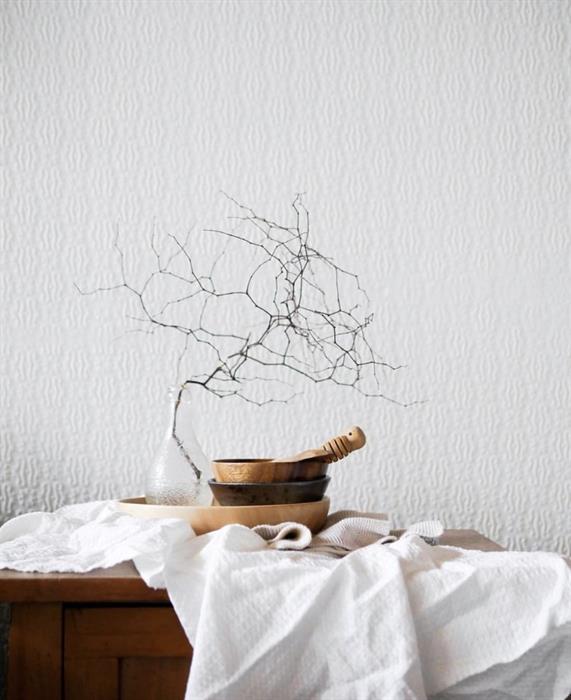 Japanese view of life
In his book, The wabi-sabi house: The Japanese art of imperfect beauty, the well-known Japanese architect Tadao Ando described wabi-sabi as follows: "The Japanese view of life embraced a simple aesthetic that grew as inessentials were eliminated and trimmed away."
This doesn't mean living in cold, sterile minimalism. It doesn't matter if you are looking to create an industrial look or country cottage. It's about saying no to purchasing what you don't need and ignoring the influx of messages telling us we should want more.
Rather than buying cheaply made items that don't last and get thrown away, consider investing in items that will last over time and can be passed down to future generations, giving meaning and appreciation to items that have a history and stand the test of time, each scratch or mark adding to the character and story of the item.
You can also incorporate wabi-sabi into your home by buying second-hand items and appreciating the life they lived before you. This is not only a way to appreciate things more but also a great way to save money.
We live in a world of so much excess that our planet is literally drowning in it, so it is uplifting to see trends like wabi-sabi take hold.
Source: www.amara.com /www.privateproperty.co.za
We live in a world of so much excess that our planet is literally drowning in it, so it is uplifting to see trends like wabi-sabi take hold.
'We bring you the latest Garden Route, Hessequa, Karoo news'