NATIONAL NEWS - Despite the nation having witnessed far more serious things to tweet about, actress and model Pearl Thusi has been trending for over twelve hours due to criticism over a tone-deaf tweet.
As the nation was sharing their shock and dismay at the news of the brutal murder of 19-year-old Uyinene Mrwetyana on Monday and the kidnapping of Amy-Lee de Jager, among a number of related headlines, Thusi shared what looked like a promo tweet.
"I really miss my Amber Sunrise P30 Pro (even though I only had it for 24 hours ????????????) Together with Huawei I have decided to put together an amazing REWARD for whoever helps me find my Smartphone," tweeted Thusi.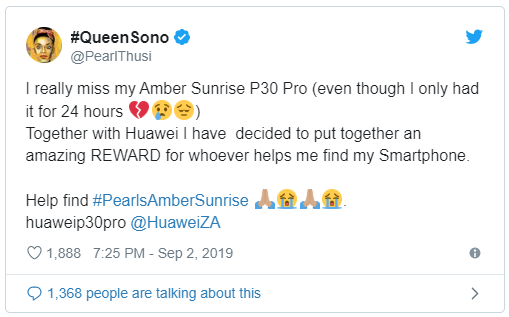 This was in reference to a phone she had recently acquired from a manufacturer that her best friend, DJ Zinhle, is a brand ambassador for.
Her tweet was immediately met with criticism and has since received over a thousand responses.
We facing a national crisis wena ngapha you worried nge phone, no sympathy, condolences whatsoever. Ay o Pearl impela inqondo ayikho yayiqinisile leya ndoda
"We have bigger problems sisi, but nobody is stopping u from finding ur own phone. We are losing our sisters, pta cbd and Joburg cbd are a mess, innocent students were attacked, we are going through the most as a country go find ur phone urself."