MOTORING NEWS - The last thing you normally think about when buying a car, is the tyres. While tyres do tend to get overlooked, they are one of the most important components on your vehicle. No matter how wonderful your vehicle is, when it doesn't have grip on the road, you have major problems.
Apart from turning, tyres support vehicle load, transmit traction and brake forces to the road surface, absorb road shocks, and change and maintain the direction of travel. It is crucial to regularly check your tyres' wear, pressure and condition.
You will know it's time to change your tyres when your vehicle vibrates, pulls to the side, the ride is bumpy, and your vehicle's performance is substandard.
Traction
Tyre tread is designed to disperse water and improve grip on the road in treacherous conditions. The tread pattern ensures grip, and improves safety and handling in all conditions. Tyres with the proper amount of tread help allow water and snow through so your car stays grounded as you drive. Without the tread, the rubber just spins on wet surfaces.
The minimum legal tread depth is 1,5mm. If the tread on the tyre is the same level as the wear indicator, it is time to replace your tyres.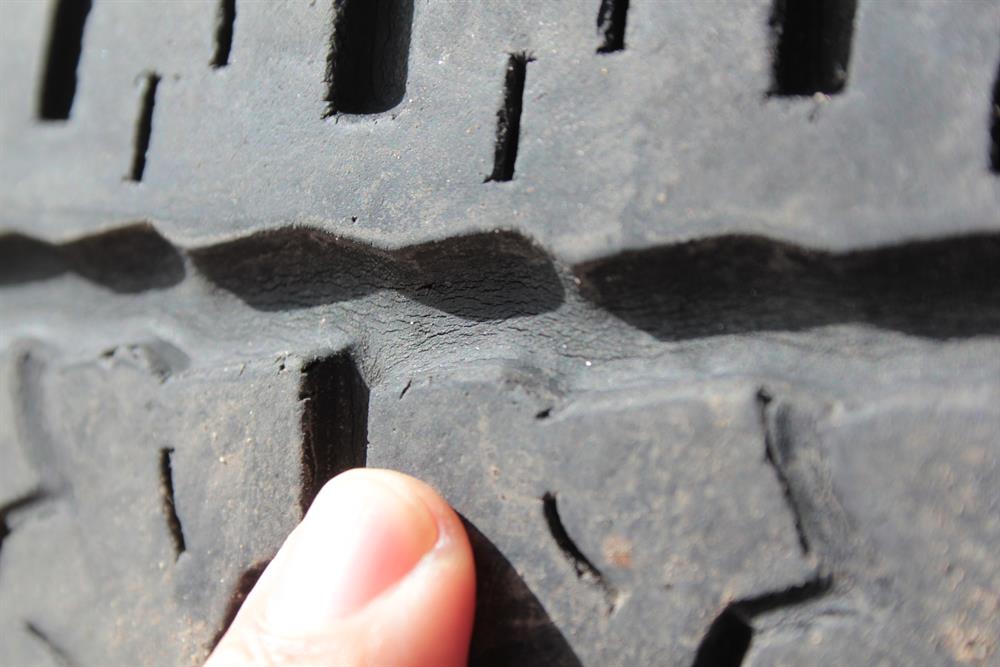 Although this tyre's tread is still good, the tyre needs to be replaced because it is already 10 years old. If you look carefully, you will see that there are hairline cracks in the rubber. It is unsafe to drive on tyres that show this wear.
Types of tyres
Each tyre - just some rubber filled with air - supports a quarter of the total weight of the car. Make sure that you buy the right tyres for your vehicle. You don't want car tyres on your 4×4 SUV or sports car tyres on your truck.
High performance tyres wear more quickly. This is because the stickier rubber compounds used in these tyres wear out faster.
Directional tyres must be put on and rotated properly for proper water traction. If they are put on backwards, they could hydroplane very easily in wet driving conditions. Check that they are put on correctly by ensuring that the directional arrows on the tyres are pointing the way the tyres should roll.
When replacing your tyres, do not assume all tyres and brands are alike. There are dozens of tyre brands, each of which offers various quality tyres. Consider the quality of your vehicle's tyres carefully.
Fuel efficiency
If your vehicle's tyres are worn unevenly or not balanced properly, you could be wasting lots of money on fuel. Worn tyres make it more difficult for your vehicle to keep contact on the road and this makes it work harder, thus using more fuel.
This tyre needs to be replaced. The wear indicator is level with the tread.
Suspension
Tyres provide about half of the vehicle's suspension. This means that if your tyres are old, too small or improperly inflated, your car can ride rough. It could also cause your tyres to wear faster. This is especially important when your vehicle has large tyres.
Inflation
Your vehicle's tyres have an air pressure specification. It is important to adhere to these specifications otherwise your tyres will suffer, as will your fuel consumption and driving manoeuvrability. A quality tyre air pressure gauge is all you need to inspect your tyre air pressure. You should never try to visually estimate the inflation pressure of your tyres.
Overinflated tyres become rigid and stiff, causing the tyre's contact patch, the amount of rubber that touches the road, to be reduced. This leads to a less comfortable ride as well as uneven tread wear.
Underinflated tyres do not hold their shape and are flatter on the ground. Therefore, more of the tyre's surface touches the road, causing the shoulders of the tyre to wear prematurely.
It is just common sense not to drive around on tyres looking like this.
Tyre balance
Unbalanced tyres will affect the handling of your vehicle, potentially leading to costly repairs. Regularly rotating the tyres helps extend the life of your tyres and ensure the tyres wear evenly by allowing each tyre to serve in as many wheel positions as possible.
Wear and tear
Wear and tear of your vehicle's tyres is a normal result of driving. However, you may notice that certain areas of your tyres show more wear than others. Uneven tyre wear can be a result of a variety of causes, including under- or over-inflated tyres. Inner or outer edge wear can be ascribed to improper wheel alignment, cupping results from faulty suspension components, and feathering is due to an improper toe setting.
The toe setting is the direction the tyres are pointing in relation to the centre line of the vehicle. Uneven tyre wear can significantly reduce the life of your tyres, which may end up costing you a lot of money.
When the tread is worn on the side of the tyre, it is an indicator that your vehicle's balancing or wheel alignment is out. Photos: Wessel van Heerden
'We bring you the latest Garden Route, Hessequa, Karoo news'