Update
KNYSNA NEWS - While there were a total of 139 drivers who took part in the 2019 Simola Hillclimb, two drivers paid extra-special attention to detail with their cars, and were awarded the Dave Charlton Award for their efforts.
The recipients weren't necessarily the fastest up the hill by any stretch of the imagination, but they were the two drivers who, during the event, most reflected South African race legend Dave Charlton's spirit of impeccable attention to detail, meticulous preparation and commendable performance.
There were of course, two different awards – one for any of the 65 Classic Car Friday participants, and one for one of the 84 King of the Hill drivers who took to the hill during the weekend.
The decision for Classic Car Friday's Dave Charlton Award was always going to be tough, as it takes a lot of tender loving care to keep cars that are older than some of their respective drivers fully operational and capable of clocking times under 60 seconds up the Simola Hill. This year only had one winner in the eyes of the adjudicators however, as local classic car legend Ron Hollis eventually took home the trophy. He heads up the Knysna-based Bodge Engineering Works, which is a specialist classic car service centre that focuses on 1950s and 1960s British sports cars, including MG and Jaguar. Hollis has also played an important role in the development of the classic car industry that Knysna has become renowned for in recent years. When it comes to the Simola Hillclimb however, he is a regular feature on Classic Car Friday in his intricately prepared Jaguar E-type which he drives with real tenacity. This year, he ran a hard-earned second place in the H2 class with a very respectable time of 56.922 seconds.
In the weekend's action which showcased the King of the Hill drivers, the award went to Martin van Zummeren, who completed his fifth Simola Hillclimb this year. The East London-based tow truck driver led a trio of absolutely deafening Nissan Skyline GT-Rs that were crowd favourites throughout the event, with the other two cars driven by sons Wade and Jody.
Martin's showing wasn't limited to the noise though, as he managed to clock an impressive time of 40.732 in Qualifying 2, which was his best time of the weekend.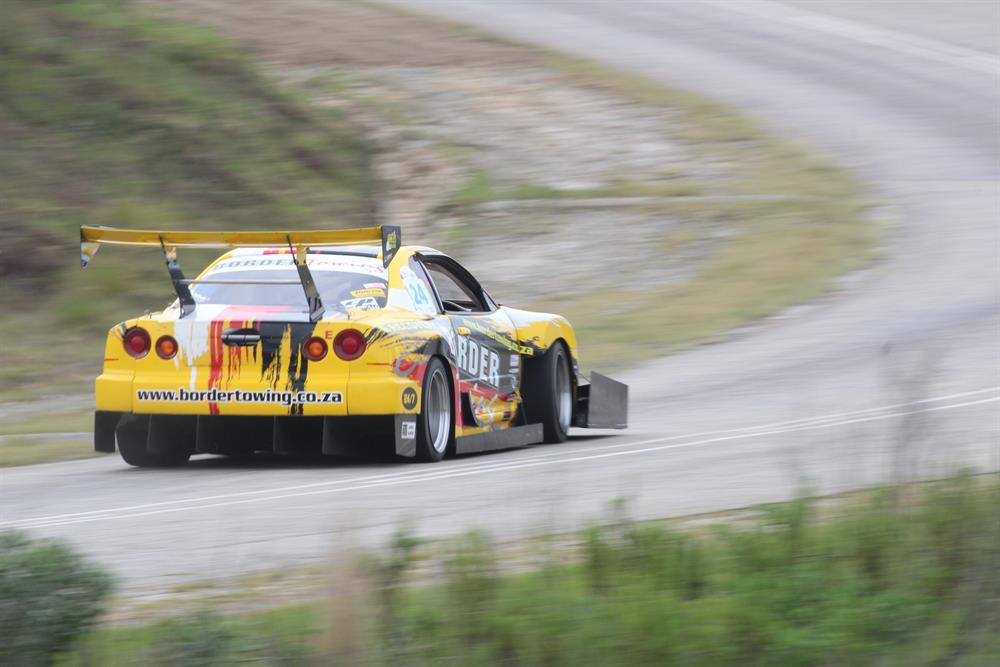 Martin van Zummeren prepares to tackle Turn 5 on the Hillclimb track.
Read a previous article here: The chosen ones at the Simola Hill Climb
'We bring you the latest Knysna, Garden Route news'