MOTORING NUUS - Die eerste indrukke van die metaalblou Micra wat ek onlangs bestuur het, was dat dié klein Nissan eintlik heelwat groter is as wat 'n mens sou verwag van 'n ryding in hierdie prysklas.
Daar was 'n paar aspekte wat gepla het, soos die kantspieëls wat nie elektries verstelbaar is nie.
Ook die taamlik dramatiese foutfaktor op die snelheidsmeter waar 'n aangeduide 120 km in werklikheid 'n beskeie 113 km was.
Dit sal sekerlik help met spoedkaartjies, maar 'n mens kan terselfdertyd dalk jou spoed onderskat.
Ander klein dingetjies wat gepla het, was 'n besige enjin wat teen 'n ware 120 km reeds die 4 000 o.p.m.-kerf bereik het.
Dit het 'n mens laat wonder of daar nie tog maar 'n sesde rat kort nie.
Wat ook gepla het, was die USB-verbinding wat nie op die instrumentpaneel verskyn nie, maar soos 'n skugter huisslangetjie binne in die paneelkissie gebêre is.
Die goeie nuus
In sy rol as waarskynlik die ideale stadsmotor, is die Micra Active se 4,7 meter draaisirkel 'n groot voordeel.
Die kleintjie parkeer soos 'n droom, die 265-liter pakplek agter is ruim genoeg en die remme (skywe voor) was doeltreffend en in staat om die Micra gou-gou in 'n reguit lyn tot stilstand te bring.
Hier het die Koreans-vervaardigde Falken 165/70 R14 rubber grootliks meegehelp om te sorg vir 'n gemaklike rit, goeie padhouvermoë en kort remafstande - danksy remhulp wat nog 'n pluspunt vir hierdie prysklas is.
Ontwerp
Mense wat die Micra se kompakte, ietwat ronde ontwerp ken, sal steeds hou van sy nuwe baadjie.
Daar's nou 'n nuwe sierrooster, 'n parmantige klein drukvlerk agter en spesiale N Concept wielvellings wat netjies lyk in swart.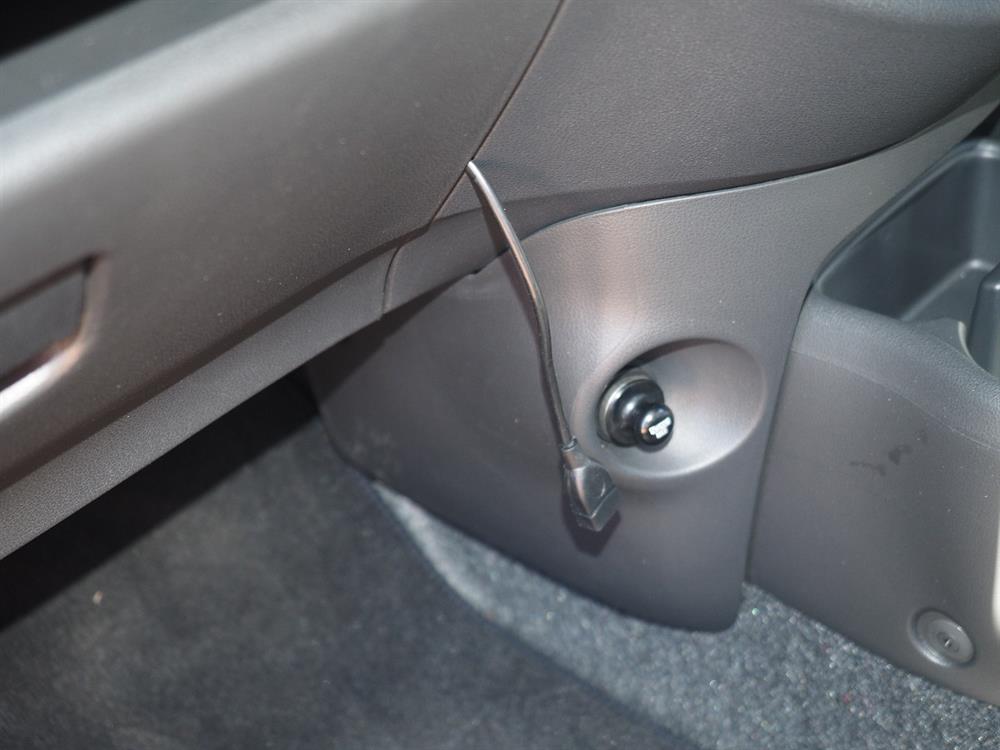 Die skamerige USB-verbinding.
Wat veral opgeval het - en hier moet korter mense op 'n trapleertjie staan - was die unieke riffelpatroon op die dak. Dit bied ekstra stewigheid en lyk sjiek - iets waaroor geen eienaar sal kla nie.
Binneruim
Die binneruim is verbasend gebruikersvriendelik, maar daar is tog enkele haakplekkies wat aandag behoort te kry.
Die bestuurder se venster, byvoorbeeld, word met 'n enkele druk van 'n knoppie oopgemaak, maar word slegs toegemaak deur heeltyd toe te druk.
Nissan verdien regtig 'n pluimpie vir die klankstelsel wat maklik verstaanbaar is, goeie klank bied en netjies op die instrumentepaneel vertoon.
Die sitplekke, veral voor, is ietwat te sag en behoort meer kantsteun te bied, terwyl die materiaalbekleding jare lange goeie diens behoort te lewer.
Gemaklik binne en die ideale motor vir rondrits.
Gerusstellend ook, gegewe ons Suid-Afrikaanse realiteit, is die outomatiese deursluitaksie wat teen 15 km inskop.
Op die pad
Die Micra is stabiel en padvas, selfs wanneer daar 'n fris wind waai.
Die hoofligte verdien spesiale vermelding en die remme, soos reeds genoem, boesem vertroue in.
Ek weet net nie of ek met die Micra in een dag van Pretoria tot in Kaapstad (1 456 km) sou wou ry nie (daai sitplekke).
Die gewillige klein driesilinder met sy plesierige grom is gemaklik tot 'n maksimum-snelheid van 166 km in staat.
Die motor haal 'n heel redelike 6,2 liter per 100 km brandstofverbruik wat die 41-liter tenk in staat sal stel tot 'n reikafstand van oor die 600 km.
Slotsom
Gegewe die Micra se goeie eienskappe, die skitterende ses jaar of 150 000 km waarborg en 'n koopprys van R160 000, is dit eintlik verstommend dat net 175 eenhede in September vanjaar verkoop is.
Hierteenoor het sy naaste mededinger, die Toyota Aygo (een liter-enjin en R1 500 duurder) ook net 87 verkope gehaal.
As 'n uitstekende stadsmotor met redelike langpadvaardighede, behoort die Nissan Micra aan die bopunt van kopers se inkopielys te wees.
Benewens die Aygo is dit net die KIA Picanto 1,0 Style (R95 duurder) wat 'n alternatief bied.
'Ons bring jou die nuutste Tuinroete, Hessequa, Karoo nuus'