MOTORING NEWS - The new Toyota Hilux Double Cab 2.4GD-6 proudly parades in front of the raised Garden Route dam spillway. Still the toughest bakkie on earth, the Hilux thrives in ever-changing environments. Whether off- or on-road, the Hilux can conquer even the most extreme terrains. As they say, "When the future gets tough, the Hilux gets tougher-er." It is also available in a XCab derivative.
The new Hilux is the bakkie for those who are ready to take on the challenge of life; those who don't let fear decide their future; who succeed not out of luck, but because they are determined to. For those who don't wait for opportunity, but create it themselves. And as today's challenges evolve into the opportunities of tomorrow, so does the Hilux.
With a formidable new design, featuring a more aggressive grille and front bumper that accentuates its bold, masculine lines, the Hilux will leave an impression no matter what the future holds.
Powerful yet efficient engines and the choice of a five- or six-speed manual or six-speed automatic transmission, combined with a rigid, robust ladderframe chassis, ensure the legacy of tougher-er continues. Four new models have been introduced to the Hilux Double Cab range, giving you a total of seven models to choose from and ensure that there's a Hilux to suit your needs.
Performance
The 2.4 GD-6 turbodiesel engine produces 110kW of power at 3 400 r/min and 400Nm of torque at 1 600-2 000 r/min, providing maximum punch and optimal fuel efficiency.
Interior
The exterior strength and toughness of the Hilux is perfectly balanced with comfort and ease on the inside. Easy access to information is imperative when taking the lead and with a real time information display system, you can effortlessly check your fuel consumption, the distance you've travelled and how much longer you can go before you need to fill up. The easy-grip, four-spoke steering wheel also has switches to control your mobile phone and audio.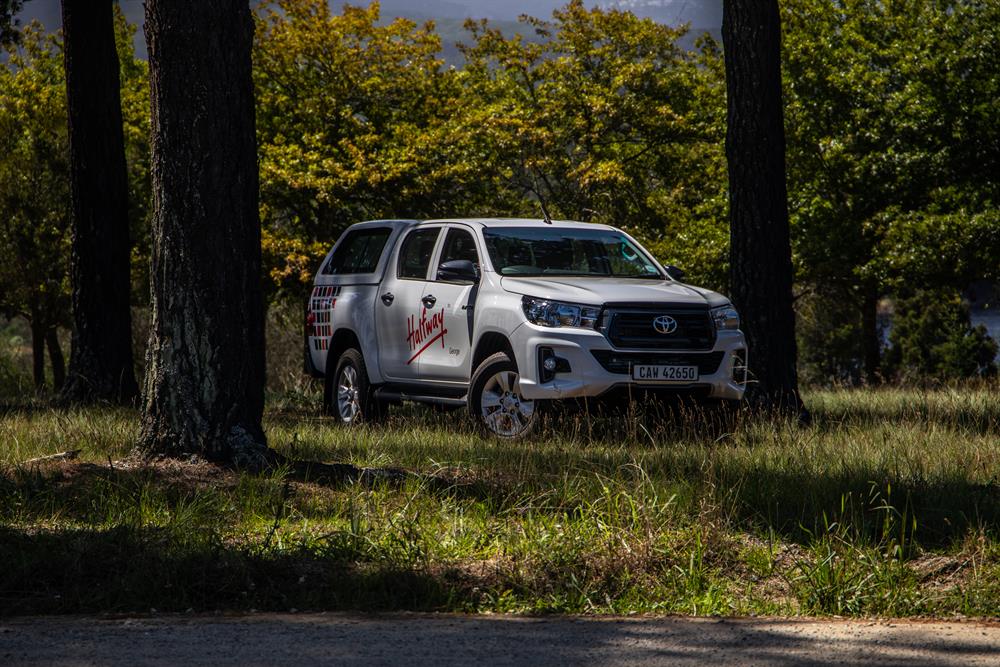 Safety
The new Hilux offers lots of safety features.
Hill Assist Control (HAC):
This feature prevents the vehicle from rolling back on steep ascents during drive-off.
Trailer Sway Control (TSC):
When towing, TSC stabilises the connection between your Hilux and a trailer so that the effect of potentially destabilising crosswinds, under-winds and variations in the road surface are neutralised. Steering operations are stronger: TSC suppresses extra movement before it gets beyond your brake or steer range, making sure the trailer is steady and stays completely within your control.
Active Traction Control (ATRC):
This controls brake pressure for wheels that slip during acceleration when driving off-road or in slippery conditions, and prevents wheels from spinning.
Range Selector Dial:
Simply turn the dial on the electronic transfer switch on the centre console to easily swap between 4WD, 4WD LOW and 2WD.
Wheels and Tyres:
17-inch all-terrain tyres give superior grip and comfort, both on- and off-road.
Skid Plate:
A strong, wide undercover protects your Hilux from damage.
Differential Lock:
Secures traction and ensures that you can get out of any tough situation with complete ease.
Suspension:
Up front, a double wishbone suspension with rigid shock absorbers provide driving comfort and stability, while super-strong leaf-springs at the rear ensure maximum load-supporting ability
Design
The front of the Hilux features a striking new design with a completely revamped, colour-coded front bumper, grille and fog lamps, inspired by the Hilux Dakar limited-edition model. The new design of the Hilux is emphasised by exterior features such as black door handles, front fog lamps, an LED high-mounted brake light, black power side mirrors with indicators and 17" alloy wheels.
The Hilux double cab comes in eight exterior colours including a brand-new Inferno Metallic, sure to make a statement.
The new Toyota Hilux XCab and Double Cab can be viewed at Halfway Toyota George. They can be contacted on 044 802 8200.
'We bring you the latest Garden Route, Karoo, Hessequa news'