MOTORING NEWS - Treads Unlimited, the South African distributor of the Black Rhino range of 4x4 wheels, and a division of TiAuto Investments, holding company of Tiger Wheel & Tyre, have warned motorists to be extremely wary of retailers offering Black Rhino wheels at prices that seem too good to be true.
This follows a massive crackdown on sellers of counterfeit and dangerous knock-offs of the brand since September last year.
The South African Police Service's Commercial Crime Unit, local authorities and industry experts have raided sites countrywide and the seized goods are being held in safekeeping pending their destruction, in order to preserve the safety of consumers.
"If it seems too good to be true, it probably is," said Alex Taplin, CEO of TiAuto Investments. "We cannot emphasise enough how very dangerous these counterfeit wheels are. Testing has revealed them to be of a deeply inferior quality and incapable of carrying the loads for which they are supposedly rated. Worse still, some models are barely capable of carrying the vehicle's unloaded weight.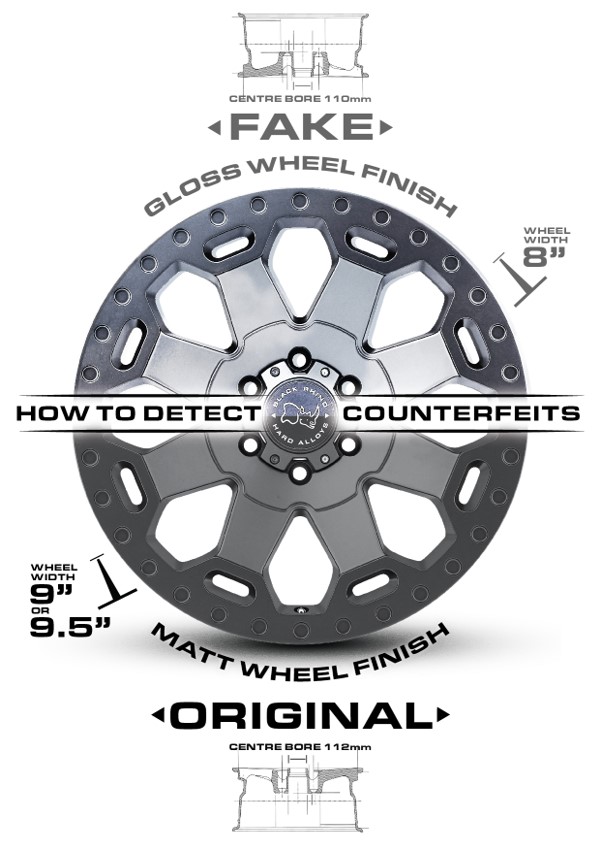 See above how to recognise fake Black Rhino tyres.
The physical integrity of these wheels is compromised due to sub-par engineering, which includes a significant reduction in the amount of expensive but necessary materials in the wheel structure.
Make no mistake, these wheels will fail, and when they do the consequences could be catastrophic. We urge vehicle owners to do their due diligence and only purchase Black Rhino wheels from Tiger Wheel & Tyre and other reputable retailers."
Check them out
According to Treads Unlimited, it can be difficult for the untrained eye to differentiate between genuine and counterfeit Black Rhino wheels. As a result, the company is offering owners of Black Rhino wheels a free wheel inspection at any Tiger Wheel & Tyre fitment centre in the country. Here, technicians will remove the wheels from the vehicle for full inspection and thus determine if they are genuine or counterfeit.
The inspection process will take about 15 minutes.
As the investigation and raids continue, Treads Unlimited is offering a reward of R5 000 in the form of a product voucher to anyone with information that leads to the seizure of counterfeit Black Rhino wheels and/or the arrest of individuals involved in the import, distribution or sale of such wheels.
E-mail your tip-offs to Werner Fourie at wernerf@tiauto.co.za.
'We bring you the latest Garden Route, Karoo, Hessequa news'