MOTORNUUS - Oorkant my in Blues Caffé in George sit 'n dame wat met groot entoesiasme haar geesdrif vir motorsport en veral Fiats met my deel.
Anita Cusens se lewe draai om haar Fiat Abarth. Cusens se pa, Jerry Spaans, was haar rolmodel. Jerry het van jongs af aan motorsport deelgeneem - eers ovaalbaanwedrenne en later op kort teerbane soos Swartkopsrenbaan in Pretoria.
Jerry het 'n voorliefde gehad vir Fiat se Abarth-modelle - tewens, hy het bekendgestaan as "Mnr. Abarth Suid-Afrika". Abarth is die kompetisiebeen van Fiat wêreldwyd, soos Mercedes Benz se AMG en BMW se M Sport.
Jerry het sy Fiat-renmotor by die renmotorversamelaar, Lew Baker, wat nou ook in George woon, gekoop. Hy het die motortjie self tot sy oorspronklike vorm opgebou, en het in Gauteng aan baanrenne begin deelneem. Vir twee jaar het hy aan die wedren, "Legends of the 9 Hour" met sy Fiat deelgeneem en goeie resultate behaal.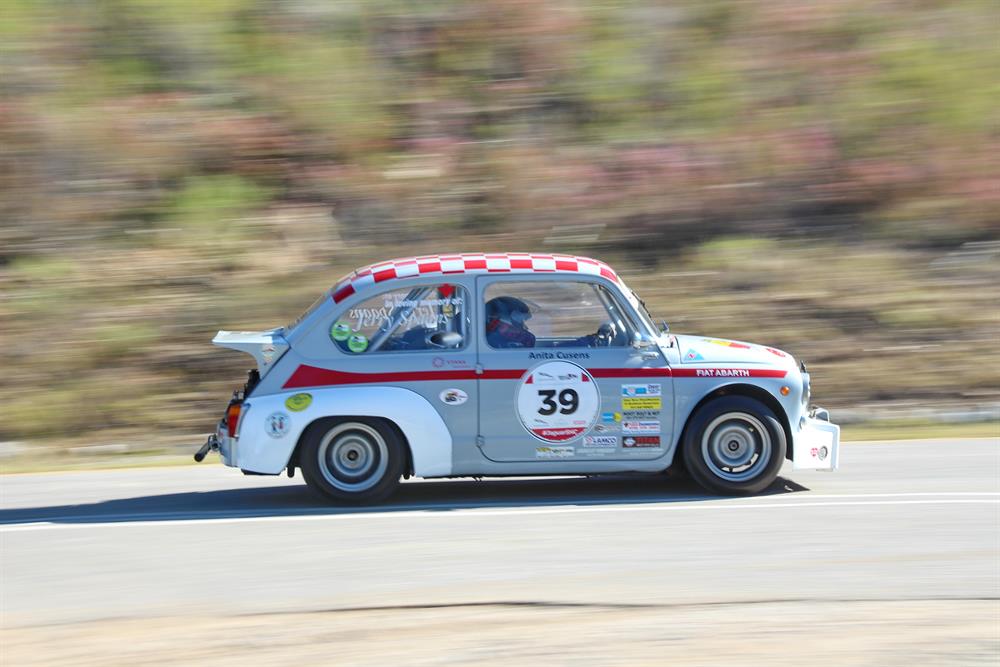 Anita Cusens hier in volle vaart in haar spoggerige Fiat 600 TCR Abarth.
Kort voordat die Spaans-familie George toe getrek het, het Jerry siek geword en is op sy dogter se verjaarsdag op 21 Julie 2012 oorlede.
Anita se man, Francis, is een van die stigterslede en gereelde deelnemers in die Simola Hillclimb en kort voor lank het die Hillclimb-gogga vroulief ook gebyt.
Haar ren-Fiat is 'n 1962-model 600 1000cc TCR Abarth.
Anita sê die TRC-modelle is eers later in die 60's bekendgestel, maar haar replika is na die TCR-spesifikasies aangepas. Die Fiatjie versnel van 0 tot 100 km/h in ongeveer vier sekondes.
Anita wou haar pa se droom laat voortleef, en in 2014 het sy die klein Fiat in die Simola Hillclimb se historiese afdeling ingeskryf. "Ek het 'n dag voor die byeenkoms die Fiatjie vir die eerste keer bestuur, van die dorp tot in die kuipe, en daar staan ek by die wegspring met geen ondervinding van die motor nie, geen wedrenondervinding nie, voete wat bewe, en die man wil my afsit. Met my eerste poging op teen die heuwel was ek net een groot stresbol. Ek wou nie die kar seermaak nie."
Net na die wegspring tydens die Simola Hillclimb draai Anita Cusens die krane oop in haar Fiat 600 TCR Abarth.
Sedert daardie eerste probeerslag het Anita vir nog 'n paar jaar met die Fiat die Simola Hillclimb aangevat. Sy het dit gedoen om te sien wat sy en die voertuig kon vermag en nie om te wen nie. Intussen het sy ondervinding opgedoen, en meer selfvertroue gekry, en die klein Abarth het al hoe vinniger teen die bult opgeskiet. Anita gaan ongelukkig nie in 2020 aan die Hillclimb deelneem nie, maar is volgende jaar beslis terug.
Die kleine Fiat 600 TCR Abarth word gereeld op plaaslike motorskoue gesien.
Sy is só 'n groot Fiat Abarth aanhanger, selfs haar daaglikse wiele is 'n nuwe Fiat 500 Abarth. Daar is heelwat Fiats, ook skaars modelle, in haar familie se besit, maar dis 'n storie vir 'n volgende keer.
n Die Simola Hillclimb 2020 vind plaas vanaf Donderdag 7 Mei tot Sondag 10 Mei.
''Ons bring jou die nuutste Tuinroete, Hessequa, Karoo nuus'"