MOTORING NEWS - During a moving ceremony at LifeConnect in George on Saturday 9 January, heart-broken family members, friends and colleagues said goodbye to an icon of the local motoring industry, Raymond Botha.
Botha, the dealer principal of Lynn Schroeder BMW in George, passed away at the age of 64 on Saturday 19 December due to Covid-19 complications. Two of his colleagues at Lynn Schroeder, Stanley Williams and John Baloyi, also passed away after a number of employees at their workplace contracted the virus.
His wife Rose, whom Botha adored, was admitted to Mediclinic with Covid-19 a week after her husband was taken ill, and put on oxygen in high-care, but has since been discharged.
Botha became the owner of Lynn Schroeder BMW in George in 2004 and was still managing the business after he sold it to the Motus Group in 2020.
Before buying BMW George in 2004, Botha was the dealer principal of Forsdicks BMW, Tygervalley from 2000 to 2004 after spending two years at Aboul Fotouh BMW in Egypt.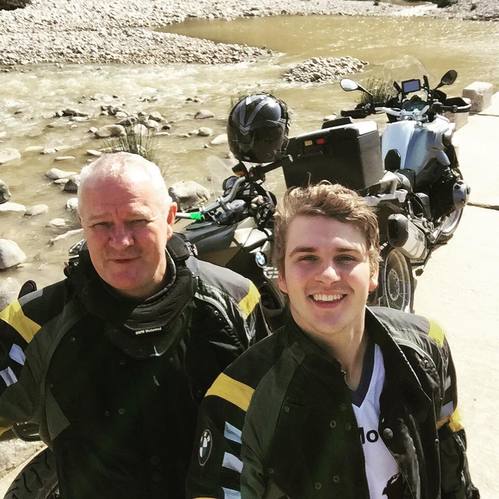 Botha was very close to his son, Jason.
His colleague, Etienne van Blerk, the dealer principal of George Multifranchise, said their colleagues' passing is a tremendous loss for their dealership family. "Covid has and continues to have a devastating impact on our broader community and in this current climate nothing is more important than the health and safety of our employees, customers and community and we will continue to do whatever is within our power to proactively and responsibly act to safeguard them."
On Sunday morning, 10 January, a group of bikers set off for Oudtshoorn on a memorial ride organised by Botha's beloved son, Jason. The group celebrated Botha's life in an apt way as he was an avid bike rider who loved the great outdoors enjoying many a road-trip with Jason and Rose.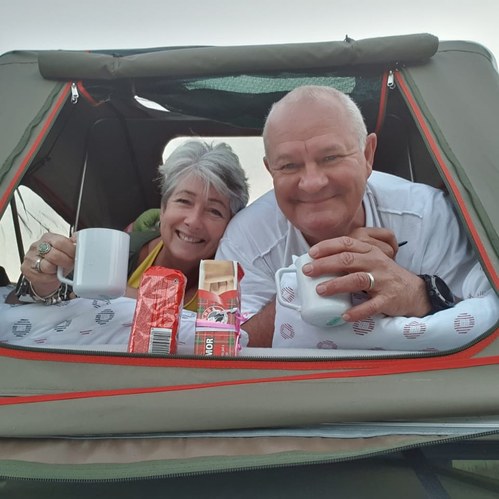 The couple enjoyed many happy camping trips.
Botha, the oldest of three boys, was born in Cradock on 30 August 1956 to Florence and Tjoekie Botha. He spent his early school years running around barefoot in De Aar, before the family settled in Bluewater Bay in Port Elizabeth where Botha attended Victoria Park High. During this time he developed a passion for rugby and as a great swimmer attained provincial colours. He joined the Bluewater Bay Lifesavers Club and maintained contact with his lifesaver friends all his life. He did his national service in the navy and then studied ceramics at Pretoria Technical College.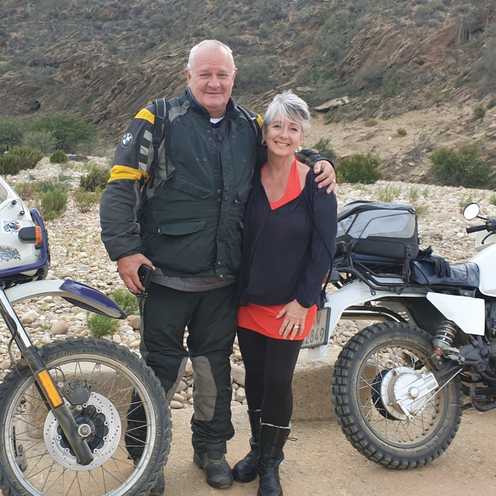 Botha was an enthusiastic biker and Rose was always willing to hit the road with him.
In his eulogy his brother Graham said Raymond owned a kombi in his 20s and enjoyed many adventures and excursions in the bus, with music - one of his great loves - blaring, smoke billowing out of the windows - all with much laughter. "He was always somewhere else, be it St Francis, Grahamstown, Port Alfred or Plett, and he made a huge number of friends. His natural charm, smile and appetite for life made him a very popular young man."
Rose told Carmag the couple, described by Graham as soul mates and two peas in a pod, still had so many plans for the future. "I can only tell you how much I loved him and how much fun we had... what a patient and loving father and stepfather he was and such a caring, loving husband."
A quote he kept among his things offers some solace. "It describes totally how Ray lived."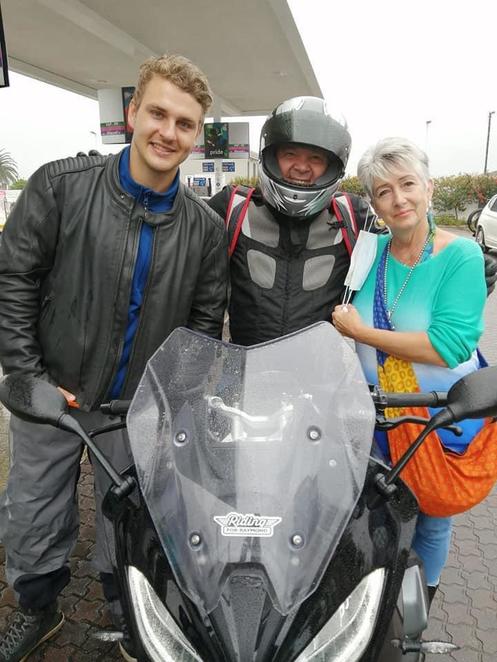 Jason Botha, General Sales Manager at BMW George, Garth Van Tonder and Rose Botha during the memorial ride on Sunday.
The quote reads: I shall pass through this world but once. Any good thing, therefore, I can do, or any kindness I can show to any human being, let me do it now. Let me not defer it, or neglect it, for I shall not pass this way again.
One of his teachers at VPHS, Pepe Pretorius, now 82, sent Rose a beautiful message. "I am very sad to learn of Raymond's passing. I still cherish many happy memories of Raymond as a schoolboy, together with his great mate Henry du Pisani. They were like peas in a pod. It was a great friendship and I often had chats with the two of them. After school I met up with this pair while they were in the navy in Simon's Town. We shared many yarns of their navy experiences. I later met up with Raymond in Grahamstown. I followed their careers over the years... because they were delightful schoolboys... and friends. Thanks for the memories, Pepe."
Raymond Botha will be missed by all who new him for his zest for life, quirky sense of humour, kind heart and soft smile.
Apart from his many friends and loved ones, he leaves behind his wife Rose, son Jason, three stepchildren, Amber, Richard and Sage, and brothers Graham and Shaun.
Click here for a photo gallery
'We bring you the latest Garden Route, Karoo, Hessequa news'