INTERNATIONAL NEWS - Italy's populist government was set Tuesday to defy the European Commission, preferring to risk financial sanctions than revise its big-spending budget.
The coalition had been given time to change its 2019 plans but insists an anti-austerity approach will help kickstart growth in the eurozone's third largest economy, and consequently reduce the public debt and deficit.
The far-right League and Five Star Movement (M5S) plan to run a public deficit of 2.4 percent of GDP in 2019 - three times the target of the government's centre-left predecessor - and 2.1 percent in 2020.
But Brussels forecasts Italy's deficit will reach 2.9 percent of its Gross Domestic Product in 2019 and hit 3.1 percent in 2020 - breaching the EU's 3.0 percent limit.
League head Matteo Salvini vowed Monday to put his back into "defending the budget, as if it were a rugby scrum".
The European Commission rejected Rome's budget outright last month - a first in the history of the European Union.
It gave Italy until Tuesday to make changes and warned non-compliance could activate the "excessive deficit procedure" (EDP), a complicated process that could lead to fines and also risks provoking a strong, adverse market reaction.
While Rome targets economic growth at 1.5 percent next year, Brussels has forecast a more cautious 1.2 percent, putting Italy at the bottom of the table.
'Suicide'
Italy's Economy Minister Giovanni Tria has accused Brussels of getting its sums wrong.
It would be "suicide" to attempt to reduce the deficit to the previous goal of 0.8 percent of GDP, he has said, insisting "we must get out of the trap of weak growth".
The government is expected to unveil its response to Brussels after a cabinet meeting late Tuesday.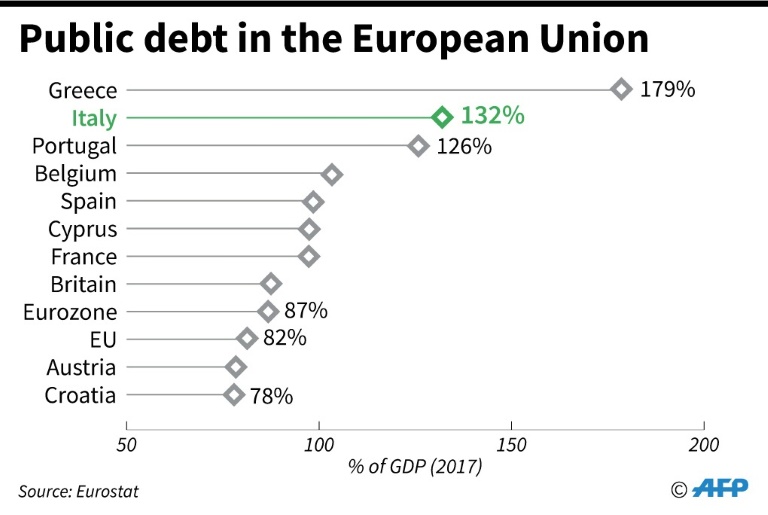 Italy ranks second only to Greece, with massive debt equal to 131 percent of annual economic output as the government readies to defy Brussels and stick to its big spending 2019 budget.
The elephant in the room is Italy's public debt, which comes in at a whopping 2.3 trillion euros ($2.6 trillion), a sum equivalent to 131 percent of its GDP - second in the euro area only to Greece and way above the 60 percent EU ceiling.
Prime Minister Giuseppe Conte has attempted to soothe troubled markets by saying the Commission's forecasts "undervalue the positive impact of the budget and structural reforms".
The fine for refusing to review the budget could correspond to 0.2 percent of Italy's GDP - some 3.4 billion euros.
European Economics Commissioner Pierre Moscovici has said he hopes a compromise can be found to avoid sanctions.
"If you ask us to tackle waste, to find more resources, we can talk about that," M5S head and deputy prime minister Luigi di Maio said on Sunday.
But he added: "If you ask us to massacre the Italians, we say no: the budget will not change".
Cardinal Gualtiero Bassetti, head of the Italian bishops' conference in a country where the Roman Catholic Church still holds much moral sway, warned Monday against "barbarous and arrogant" politics.
"If they get the maths wrong, there's no back-up bank that will save us," he said.
'First step'
The European Commission "will make the first step to move Italy into EDP" after an update on the debt expected on November 21, said Lorenzo Codogno, former chief economist at the Italian Treasury Department.
The country will likely be given three to six months to prepare correction plans, after which nothing will happen until the new Commission takes up office at the end of next year following European Parliament elections, he said.
"The true guardians of fiscal discipline will be, as usual, financial markets," he said.
All eyes are on the "spread" - the difference between yields on 10-year Italian government debt compared to those in Germany - which has more than doubled since May, when negotiations to form the coalition government in Rome began.
Uneasy investors, who demand a higher return to put their money into Italian assets, have already cost the taxpayer an additional 1.5 billion euros in interest over the past six months, according to the Bank of Italy.
The fear is that stress in Italy could spread to other European countries which are only just recovering from the eurozone debt crisis.