Gallery
KNYSNA NEWS – The whales came to the party at Brenton-on-Sea last Saturday, 5 June, right on cue. Throngs of people had taken to the beach for the dual commemoration of the annual migration of humpback whales and World Environment Day - and there they were, a pod of whales giving a special show out at sea.
Some 200 people, young and old, participated in various activities and events along the Brenton-on-Sea beach.
The main drive of the day was to mark the annual humpback whale migration and educate participants about the importance of protecting their natural environment.
"It was a great success that highlighted that we need to conserve our natural heritage. We have incredible events such as the humpback whale migration arriving in Knysna before spreading up the coast. They are natural spectacles that all can enjoy while they also act as tourism attractions to our area," said manager of the Knysna section of the Garden Route National Park, Megan Taplin.
"It's also a great opportunity for us to create awareness among the younger generation, who are the leaders of tomorrow, about how precious our wildlife and ecosystems are and how we need to combat threats such as pollution, to safeguard it."
Organisers also took the opportunity to introduce the Pathfinders (10- to 15-year-olds) and Adventurers (4- to 9-year-olds) clubs from Bongani and White Location to the day's events.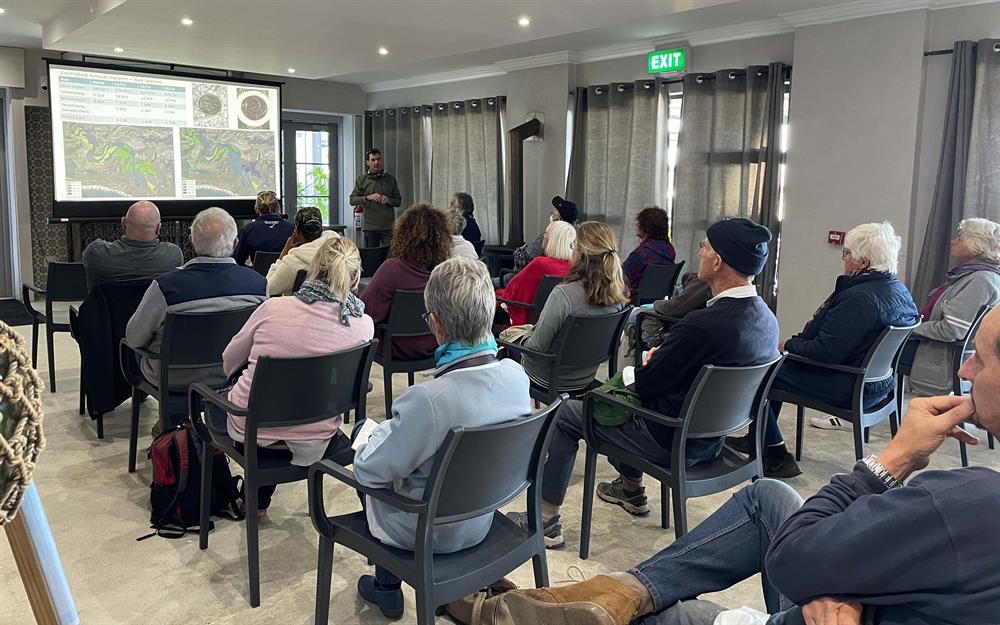 There were a few different talks inside at Brenton Haven.
While the kids enjoyed a range of activities including a treasure hunt, a sand sculpture building competition and a short educational outing on the beach, the adults were treated to educational talks at Brenton Haven. SANParks marine biologist Kyle Smith enlightened them on the Knysna Estuary and its conservation importance, while Lloyd Edwards of Raggy Charters discussed whales and the humpback whale migration.
There were also various educational displays on the grass at Brenton Haven, including one on plastic pollution.
People were very pleased about the presence of the whales. "Yes of course [it was special], we asked the whales to arrive at the correct time," Taplin joked. "It was wonderful for people to be able to relax on the grass or the beach and see the whales out at sea."
'We bring you the latest Knysna, Garden Route news'