Update
KNYSNA NEWS - Residents and business owners in Rawson Street are outraged and appalled at the unsightly disturbance of squatters at nearby vacant plots, and a number of them say they suffer from sleep deprivation as a result.
The issue ties in with poor maintenance of the town's streets, vagrants harassing people outside pubs and eateries late at night, and the ongoing issue of trucks parking on Main Road.
'Cacophony at night'
A homeowner who asked not to be named stated in a letter to the Knysna-Plett Herald that community members are "assaulted by the cacophony of shouting, quarrelling, and abusive language coming from a number of indigents".
The letter reads: "Shopping trolleys, filled with clanking bottles and rattling tins, are pushed up and down in the dark hours. And, as if noise was not enough, the two vacant plots opposite Malachite Mews have become sleeping quarters and gathering spots for what are patently nefarious activities.
"Piles of cardboard, sheets of plastic, polystyrene containers, tins, bottles and sundry other litter, pile up in the hedgerows, and under trees, and in a wind scatter about, creating an eyesore unpleasant enough for the area's residents, but totally counterproductive in the town's appeal to tourists.
'Unsanitary conditions'
"Most alarming of all, there are obviously no sanitation amenities available, which is patently odorous and an undeniably serious health risk."
It was also stated that although security companies patrol the area and rubbish is removed daily, this is not a long-term solution and only a quick-fix that lasts just hours.
Another resident, also anonymous, stated: "I have repeatedly reported the problem of the squatters on Rawson Street at the police station, with no response. Eventually, after much persistence, I was directed to law enforcement, with a similar outcome."
The letter continued to say that complaints without suggested solutions are useless.
"Are we, as taxpaying residents of Knysna, obliged to sit, hands folded, and meekly accept a patently untenable status quo, or is our protest to be heard? Indeed, is anyone out there listening?"
'Security risk for property owners'
A business owner in the vicinity, Francois Bosman, said the illegal squatting on land behind the Knysna Bowling Club, on the corner of Rawson Street and Hedge Road, was reported to Knysna law enforcement by himself and others in the recent past.
"These people are illegally invading land not zoned for residential purpose and causing noise nuisance (late at night), a health hazard and security issues for surrounding property owners and ratepayers," he said.
Similarly, he has received no response from the municipality.
Squatters sleep under rubble in Rawson Street.
Main Road 'deteriorating'
The owners of Bloo Bistro, Paul and Debs Zeman, say the situation on Main Road is slowly deteriorating and can easily be fixed should the municipality take action.
"We have a problem every now and then with squatters who sleep and litter on our stoep. One of the biggest problems on Main Road is the poor lighting and prevalence of trucks. A heavy vehicle smashed and buckled one of my building's pillars," said Zeman.
He said sometimes vagrants harass his customers, and some of them take chances by pretending to be car guards but end up grabbing possessions of passers-by.
"We have spoken to the municipality, but they do nothing about it. Why do they want to fix Gray Street when actually Main Road is the biggest problem in Knysna".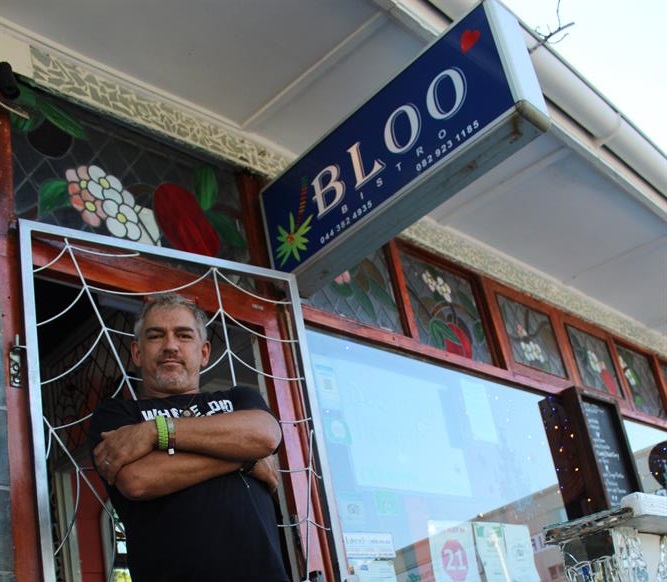 Owner of Bloo Bistro on Main Road, Paul Zeman, says the situation in Main Road is also deteriorating. Photo: Yaseen Gaffar
Cleanup under way, says municipality
In response to questions, the municipality stated that law enforcement has commenced with a programme to demolish and clean hot spots where street people tend to gather or overnight.
"These areas are patrolled at night as well as early in the morning. It must be noted that this problem is not unique to Knysna. It requires more than a single solution when all factors such as long-term unemployment and other socioeconomic challenges are considered. Government relies on civil society and the business sector to assist in the redress of this problem."
They also advised residents to report any incidents to the law enforcement at 044 302 6551.
The municipality further stated that trucks parking on Main Road is regulated by national legislation as it is a national road.
"With regard to streets under our control, these form part of the daily patrols by law enforcement," it concluded.
Read a previous article: Church behind bars?
'We bring you the latest Knysna, Garden Route news'