PLETTENBERG BAY - The swift action of Bitou law enforcement officials saw the arrest of a suspect and the recovery of stolen goods after tourists were robbed on a Plettenberg Bay beach last week.
Plettenberg Bay Crime Prevention Association (PBCPA) operations head Otto Olivier said law enforcement officers requested assistance after spotting tourists falling victim to two thieves on Hobie Beach last Thursday afternoon.
One of the suspects was chased down on foot and caught at the local taxi rank by law enforcer Shane Xayimpi.
"Responders and municipal law enforcement officers did a detailed search of the area, but unfortunately the second suspect got away. Information will be followed up. A few odds and ends were recovered in the bushes during the search, but most importantly the holidaymakers' vehicle keys were found by temporary EPWP officer Phaphama Kibiti."
Jacky Janks, who is from Cape Town and holidaying in Plett, said she and her husband had left their bags with a few belongings on the beach while they went for a quick swim.
When they returned, they realised that their bags were missing. Janks immediately ran to law enforcement officials stationed in the area and told them about what had happened. "They sprang into action," Janks said.
She said one of the officials contacted Plett Security who also responded. "They even took us to the police station. While we were there, we were informed that the keys to our Land Rover had been found and that a suspect was arrested. We were so relieved, because the key is an electronic one."
Janks praised all those involved in assisting them. "Everyone was so kind and went out of their way to help us."
Olivier since the announcement of the stringent Covid-19 regulations on 15 December last year, local law enforcement authorities have taken a hammering on social media, particularly for fencing off beaches, chasing surfers off the beach and some EPWP members sitting around in groups.
"Today [Thursday] we were once again privileged to see some municipal law enforcement officers and temporary EPWP law enforcement workers in action."
He urged locals and visitors to be vigilant following other incidents over the past week, which include a motor vehicle break-in during curfew. "Some of the [stolen] goods were recovered," Olivier said.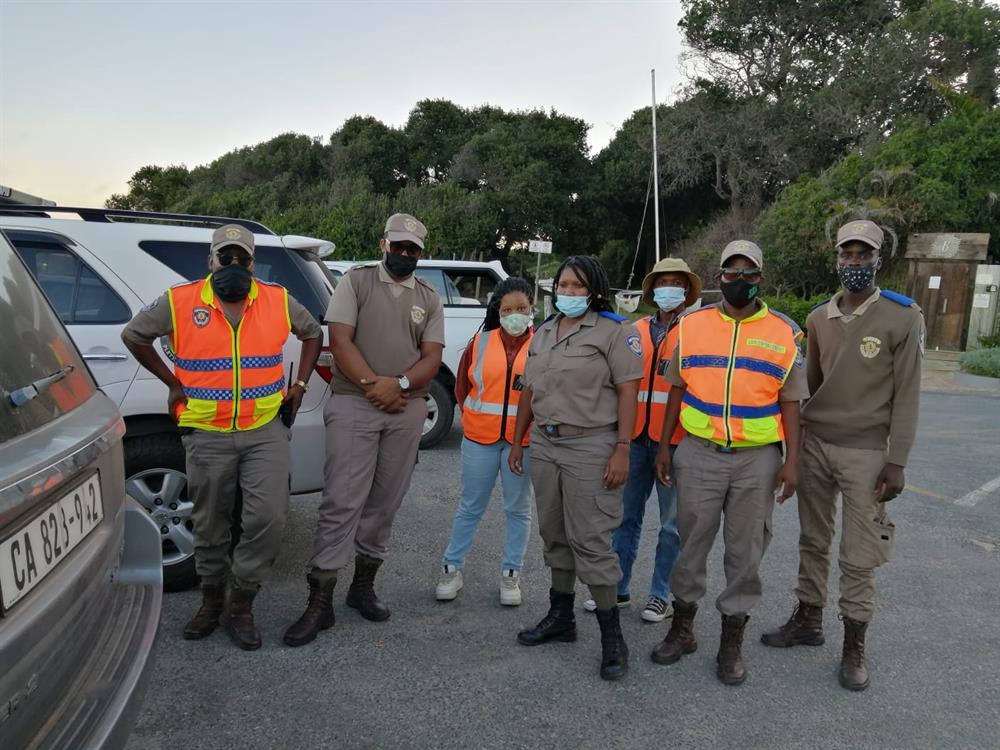 The team of Bitou law enforcement officials who helped the tourists in distress.
He added PBCPA responders had also been very busy dealing with youngsters celebrating the end of their school career. "We had several incidents involving loud music, rowdy behaviour and noise complaints. Some were not adhering to social distancing or Covid-19 compulsory mask regulations and ignoring curfew rules."
There were also a few fender benders, a pedestrian was run over by a reckless driver on a motorcycle and there was an incident of domestic violence where the alleged abuser was stabbed.
'We bring you the latest Plettenberg Bay, Garden Route news'