Gallery
KNYSNA NEWS - This report is about squatters and while it is commonplace in South Africa, the story has taken on a twist because these people are squatting in a very affluent suburb in Knysna – and neighbouring ratepayers are complaining bitterly.
What has become known as the Salt River Road (Old Cape Road) squatter camp is a result of people living illegally on land. Since the fires that destroyed their homes, they have erected what those living in the area have called "unsightly, ghastly" make-shift accommodation.
This now renders the occupancy of the land illegal since they do not own it and their homes have burnt. The issue started a few weeks ago with a query from a concerned resident and so-called close family friend of the one families living there, highlighting the fact they were living there with no sanitation or basic services.
A dweller explains
According to Lynda Gussenhoven, she moved to the area from Plettenberg Bay about two years ago due to spousal abuse.

"I had nowhere else to go. I tried welfare services but they had nowhere for me to stay." So she ended up living in a derelict house along Salt River where her tents and caravan are standing now.

"It was very dilapidated with no windows or doors," is how she describes the place before it burnt down.

She says the area had a reputation at that time due to several "boys" living there and using drugs. "They were responsible for the house being stripped of all its worth," says Gussenhoven, who claims she and her adopted daughter Lebogang then tried to fix up the place "one wall at a time".

She claims that during this time she contacted the owners of the property explaining she had nowhere to go, and was given verbal permission to stay there.
Click here for a photo gallery.
And then the fires came
The June fires destroyed what Gussenhoven says she had built there, with nowhere for her and her family of three to go to.
Gussenhoven and her daughter, granddaughter and fiancé now live among the ruins of the house, in tents and a caravan, and according to people living in the area, this settlement of people seems to grow by the day.
A desperate Gussenhoven explains the reasons for staying put: "I have tried everything – from contacting Rotary, to setting up a business proposal for the owners of the property which would allow me to stay here and generate income for them and my family, to going to the municipality," she says.
The Knysna municipality did offer to move her to Oudevallei, "but it's not safe there for my girls and there is no electricity or water either," she says.
No permission from landowner
Although Gussenhoven intimated, when speaking to Knysna-Plett Herald (KPH), that the landowners were open to her business proposal, the director for owner Visigro Property Development, John Stergianos, says nobody has ever been given permission to live on the property, nor have they given anyone permission to operate a business from the premises, "which would be illegal as permission must first be obtained from local authority," he adds.
"Yes, she did say she had a business proposal, however, we are not in a position to entertain this, which I communicated to her. I have no idea what this business proposal is as I did not discuss it with her.
"Michael Wurbach, our representative, has confirmed that he has never spoken to Gussenhoven," he says.
Homes now unsafe to live in
When asked about eviction proceedings, Stergianos first made it clear that the houses that these people live in have become unsafe after the fires. "We have had them inspected by a structural engineer who submitted his report to the building department of the Knysna municipality. The department has subsequently issued a demolition order.
"We are awaiting the approval of Heritage Western Cape, upon which these unsafe buildings will be demolished," explains Wurbach.
Eviction on the cards
Wurbach says eviction is a separate process and, if necessary, an eviction order will be obtained. "However, our first priority is to demolish unsafe structures before someone suffers an injury or something worse.
When asked what the plans for these "squatters" are, Stergianos says, "Unfortunately these homeless people need to be taken in by shelters for the homeless. It is a community and governmental issue and not a private landowner issue."
He says that development on the property will start within one to two years from demolition.
The president of a welfare organisation approached to find out if they can help Gussenhoven, says they cannot do so as the squatters do not have the necessary permission to stay on the property and have any shelter erected.
"For this reason we have declined Lynda's request. Should she be able to find another location and secure the required permission, we will reconsider her application, provided that this happens in the foreseeable future," he says.
Neighbours have their say
Chick Ramsay, one of the founders of the Simola Hillclimb, who lives along Salt River Road, says the squatters appear to be multiplying and describes the situation as an "absolute disgrace".
Pam Golding Knysna owner Ling Dobson says she is "extremely disappointed" that the municipality is not clearing these sites. "Both the right and left sides are looking progressively worse as time goes by. These squatters were tenants and therefore do not have the right to stay in tents, caravans and whatever squatters do," she says.
She adds that there are some well-established estates as well as the Simola Golf & Country
Estate along the road who all contribute heavily towards rates and taxes of this town.
"Should they now withhold paying rates and taxes? What kind of impact will this have on tourists and potential home buyers?
"I have repeatedly asked the municipality to attend to this and nothing to date has been done. Surely it is the municipality's responsibility to contact the current owner to make sure these vagrants are removed?"
Municipality's 'hands tied'
While Gussenhoven alleges that law enforcement officials arrived on 22 September to give her a notice of eviction and that Ward 10 counsellor Peter Myers' name was on the order, this has been disputed.
According to the municipality, they have no jurisdiction over private land, thus the onus is on the property owner to remove people, and while Myers has received complaints, there is nothing the municipality can legally do.
Municipal manager Kam Chetty confirms that a law enforcement team had conducted a site visit and inspection, and the people living there were offered an alternative place to live, but they refused to move. A letter to KPH, written on behalf of one of the squatters, states quite clearly that they do not consider it safe to live in a township.
To date, Gussenhoven and her family are still squatting on the edge of Salt River. Sanitation remains an issue for them and for the neighbours their presence remains an "unsightly disgrace", but until the owners of the property evict these families, this situation will seemingly remain unchanged.
The entrance to the tent-dwelling Lynda Gussenhoven and her family share.
This is the caravan Lynda Gussenhoven's daughter and granddaughter use as a shared room.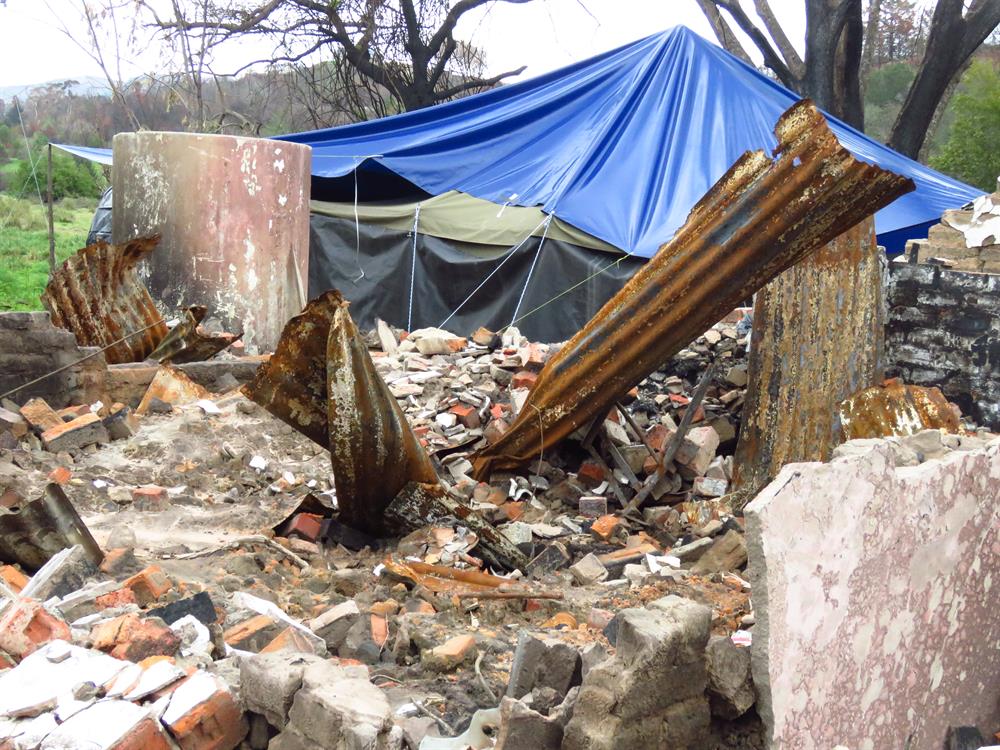 The kitchen and laundry area.
One tent (left) is used as storage, one tent (right) is used by Lynda Gussenhoven and her fiancé as a room, and a caravan is used for her daughter and granddaughter.
ARTICLE & PHOTOS: STEFAN GOOSEN, KNYSNA-PLETT HERALD JOURNALIST
'We bring you the latest Knysna, Garden Route news'