WESTERN CAPE NEWS - Premier Alan Winde said in a media statement today, that he "warmly welcomes" the news that the number of recoveries at old age homes in the Western Cape continues to increase.
According to the statement:
I warmly welcome the news that the number of recoveries at Old Age Homes in the Western Cape continues to increase. These residents are at high risk of severe Covid-19 illness, and so this extremely good news.
I would like to join Minister Sharna Fernandez in thanking all our Old Age Home facilities for the role they have played in saving lives, and to urge them to assist us in registering as many residents as possible for vaccination. The Covid-19 vaccine has been rigorously tested internationally and locally, and offers excellent protection against severe Covid-19 illness and death. It is safe and it is effective, and it will help us finally end this pandemic.
For Minister Fernandez's full statement, click here.
Update on the coronavirus and vaccines
As of 13:00 on 4 May 2021, the Western Cape has 1882 active Covid-19 infections, with a total of 284 416 people having been infected with Covid-19 to date and 270 775 recoveries.
A total of 61 038 vaccines received to date as part of the Sisonke trial have been administered by 17:00 on 3 May 2021.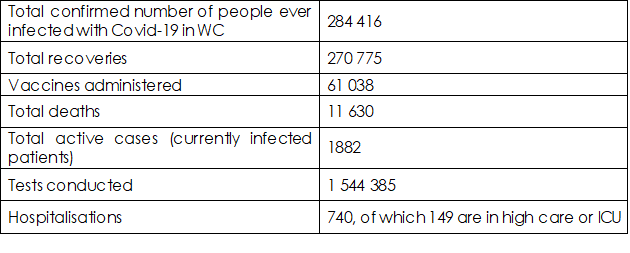 The Western Cape has recorded 3 additional deaths since our last daily update on Monday 3 May, bringing the total number of Covid-19 related deaths in the province to 11 630. We send our condolences to their loved ones at this time.
Additional data is available on the Western Cape Covid-19 data dashboard which also features active cases per sub-district, active cases per 100 000 and 7-day moving averages. Access the data dashboard here.
Garden Route District:
Bitou - 2765 cases, 2654 recoveries
George - 12067 cases, 11525 recoveries
Hessequa - 1967 cases, 1856 recoveries
Kannaland - 891 cases, 840 recoveries
Knysna - 4830 cases, 4659 recoveries
Mossel Bay - 7437 cases, 7196 recoveries
Oudtshoorn - 4080 cases, 3727 recoveries
75-year-old Covid-19 survivor is excited to register and receive vaccine
Among the 172 249 out of 720 000 residents who have so far registered for their vaccines is 75-year-old Richard Nessworthy. Residents over 60 years, such as Mr Nessworthy, are eligible to register on the Electronic Vaccine Data System (EVDS) and are urged to do so.
Richard is looking forward to the protection against severe Covid-19 that the vaccine will offer. He was hospitalised at the Brackengate Hospital of Hope between 18 January and 25 February 2021 after contracting the virus.
Mr Nessworthy said: "I went in there with a 50/50 chance of surviving, but I came out alive. They saved my life, and I am so grateful to the healthcare workers at the Brackengate Hospital of Hope. Because of them, I am able to stand here with my wife today. I was there in January and February 2021 and was on oxygen support for 34 days. It was amazing to see the healthcare workers there every day, risking their lives to care for others. Now I can walk around, although I'm not as strong as I used to be."
When asked whether he was looking forward to his vaccine, Mr Nessworthy said: "I have not received the vaccine yet, but I can say I am looking forward to getting the vaccine. I am 75 years old. What is my motivation? We need to get rid of this virus totally and taking the vaccine can help us do that. I will take it tomorrow if I could, to protect myself and my loves ones against becoming severely ill from the virus."
If any person is struggling to register and has not been able to clarify their concerns via the www.sacoronavirus.co.za/evds/support/portal, they are urged to contact our call center on 0860 142 142. Our teams are trained and on stand-by to talk residents through the simple, 8 step process.
'We bring you the latest Garden Route, Hessequa, Karoo news'