PLETTENBERG BAY NEWS - The Kwanokuthula teenager reported as missing in April and whose whose remains were recently discovered in a forested area on the outskirts of Plettenberg Bay, was murdered, police confirmed this week.
A 56-year-old man, who Sandiswa Mona (17) was allegedly last seen with, has been arrested and appeared in the Plettenberg Bay Magistrate's Court on Monday.
"After interrogation, the suspect was arrested and voluntarily pointed out the crime scene to investigators. The suspect was arrested on Thursday 12 September 2019 and charged with murder. Initially we opened an inquest docket for investigation, based on the information that was provided by the family of the deceased. New information reveals the suspect was the last person who was seen in the company of the deceased," Southern Cape police spokesperson Captain Malcolm Pojie said.
Mona went missing around 8 April. Pojie said initial information revealed that her grandmother left her at their home in Kwanokuthula while she attended a funeral.
"On her return from the funeral, she discovered that the girl was gone," Pojie said.
He added that a search party was established by the Kwanokuthula police. "This was conducted over an extended period of time, but with no positive outcome. Later the search was scaled down and eventually called off."
Pojie said her remains were found on 5 August by a passer-by walking his dog in the Ladywood area.
Following the grisly discovery, an inquest docket was opened for further investigation. "As the investigation unfolded, DNA samples were obtained from the girl's mother. Later, during private analysis, it was found that the mother's DNA matched a sample retrieved from the skeleton of the missing girl."
Pojie said the accused had been identified as Motseki Palasi from Kwanokuthula. He appeared in court on Monday, but the matter was postponed to 4 October so that he could apply for bail.
Several residents, mostly women, peacefully marched from Kwanokuthula to the court to show their support to Mona's family. It is believed there would be a large presence at the court for Palasi's next appearance in an effort to oppose bail. A petition against his release would also be compiled and handed in.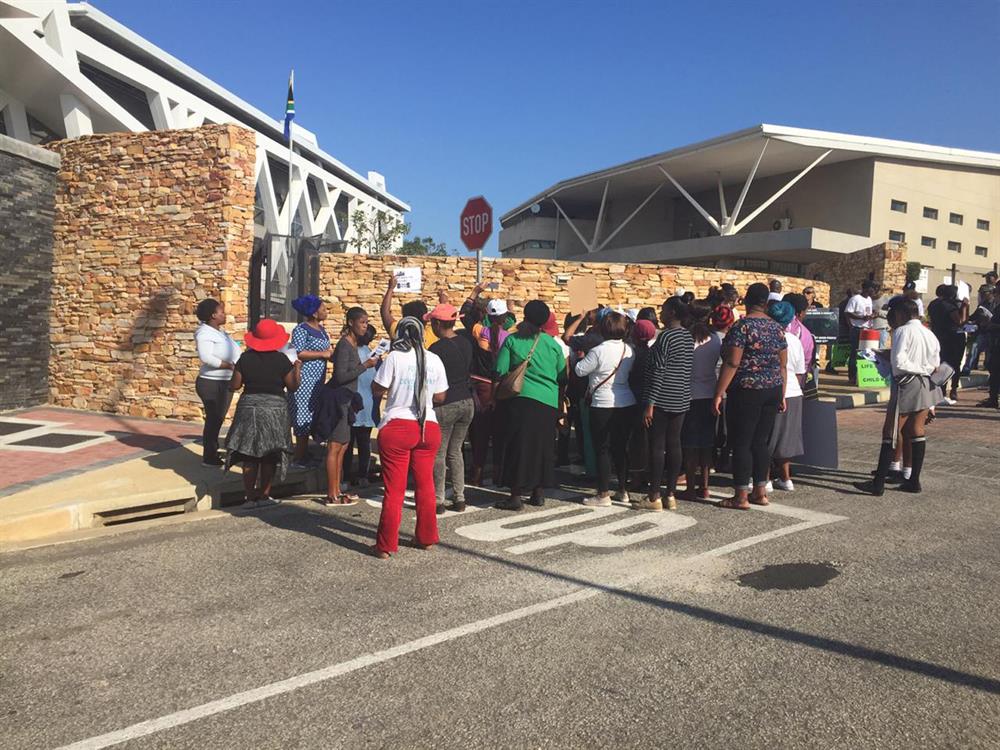 Residents gathered at the Plettenberg Bay Magistrate's Court for the first appearance of the man accused of murdering local teenager Sandiswa Mona. Photo: Supplied
Read a previous article here: Grief and joy for local families
'We bring you the latest Plettenberg Bay, Garden Route news'