KNYSNA NEWS - A youth organisation established in Knysna's Dam-se-Bos with the aim of reducing the impact of HIV and AIDS using art and education has been doing a soup kitchen for four days a week in the area.
MADaboutART's soup kictchen is serving food to about 200 children who are not getting basic rations at their home and it is supported by the Knysna Rotary Club and other donors.
According to MADaboutART's Trustee Elizabeth Brown the organisation which was formed in 2002 this week launched a new campaign called "Protecting Lives".
"The campaign is to reduce the spread of Covid-19 in vulnerable communities. At a time when the number of people infected with Covid-19 locally is increasing rapidly, we believe this project will reduce the spread of the virus and ultimately save lives," Brown said.
She said a public awareness campaign to encourage mask-wearing to reduce spread of Covid-19 began on 8 August with posters displayed on lampposts on the R339 road from Sanlam to Dam-se-Bos North and in surrounding communities, Khayalethu and Dam-se-Bos South.
"On 11 August, we distributed cloth masks to residents young and old. The area is densely populated and disadvantaged making social distancing and hand hygiene difficult for many. Masks are not being worn in public in general."
"Our team of trained volunteers will distribute masks door-to-door (2 masks per person). The team will educate and motivate homeowners to follow Government guidelines on mask wearing, social distancing and hand hygiene. An information leaflet will be provided to each person. Weekly follow-up will be carried out to motivate and encourage compliance," she said.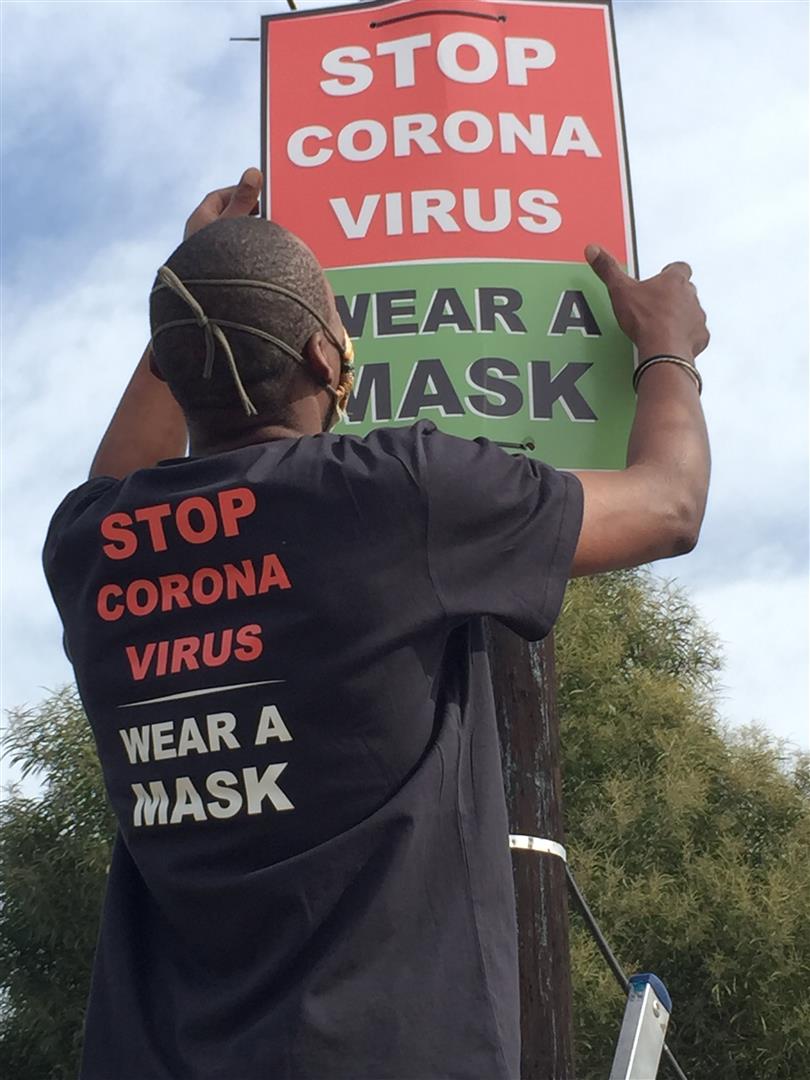 MADaboutART residents putting posters as part of their Covid-19 awareness.
Brown said they have secured funding to source and distribute 600 masks, produce street posters and information leaflets.
"We'd like to do more but we need support. Anyone who would like to contribute to the campaign is encouraged to donate masks our target is 1500 or soap bars, our target is 2100. We will arrange a drop-off point in town," she said.
For more information people contact Beatrice Jonas on 078 382 7548.
'We bring you the latest Knysna, Garden Route news'