KNYSNA NEWS - Once again Aimee Canny of Oakhill School has proven her impressive swimming prowess, finishing the SA National Aquatic Championships with a total of four individual and five relay medals – two bronze, two silver and five gold.
The championships were held at the Newton Park Pool in Port Elizabeth from 23 to 28 April.
Aimee achieved two SA Age Group records in the 50m and 100m freestyle, and Youth Olympic qualifying times in both the 50m and 100m freestyle.
Breaking more records
An additional highlight of the week was being part of the women's 4x50m freestyle relay team that broke the SA Open record! This great achievement was with one of the current SA female swimming legends, Emma Chelius.
Erin Gallagher, one of the star performers at the recent Commonwealth Games, is another female swimming idol to Aimee, as the current SA women's 100m freestyle record holder after she broke Karin Prinsloo's national and continental 100m freestyle record at the Games.
Aimee is fast following in her footsteps when she recently broke Gallagher's SA Age Group (u14) record for 100m freestyle last month in the SA Junior National Championships in Durban. Aimee has further bettered her own record again at the recent championship with a new SA Age Group record for the 100m freestyle.
Aimee Canny (middle) after she won gold in the 100m freestyle in the Youth Elite Division, followed by Erin Gallagher and Georgia Nel, daughter of 1980s SA swim star Annette Cowley-Nel.
Youth Olympic qualifying time
Aimee, at the young age of 14, posted a Youth Olympic qualifying time for the 100m freestyle and also in the 50m freestyle, finishing second in 26.43 behind Gallagher in 25.79 in Port Elizabeth.When asking Aimee about her experience, she said, "That was the most fun I ever had at a gala. I especially loved swimming the relay – it was the experience of my life!"
Delighted about her success, head of school Jannie de Villiers said, "Although Aimee's world-class swimming achievements fill us with immense pride, it is her humility and grace amid her success that never fail to astonish us. Oakhill staff and students salute our much-loved pupil, friend and champion!"
Swimming coach Grant Ferguson, family and friends in the wider community of Knysna and Oakhill School where she attends as a Grade 8 pupil, are hugely proud of this young rising star from Knysna.
Aimee Canny (second from left) also won gold in the Senior National 100m freestyle relay and team the set a new SA Open record. Her team-mates were Emma Chelius (left), Olivia Nel (second from right) and Inge Weideman.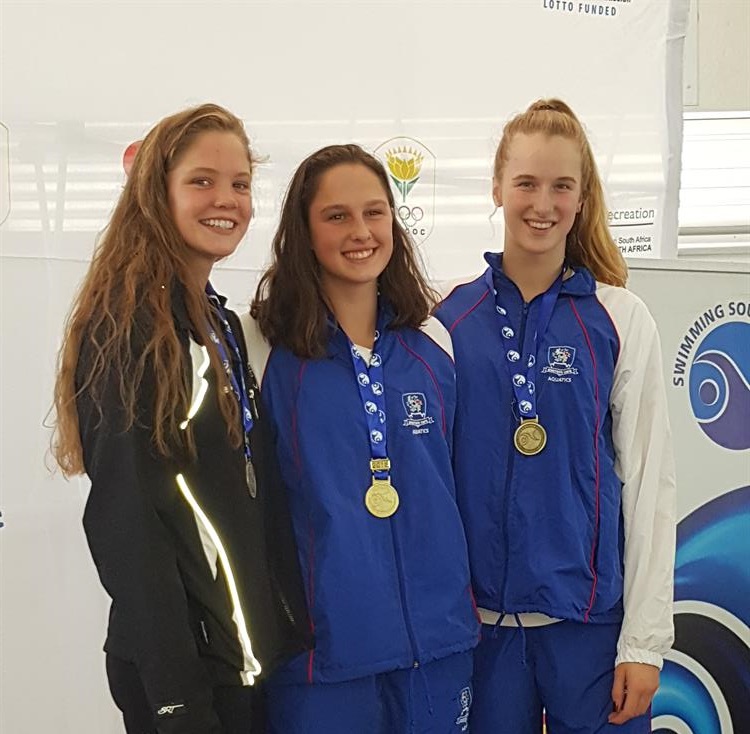 Aimee Canny (middle) won gold in the 50m freestyle in the Youth Elite Division. Flanking her are Erin Gallagher (right) and Olivia Nel, daughter of 1980s SA swim star Annette Cowley-Nel. Photos: Supplied
• Other than Erin Gallagher who got silver in both the 50m and 100m freestyle events, the girls who received bronze in the respective races are actually the twin daughters of Annette Cowley-Nel, who was a famous SA swimmer in the 1980s. They are Olivia and Georgia Nel.
'We bring you the latest Knysna, Garden Route news'