KNYSNA NEWS - The probable cause of death of most of Knysna's oak trees in the past few years is the polyphagous shot hole borer, a tiny beetle (about 2mm) that bores into the tree, infecting it with a fungus that feeds the beetles' larvae.
It is this fungus that can ultimately kill the tree.
It has been noted that other species of trees, some indigenous, have also been infected. Expert scientist Dr Wilhelm de Beer, associate professor at the Forestry and Agriculture Biotechnology Institute at the University of Pretoria, will visit Knysna to inspect possible infections and give a short presentation about this beetle and what the signs and symptoms of infection are.
If you have noted any possible infected trees, please send photographs and contact details to nannajoubert@gmail.com. The presentation will take place at the Royal Hotel, corner Main Road and Queen Street, Knysna at 11:00 on Friday 13 April.
Polyphagous shot hole beetle.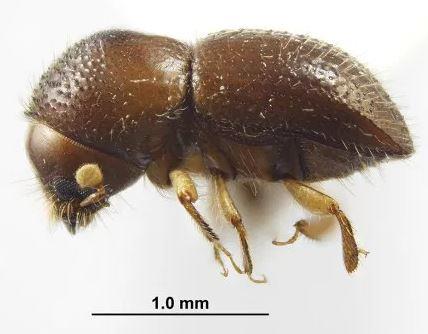 What the tiny beetle looks like.
Want to know more?
For more information about this beetle, see ww.pshb.co.za, https://en.wikipedia.org/wiki/Euwallacea_fornicatus, and https://bit.ly/2GQHisP.
'We bring you the latest Knysna, Garden Route news'