KNYSNA NEWS - Judah Square, the largest Rastafarian community in South Africa, is celebrating their Earth Festival, which opened on Monday 22 July and runs until Tuesday 30 July.
Before declaring it open, a group from this community situated in Khayalethu, Knysna blessed the attendees with live music followed by prayer, and Brother Maxi, an elder in the community, highlighted their faith by saying, "Without Jah everything is in vain."
The festival includes fundraising events building up to the festival, seven days of Nyahbinghi (church) services during the festival, chants (music), praying and praise-giving, bible reading and celebrating the Rastafarian messiah Haile Selassie's 127th birthday on 23 July. Then followed the Nyahbinghi opening service and lighting of the fire – the biggest highlight of the festival.
During the official opening night, Brother Maxi acknowledged delegates from all over the country and welcomed them to the national event.
Click here for a photo gallery.
He also welcomed Knysna deputy mayor Aubrey Tsengwa who attended on behalf of mayor Mark Willemse, and ward councillor of the area Mandla Matiwana, and said even though they as the Rastafarian community do not engage in politics that it is perhaps time to reconsider this policy.
Tsengwa echoed Brother Maxi's sentiments and acknowledged the contribution the festival makes to the town's economy, before commending the community for the work they do. "The municipality has made it clear that we want to continue working with this community and you have a sound relationship with your councillor," he said.
Matiwana also shared a few words: "What I love about this community is that you are a community who lives for themselves, building your community and your town and I love how close you are to nature."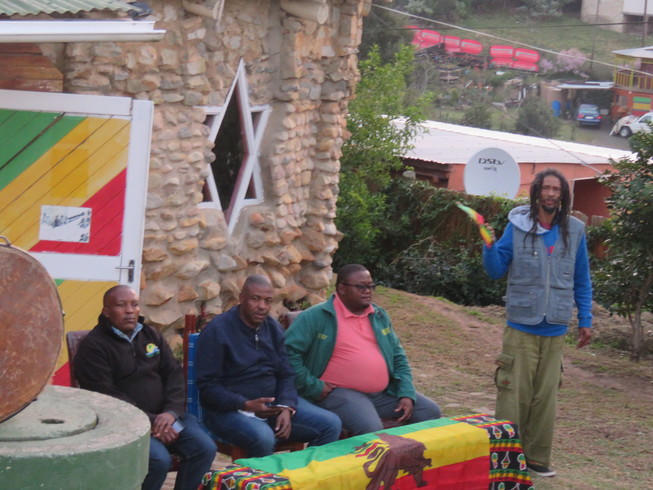 From left: Tour guide Thembekile Sigcu, deputy mayor Aubrey Tsengwa, councillor Mandla Matiwana and Judah Square elder Brother Maxi.
'We bring you the latest Knysna, Garden Route news'