KNYSNA NEWS - "How I am alive and not the person next to me must simply be a miracle," is how a survivor described how she felt following a horrific accident on the N2 on Sunday, November 27 – which claimed the lives of two people.
Patience Bontiya was one of six Old Apostolic Church members in the car who survived the accident. "I can't believe how I'm still alive because the man who was sitting next to me is dead now," said Bontiya from her hospital bed at Knysna Provincial Hospital on Monday, November 28.
One man died at the scene, another woman died later the same night in Knysna Provincial Hospital, and the six other passengers were injured when in the late afternoon of Sunday the vehicle they were travelling in plunged off the N2, approximately 10km outside Knysna on the other side of Buffalo Bay.
Bontiya sustained a serious back injury when the Mitsubishi SUV plunged down a bank.
These passengers were returning from a church meeting in Mossel Bay when the accident happened. Other church members were in other vehicles behind them.
"I can just thank God that I am alive because I keep thinking I was a seat away from someone who lost their life," said Bontiya.
She says she and a church friend, Lindiwe Jonas, who is sharing a hospital ward with Bontiya, were the only ones left in the vehicle after it crashed, because all the other passengers were thrown out by the impact.
The two women were first helped by motorists who stopped, before emergency services and an ambulance arrived.
They were, however, also the last to be helped since those who were flung out of the vehicle were attended to first by the paramedics, and the two trapped in the vehicle not seen at first.
"We just prayed and prayed while the engine of the car was still running that help would come," said an emotional Bontiya.
It was a huge relief when the paramedics came to their rescue, because they were too badly injured to move or get out of the vehicle themselves, said Bontiya.
"It was terrible being stuck in the car, not even knowing where we had landed or what had happened," said Bontiya, because it all happened so quickly.
Jonas spoke very little in hospital, except to repeat, "Thank God, thank God" that she and her grandson – who was airlifted to George for medical attention – had survived the accident.
Both women are in shock. Bontiya said she cannot sleep, remembering what happened, and she gets a fright from the slightest noise.
"The sounds and feelings of the accident keep going around in my head," said Bontiya, who remained conscious throughout the ordeal.
Both of these women are in pain and will require follow-up hospital treatment.
At this stage, Bontiya, who is an employee of the Knysna-Plett Herald, has been told her back is severely injured and will be moved to George Provincial Hospital to have further tests done.
A case of culpable homicide has meanwhile been opened for further investigation following the accident.
According to police spokesperson Sergeant Chris Spies, who essentially confirmed the details above, the circumstances surrounding this accident are still under investigation and the names and details of the deceased will be released in due course.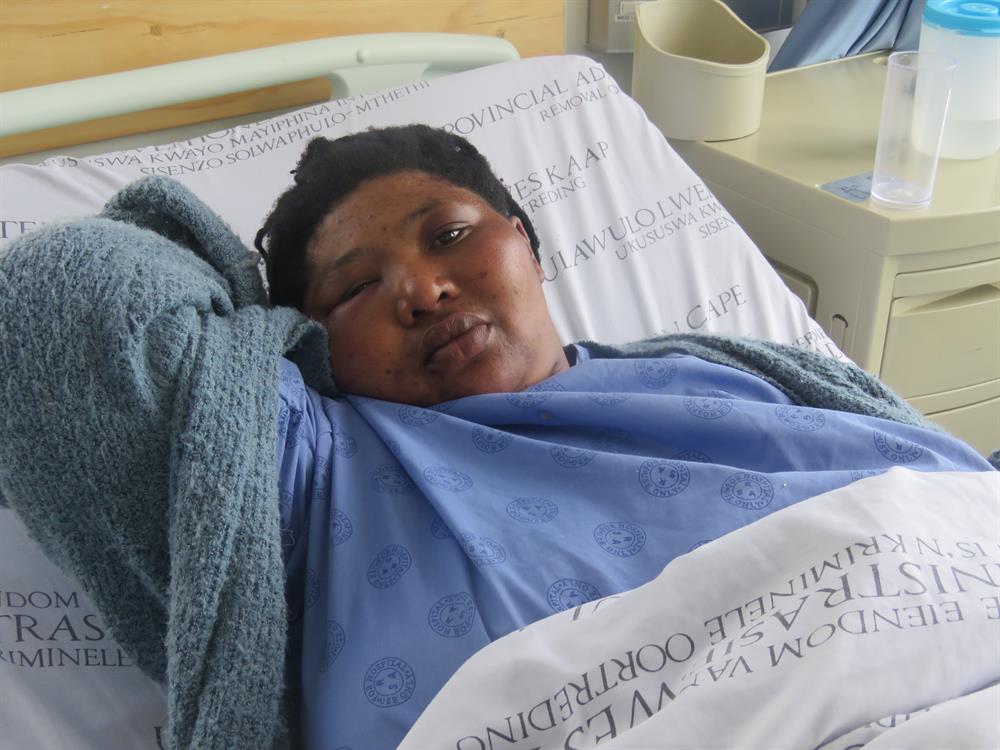 Lindiwe Jonas (44) survived the accident, but is being treated in the Knysna Provincial Hospital for severe bruises to her face and body. Photo: Boniswa Zwayena
.
Click here for previous articles:
ARTICLE: ELAINE KING, KNYSNA-PLETT HERALD EDITOR
'We bring you the latest Knysna, Garden Route news'