KNYSNA NEWS - The Knysna-Plett Herald (KPH) recently visited the Old Club Timbers community in Hoogekraal, out on the Karatara road a few kilometres outside Sedgefield, after receiving reports that this community has been struggling with the delivery of water to them by the Knysna municipality, among other issues.
The community has been living there for generations – more than 30 years, according to resident Thami Mgoba – and started with the workers of the old saw mill that used to operate on a farm nearby. "I have been here 35 years. We have people whose children have had children by now," he said.
According to him, it has only been for the last two to three years that the community has been struggling with water.
"We used to collect water and firewood from the mill when it was still open. Since then it has burnt down and was bought by a private farmer. Now the farm has a fence right around it and the owner has stopped us from fetching water," said Mgoba.
Constant struggle
But the problems the community is experiencing are not so much with the farmer, but with the different municipalities that seem to be failing them. According to Watson Buhle, a landowner who lives nearby and has been trying to assist the community with their problems, it is a constant struggle getting a municipality to respond to the community's needs.
"The community used to fall under the George municipality, and after last year's municipal elections it was rezoned and now falls under the Knysna municipality," Buhle said. "We have been sent from one to the other trying to arrange water deliveries for these people. Only when we contact the Eden district municipality do we get a response."
Buhle said that water was still delivered for a month after the elections, "then nothing until about two weeks ago when we had to contact the Eden municipality once again". "They then instructed the Knysna Municipality to deliver water," he said.
The community currently has three water tanks that they use. According to Buhle, they come to his farm to beg for water when things get really bad. "I also use tanks – I have a system in place that collects rainwater for my family. Unfortunately the infrastructure in the community is not in place for me to try and get the same system to work for them," he said.
Not just water issues
But water is just one of the issues they struggle with. There is also no electricity and very poor sanitation, Mgoba pointed out – a fact that was patently clear when KPH visited the small community. Out of five toilets spread around the community of about 28 families, only one works. Fires burn in almost every house, necessary for food, light and warmth.
"The Eden municipality came and put in long drops [pit toilets], which are mostly full and in a very bad state. Children have to play and people have to live here. They now even use the bushes around my farm as a toilet," Buhle added. "That is not very healthy for any of us."
Dilapidated houses
Safe housing is another issue, Buhle said. After a fire ravaged the homes of 14 of the families last year, he helped them build new homes, he said. Other houses seen by KPH are all made of wood, some are rotted and standing slanted, ready to fall over.
"What are these people going to do in winter or when their homes collapse completely? I am trying to help them out of love for my fellow man – I can't just leave them. But I also can't fix all their problems," Buhle said. "I think the government must take responsibility here – they cannot just pass the blame and responsibility to the landowners," he added.
Buhle explained that he takes it upon himself to get the community members to the Eden district municipality every time it is possible for him. "The last time, late last year, we spoke with a number of officials there. A health inspector even came out to see what the community is dealing with. That is when they told us they would instruct the Knysna municipality to deliver water to the community. But why must they be instructed first?" asked Buhle.
The KPH sent an extensive query regarding this community's issues to both the Knysna municipality and the Eden district municipality. Not only about the issues at hand but also regarding the responsibility of the current landowner.
'Settlement on private land'
Knysna acting municipal manager Johnny Douglas said that the history of this informal settlement is extremely long and complex. "It must be remembered that the settlement is on private land, which ultimately makes it difficult to offer these residents any form of infrastructure by the municipality," he said. "However, I have instructed our officials to engage with the owner of the land."
Douglas added that the Knysna municipality's technical services deliver water to this settlement on request from the Eden district municipality.
Spokesperson for the Eden district municipality, Marillia Veldkornet, confirmed receipt of KPH's query and said that a complete response would be issued after a proper inspection of the site has been made.
Two weeks later now, at the time of going to print, neither Knysna nor Eden district municipalities have visited the community, according to Buhle.
Another example of the barely standing houses which some residents of the Old Club Timbers community live in.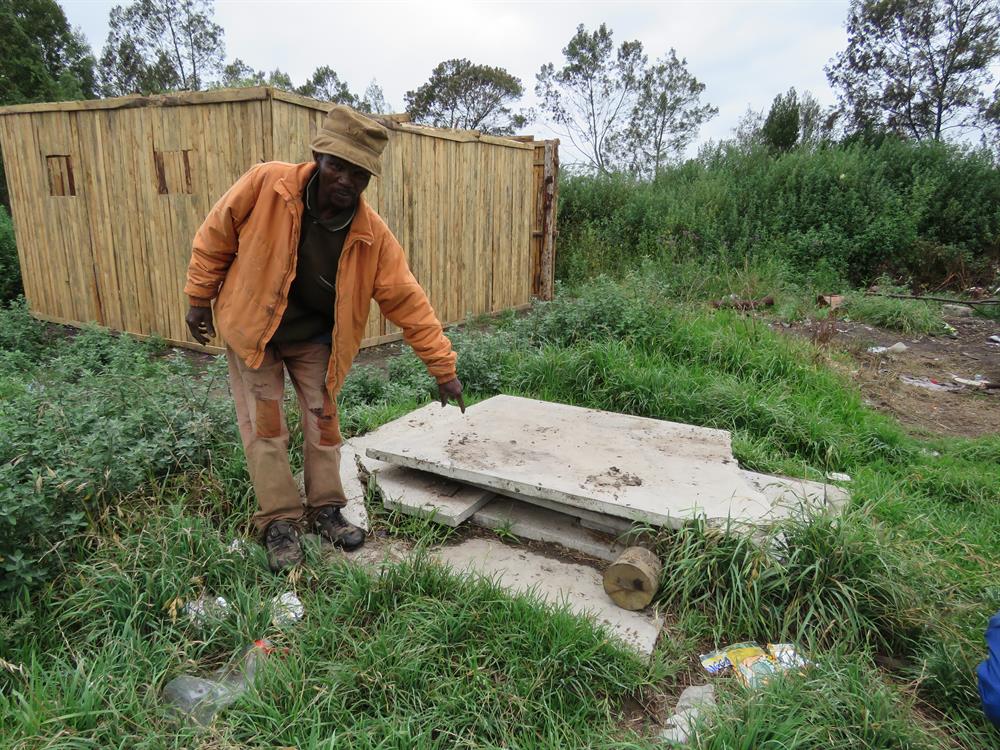 Thami Mgoba, a resident of the Old Club Timbers community for the past 35 years, shows one of the 'long drop' toilets that is no longer in use. According to him this slab placed over the open hole does nothing to eliminate the smell, or flies, that permeates from this hole.
ARTICLE, PHOTOS & VIDEO: STEFAN GOOSEN, KNYSNA-PLETT HERALD JOURNALIST
'We bring you the latest Knysna, Garden Route news'