GARDEN ROUTE NEWS - Gift of the Givers handed over 250 CPAP (Continuous Airway Pressure) machines to private and public hospitals in the Garden Route on Monday and Tuesday, 11 and 12 January, after the organisation was inundated with calls urgently requesting equipment.
Much-needed personal protective equipment, non-contact thermometers, pulse oximeters and scrubs were also handed out. EMS ambulance services also received equipment and PPE was donated to several police stations in the district as part of the initiative.
According to Imtiaz Sooliman of Gift of the Givers, the CPAP machine has yielded excellent results in saving lives.
"It is mechanical, does not use electricity, is not electronic, and delivers oxygen at a rate of 10 to 30 litres per minute, which means low flow to intermediate flow. It reaches oxygen saturation of 99% much faster. This substantially reduces oxygen utilisation at a time when oxygen availability is challenging. Progressive lung damage is reduced because of excellent rapid oxygen saturation."
Sooliman said many hospitals have switched to this machine as the first and most significant line of intervention. "The need for ICU admission is diminishing, freeing ventilators for cases where everything else has failed."
The machine is also easy to use. It is South Africa's own CPAP machine, designed by the SA National Ventilator Group in association with SA Radio Observatory, commissioned by Minister Ebrahim Patel of the Department of Trade and Industry, and manufactured by the Council for Scientific and Industrial Research. It was approved by Sahpra (SA Health Products Regulatory Authority), funded by the Solidarity Fund and rolled out nationwide by Gift of the Givers. So far, 1 800 machines have been delivered to six provinces in seven days.
"The importance of delivering these machines timeously cannot be underestimated," said Sooliman. "Tragically, due to unavailability of sufficient oxygen delivery machines, many hundreds have died in their cars, in hospital queues, casualty departments or at home in their beds in the knowledge that capacity to serve all Covid-19-infected patients is outstripped by demand."
"This CPAP machine has finally brought hope to emotionally exhausted health care workers as they witness patients recovering instead of closing their eyes permanently."
Sooliman said 12 000 CPAP machines have been put at Gift of the Givers' disposal.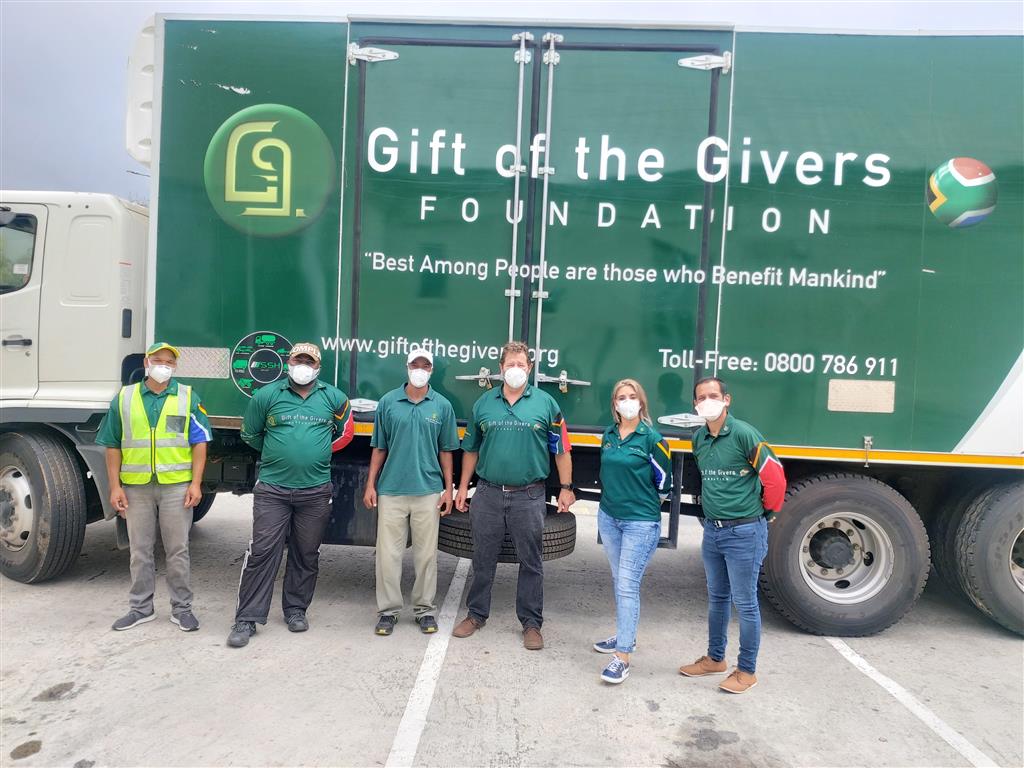 The team from Gift of the Givers Foundation during their visit to George Hospital, from left: Rashied Prince, Kwanele Damane, Samuel Rupert, Mario Ferreira, Corene Conradie (Eastern Cape coordinator) and Ali Sablay (project manager).
Garden Route under significant pressure
Zee Brickles, Western Cape Government Health district manager for the Garden Route and Central Karoo, said the Garden Route has been under significant pressure during the pandemic. "The high number of infections in our area has placed considerable strain on our resources and hence donations of PPE and medical equipment has had a significant positive impact on our ability to continue to provide services to our people and to combat the persistent Covid-19 infection surge in our area.
"I wish to extend our heartfelt gratitude to Gift of the Givers for their phenomenal support and sponsorship of PPE, equipment and consumables. We remain eternally grateful and salute your commitment to provide much need resources to our department and the communities we serve."
He said preliminary information suggests that the Garden Route has passed its peak and is on a sustained decline.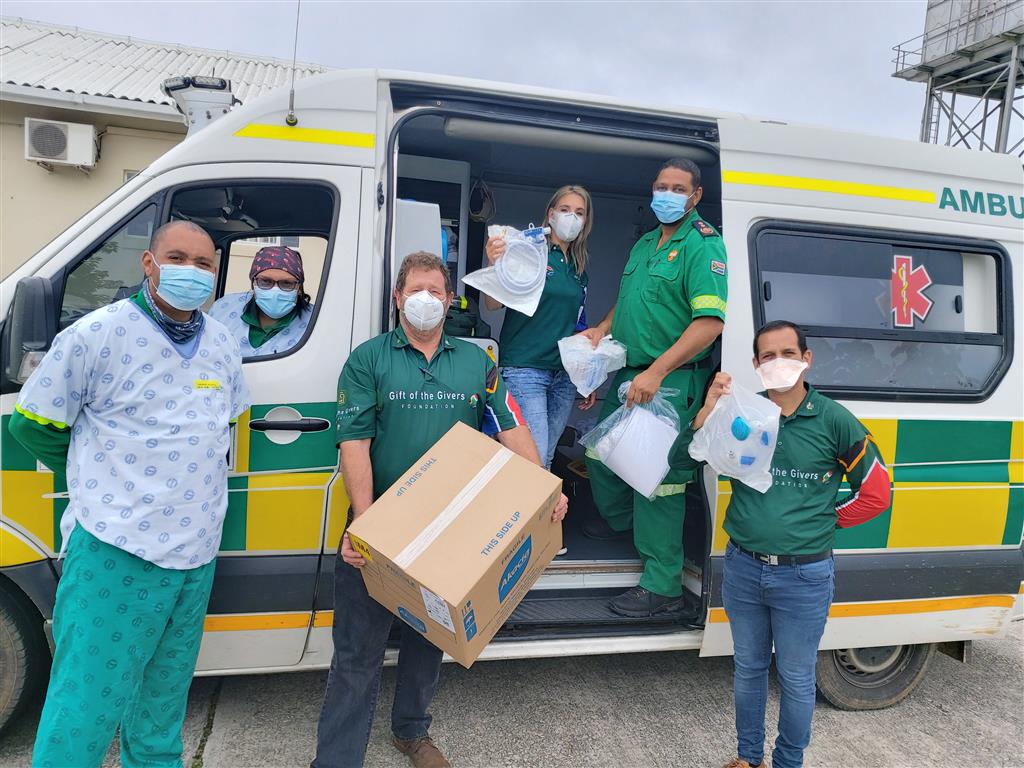 Ambulance personnel of the George Ambulance Service receiving much-needed medical equipment from Gift of the Givers. From the left are Angelo Manchest and Geanor Muller from the ambulance service, Mario Ferreira (Gift of the Givers), Corene Conradie, Eastern Cape coordinator of Gift of the Givers, Angelo Booysen from the ambulance service, and Ali Sablay, Gift of the Givers project coordinator.
Related article: Givers bring the gift of breathing
'We bring you the latest Garden Route, Hessequa, Karoo news'