KNYSNA NEWS - The sights, sounds and surroundings of the Knysna forest were brought right into the Oyster Festival grounds where it stood as a replica – albeit on a much smaller scale –inside the marathon registration tent.
It was a piece of beauty and a work of art, complete with audiovisual enhancements for the natural experience, all thanks to a team effort that involved the entire Knysna community, said one of organisers and honorary SANParks ranger Delle Henry.
She explained that it took a week to set up and months to plan, and this was all done for the viewing pleasure of the public and to enhance the experience of each and every entrant of the marathon weekend of the Oyster Festival.
The replica forest included several water features, and among the bush and trees hid away stuffed animals, and species that are indigenous to the Diepwalle forest, such as spotted owls and other birds, elephants, honey badgers, a duiker and leopards.
"It took a group of about 15 volunteers to coordinate the setup, we sourced products from various parts of Knysna, and incorporated the entire community, from Thesen Island to Karatara," said Henry, who also thanked the municipality for the use of their nursery.
They were also driving donations for SANParks to purchase a new tank for their seahorses which are on display at the SANParks offices on Thesen Island. The tank costs at least R70 000.
The Forest Tent as it became known, was a clear favourite among entrants from out of town and was also popular with families who visited the tent for a walkabout for the rest of the weekend.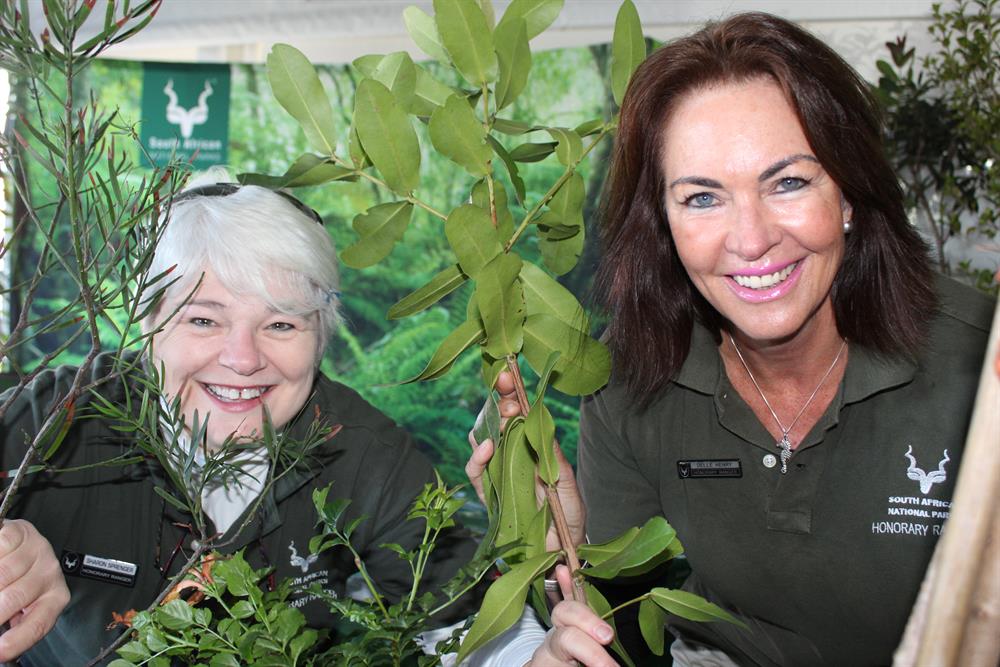 Honorary SANParks rangers Sharon Sprenger and Delle Henry at the Forest Tent set up for registrations to the marathon. Photo: Yaseen Gaffar
'We bring you the latest Knysna, Garden Route news'