KNYSNA NEWS - Despite the pressure of being the first to undergo a driver's licence test at Plettenberg Bay's new testing facility and therefore having all eyes on her, Leah Gibbins can now legally zip around town after successfully acing the test.
The 18-year-old Knysna resident became the first hopeful to take her driver's licence test at the centre on Wednesday 10 April.
The young driver said she was nervous, but the jitters did not get to her too much as she passed the test with flying colours.
Bitou municipal spokesperson Manfred van Rooyen said it was a historic day and therefore Gibbins was even given a certificate to mark the occasion.
The driver's licence testing/traffic yard, situated just off the N2 in Ladywood, was officially opened by Bitou mayor Peter Lobese on 28 March this year.
Until now, locals wanting to undergo their driver's licence test had to travel to Knysna or elsewhere to do so.
Van Rooyen said the significance of the opening of the centre is that anyone in possession of a learner driver's licence for all codes, is now able to take the driver's test in Plettenberg Bay and subsequently save travelling costs to another testing centre to do so.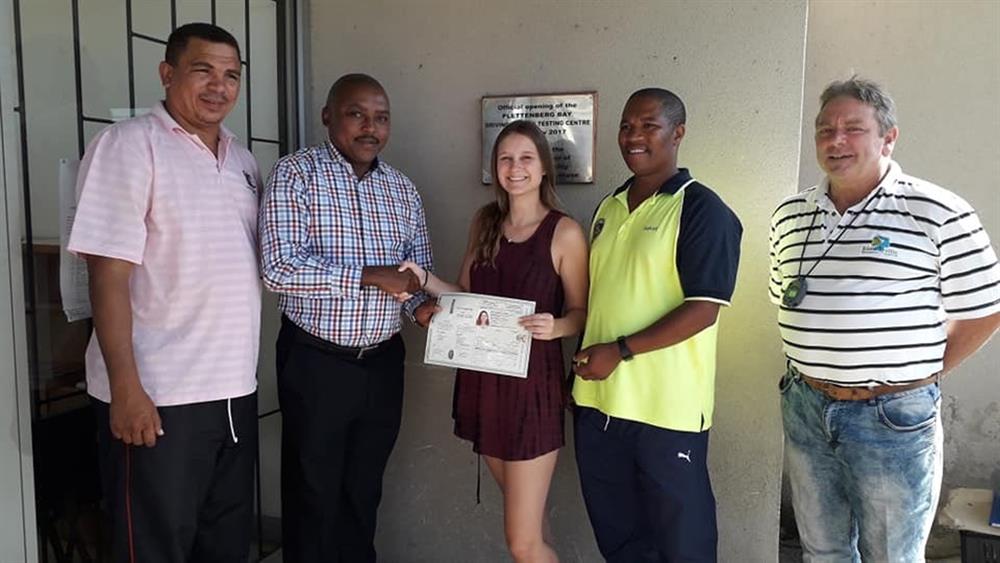 From left: Bitou traffic chief Sean Ganga, Bitou municipal manager Lonwabo Ngoqo, young driver Leah Gibbins, Bitou law enforcement chief Andile Sekati and Bitou traffic superintendent Gerry Swiegers. Photo: Supplied
Leah Gibbins undergoing her driver's license test under the watchful eyes of an official at the new Plettenberg Bay driver's licence testing centre in Ladywood. Photo: Supplied
Leah Gibbins showing off her parking skills while undergoing her driver's test at the new Plettenberg Bay driver's licence testing centre in Ladywood. Photo: Supplied
'We bring you the latest Knysna, Garden Route news'