GARDEN ROUTE NEWS - The number of active Covid-19 cases per 100 000 of the population in the Garden Route District is a sure indication that the area is experiencing a second wave. And the main cause of this is people's non-adherence to protective behaviour.
This is according to the head of the Western Cape Health Department, Dr Keith Cloete, who spoke during a digital conference hosted by Premier Alan Winde today, Thursday 19 November.
The Garden Route's 230 active cases per 100 000 of the population is almost four times the provincial figure (65 cases per 100 000).
Cloete said the district has seen a steady increase in cases over the past four to five weeks, with a massive spike in the past two weeks. Pressure on health facilities has increased again and they are once again being scaled up to handle Covid admissions. The re-introduction of comprehensive healthcare services is also affected and the most essential services are being prioritised.
Knysna has the highest active case rate with 347 per 100 000. George is second with 319 per 100 000, followed by Bitou (282), Mossel Bay (229), Oudtshoorn (60) and Hessequa (43).
George is the major driver in the increase in cases with the Conville Complex (Conville, Parkdene, Lawaaikamp and Rosemoor) and Thembalethu reporting the highest numbers, according to Dr Terence Marshall, Garden Route health cluster head. Thembalethu has 293 cases, Pacaltsdorp 135, Parkdene 97 and Conville 74.
Marshall said cases reported seven to 14 days ago are spreading infection to those around them and contributing to the latest cases. The age distribution is quite wide, but the highest infection rate is in the age group 21 to 46 years.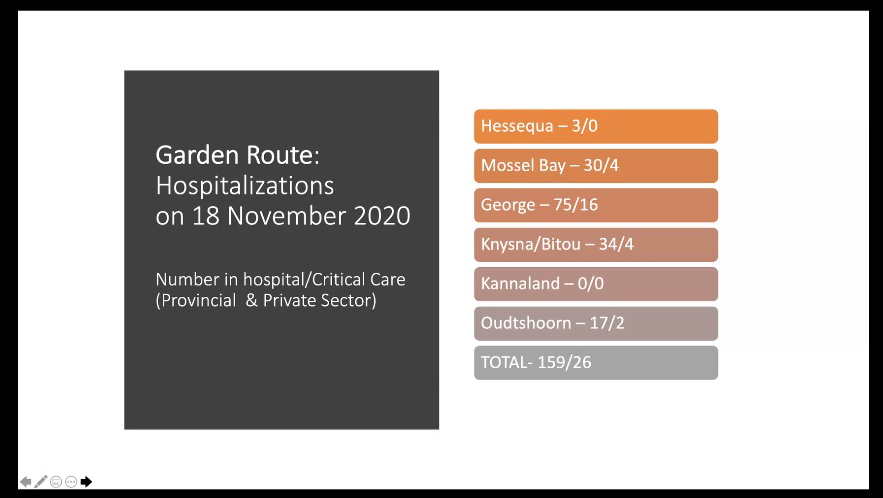 Hospitalisations 18 November
68 new cases in George in 24 hours
According to figures provided by Marshall, George reported 68 new cases in one day (18 November), Knysna/Bitou 109, Mossel Bay 29, Hessequa 11, Kannaland 2 and Oudtshoorn 3.
High positivity rates on tests done in the district are seen throughout the district with Bitou the highest at 38%, George 33%, Knysna 32% and Mossel Bay 25%.
High alert
Cloete said their surveys have shown that the major part of the infections are a result of social events and people being infected by friends while socialising.
The province's Covid response teams are on high alert as there is a likelihood that the Garden Route outbreak may become more widespread and cause a second wave in other areas. The biggest risk of spread would be the Cape Town metro. Already all sub-districts in the metro are showing an increase in cases.
New cases 18 November
'We bring you the latest Garden Route, Hessequa, Karoo news'