Gallery
KNYSNA NEWS - During provincial human settlements minister Tertuis Simmers' recent visit to Knysna's latest housing project in Hornlee, although impressed with progress made, he remarked that the exclusion of women and people with disabilities in construction in the Garden Route remains worrisome.
Simmers was accompanied on his visit on Wednesday 17 June by Knysna mayor Elrick van Aswegen and Garden Route District Municipality mayor Memory Booysen along with various local municipal delegates to inspect the building site. He was shown two of the houses, and was pleased with the progress made.
"When I was here 12 months ago at this site there was nothing, and I requested that the contractor and municipality commit to accelerating the project. Judging from what I've seen today, they really have done so," Simmers noted.
The housing issue in Hornlee has been one of Knysna's underlying problems for many years, and has been the cause of several community protests, which included the blocking of roads at times. However, after much deliberation, negotiation and discussion, last year former municipal manager Dr Sitembele Vatala announced at a public meeting between the municipality, Knysna United community organisation and the Western Cape Human Rights Commission, that emergency housing in Hornlee had been given the green light and 155 houses were in the pipeline.
In some instances, the housing issue has been drawn out for nearly 25 years, with the longest-waiting recipient on the current beneficiary list believed to have been in line since 1996.
Photo gallery: Site progress at Hornlee
The project eventually broke ground at its main site near Hornlee Primary School on 28 October 2019 with the traditional sod-turning ceremony, but was halted five months later when lockdown was initiated. Under Level 3, construction could resume and crews set out to complete the first 42 units of the project at the site near Hornlee Primary.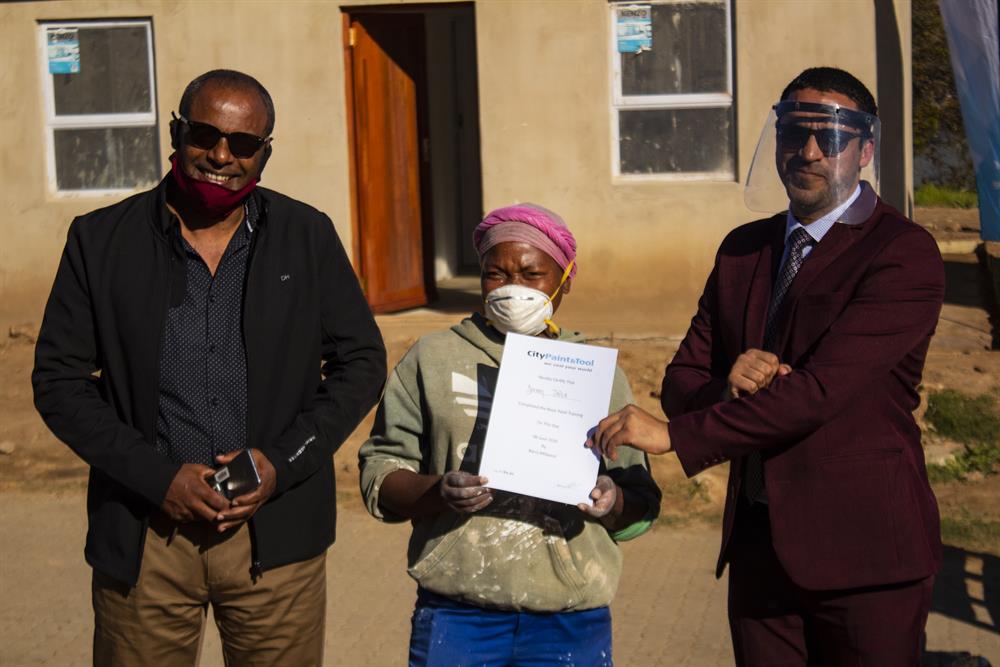 Knysna mayor Elrick van Aswegen and Western Cape minister of human settlements Tertuis Simmers hand over a certificate to Doreen Jafta.
Simmers expressed overwhelming concern over the low number of women and disabled workers involved in construction in the region.
"The Garden Route remains one of my most problematic areas in terms of these numbers, and it is something that we are hoping to address," Simmers said.
He was, however, pleasantly surprised when asked to hand out certificates to a group of about 50 women who had completed a course related to the construction of the Breaking New Ground (BNG) houses.
New Knysna mayor Van Aswegen explained that 147 individuals have met the qualifying criteria for a BNG house. "So far, all successful applicants are over 35 years old, with 18 being over the age of 60," he explained. "There are also 12 approved disabled applicants, four of whom are wheelchair-bound. The benefaction process will continue to prevail until all 155 beneficiaries have been identified and confirmed."
WC minister of human settlements Tertuis Simmers, Knysna mayor
Elrick van Aswegen, and Garden Route district mayor Memory Booysen.
Photos: Blake Linder
'We bring you the latest Knysna, Garden Route news'