SOUTHERN CAPE BUSINESS NEWS - Tavcor George premises was a hive of activity on Saturday as they celebrated their Annual Spring Car-Nival.
Not only did Tavcor George and MasterCars have exceptional special offers on vehicles, but several lucky draws included Car Care and restaurant vouchers worth thousands.
Several activities kept the visitors entertained. Algoa FM's Charlton Tobias gave live updates via the radio station throughout the day.
Tavor George's Delmary Delport painted the children's faces while parents shopped for a new vehicle. Boerewors rolls were provided as were soft drinks and coffee. Besides having their faces painted the children had a fun time on the giant jumping castle set up in the forecourt.
The new Volkswagen Polo and Polo Vivo mo-dels were proudly displayed to potential buyers.
"The day was a great success," said dealer principal, Paul Balmer.
"We sold a few cars and have entertained potential and present customers. All in all every-body had a wonderful day and celebrated spring as they should."

Click here for photo gallery.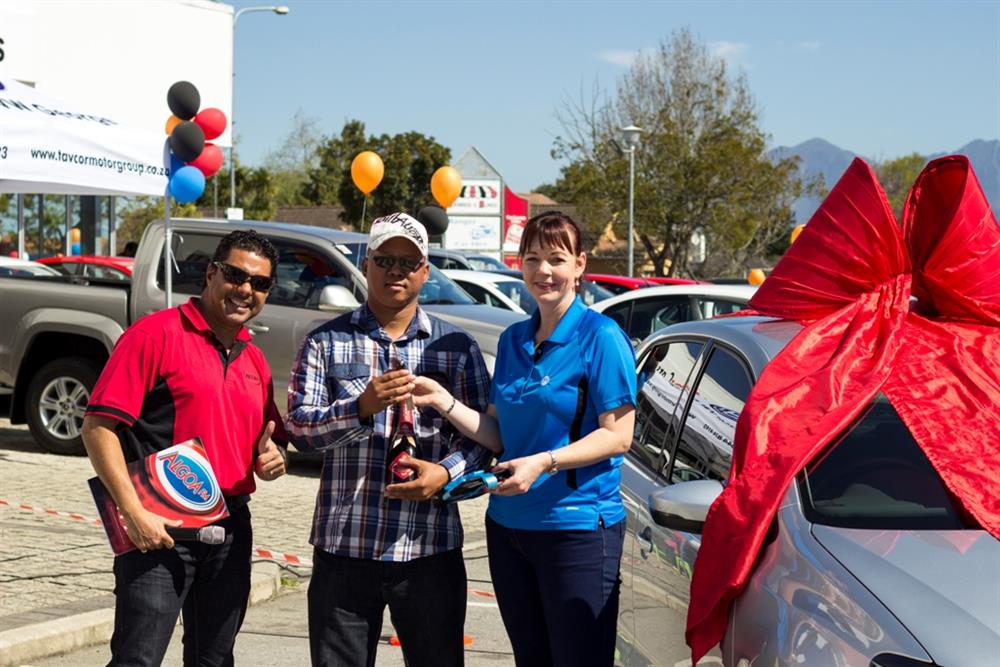 Charlton Dobias (left - also known as Charlie T) from Algoa FM sees the keys being handed to proud new owner Charlton Andries by Christa Barnard, of Tavcor.

'We bring you the latest Garden Route, Klein-Karoo news'