Gallery
KNYSNA RUGBY NEWS - The South African Women's 7s team was crowned queens of the TWRA Knysna 7s Tournament this weekend, having gone the weekend unbeaten in the Senior Women's section, with Springbok Mathrin Simmers making her return to Knysna.
The U13 boys division was competed by Sunridge Primary School and Rheenendal Primary School, with Sunridge coming out on top and winning the section. The U13 girls section was competed by Sunridge and Hornlee Primary School, with Sunridge coming out on top here again.
In the U18 girls section Titans Women's Rugby Academy (TWRA) had two teams competing against teams from Humansdorp and Tuks Youth Rugby. Humansdorp would win the U18 girls section, beating TWRA 1 in the final.
Click here for a photo gallery.
The Senior Women's section was by far the most exciting, as it featured the SWD EaGirls Invitational 7s, TWRA Seniors, EP Queens 7s, and of course two international teams in Botswana Women's 7s and our very own Springbok Women's 7s team, Imbokodo.
Imbokodo would dominate the entire weekend in the Senior Women's section, eventually winning the final against Botswana on Sunday, having not conceded a single point throughout the tournament.
The tournament held a special place in one Imbokodo player's heart in particular, as Mathrin Simmers who was raised in Hornlee, returned home as a Springbok Women's 7s player.
"It's always great to be back home," Simmers said about her return. She was also particularly impressed by the amount of development that has taken place. "To see how much development there is with young girls who are currently playing, is really amazing." Simmers was further encouraged by the progress shown at TWRA, the club she founded herself in 2005.
Imbokodo captain Zintle Mpupha, was also impressed to see how much development there is at grassroots level. "It's always great to see young girls want to go out there and play rugby," Mpupha said. Paul Delport, coach of Imbokodo, further alluded to the coaching seen at the tournament.
"It's fantastic," Delport said. "That's what we want to create, we have systems and academies in place for players, but not much for the coaches, so it's fantastic to see this involvement at grassroots level."
Results from Sunday's finals at the Knysna 7s tournament:
Girls U18 Bronze Final: Tuks 29-0 Titans 2
Girls U18 Gold Final: Humansdorp 24-12 Titans 1
Senior Women's Plate/Bronze Final: EP Queens 35-0 TWRA
Senior Women's Cup/Gold Final: Imbokodo 31-0 Botswana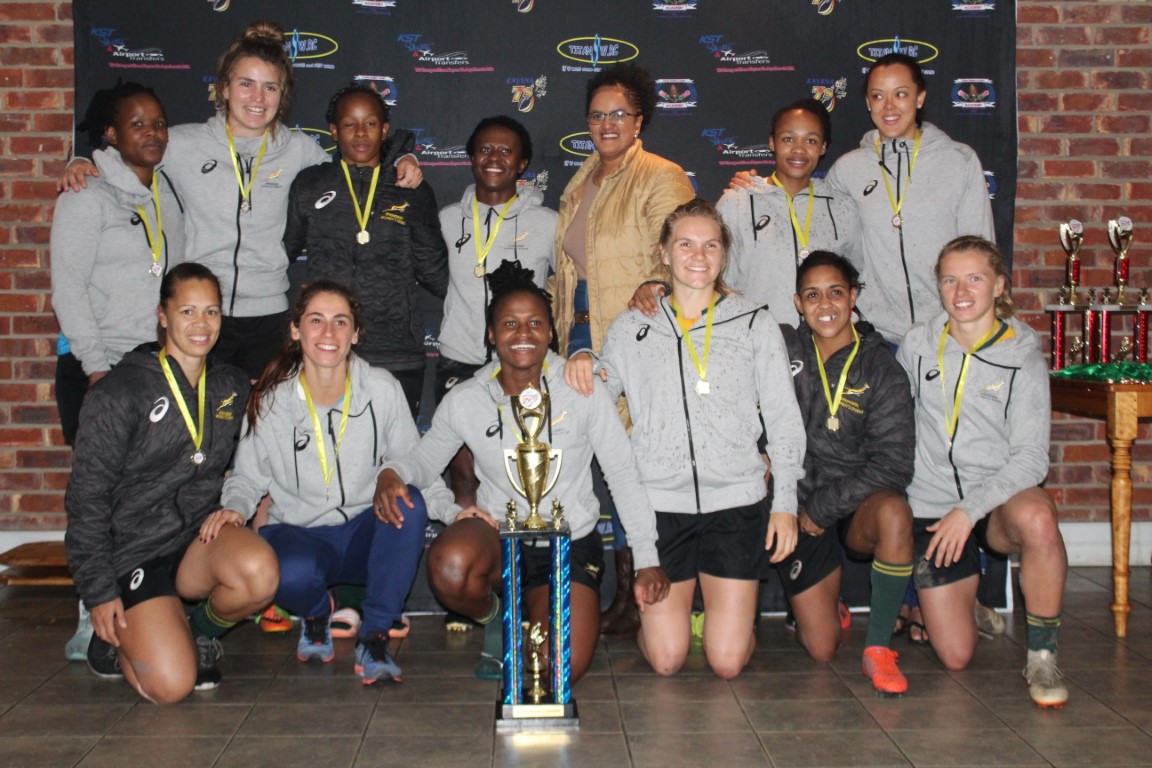 The Imbokodo squad that won the Senior Women's section at the 2019 TWRA Knysna 7s tournament.
'We bring you the latest Knysna, Garden Route news'