NATIONAL NEWS - Residents angry at a spike in crime in the Magaliesberg area in the north of Pretoria brought traffic on the R80 Mabopane highway to a standstill on Wednesday morning.
The highway was barricaded by local tow-truck drivers and bikers who had reportedly attempted to assist several crime victims in the area in the past, only to find they were too late.
Later, a large police presence cleared traffic and embarked on an anti-crime search of the area.
An organiser of the demonstration, who spoke to Pretoria Rekord on condition of anonymity, said the stretch of road had become problematic due to muggings where cars had broken down or their tyres were punctured.
"You'll be lucky if you get home alive," he said. This comes after a number of attacks on people who had stopped on the side of the road for similar reasons and even to relieve themselves had fallen victim to gruesome crimes. In other attacks, people who were hiking were gruesomely attacked and robbed of their belongings.
"One of these guys will take you into the bushes and another one will take your cards and go to the ATM," the source said.
"If the account they are attempting to withdraw money from does not have money, the robbers would then stab you. "Sometimes they stab you in the eye, stomach or even kill you."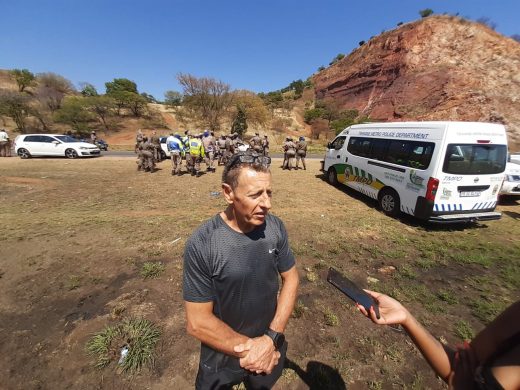 Comrandes Marathon champion and attack survivor Nick Bester delighted that police were taking the attacks seriously. Photo: Keitumetse Maako
The residents were also frustrated at how police had allegedly done nothing about crime along the mountain range over the years.
"This has been going on for more than five years. We've been going to the police, but they fail," the source said. "Whenever we report crimes at the Rosslyn police station, police would tell us it was a common occurrence.
"They say it happens every day," he said. The source further said they decided on the protest because "enough is enough". "We can no longer wait for the police to do something because we see that they are failing," he said.
Tshwane district police commissioner General Hilda Mohajane, meanwhile, reassured protesters that police heightened visibility and crime prevention operations in the Theo Martins-Mabopane Highway Magalies mountain range along the R80 Mabopane Highway. Mohajane said two people had reportedly been arrested in connection with crimes along the mountain range.
"The area is policed by Akasia and Hercules police stations," said police spokesperson Brigadier Mathapelo Peters. "It is only recently that victims have come forward to report crime incidents."
These incidents were "currently under investigation". Nick Bester, a survivor of a gruesome attack was also at the protest action. He said he was glad so many police officers had arrived to follow up.
"I'm glad the police are doing something about this. I hope they [the culprits] are caught because society is not safe with people like that not being in jail."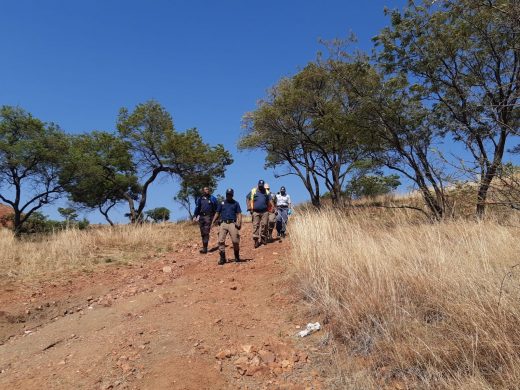 Police officers from various law enforcement agencies went up the Magalies mountain range in search for evidence related to a number of attacks. Photo: Keitumetse Maako
While Bester had survived his attack, Martha Mhangi was not so lucky. Her body was discovered by police after her husband had reported her missing shortly after they were attacked by an unknown number of men last month.
Mhangi, believed to have been around the age of 35, was later found by a search party with a bullet wound to the left side of her head.