NATIONAL NEWS - During his address to the nation this evening (Sunday 30 May), President Cyril Ramaphosa announced that South Africa will be placed on Adjusted Alert Level 2 from Monday 31 May.
This follows a spike in Covid-19 cases and deaths.
Under Adjusted Alert Level 2, the following additional restrictions will be implemented:
Hours of curfew to start at 23:00 until 04:00. Restaurants and bars will need to close by 22:00.
Gatherings have been limited to 100 people indoors and 200 people outdoors. If a venue is too small, no more than 50% of the capacity of the venue may be used.
The wearing of masks remain mandatory.
Funeral after-tears and after gatherings still not allowed.
Ramaphosa once again reminded South Africans to keep wearing their masks and to sanitise regularly. South Africans were also reminded to maintain social distance and to avoid gatherings which could turn into super-spreader events.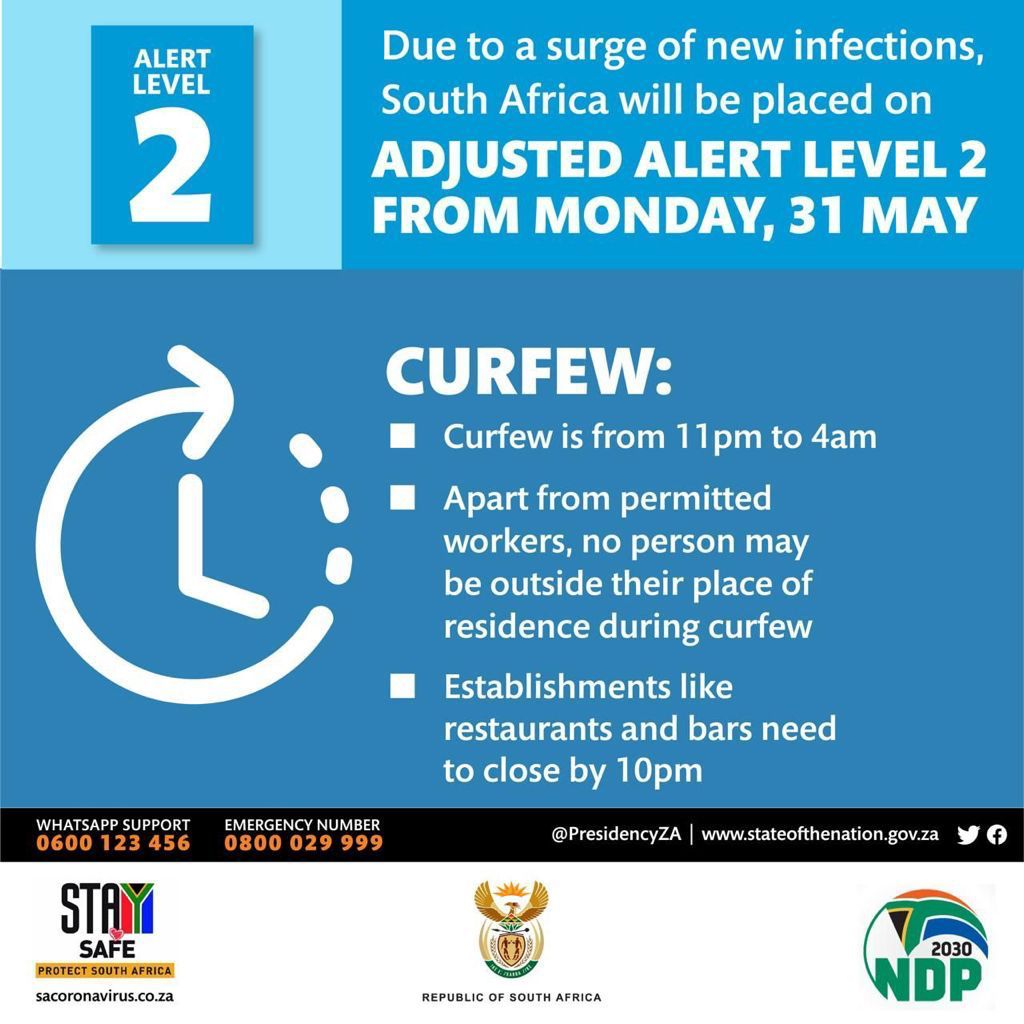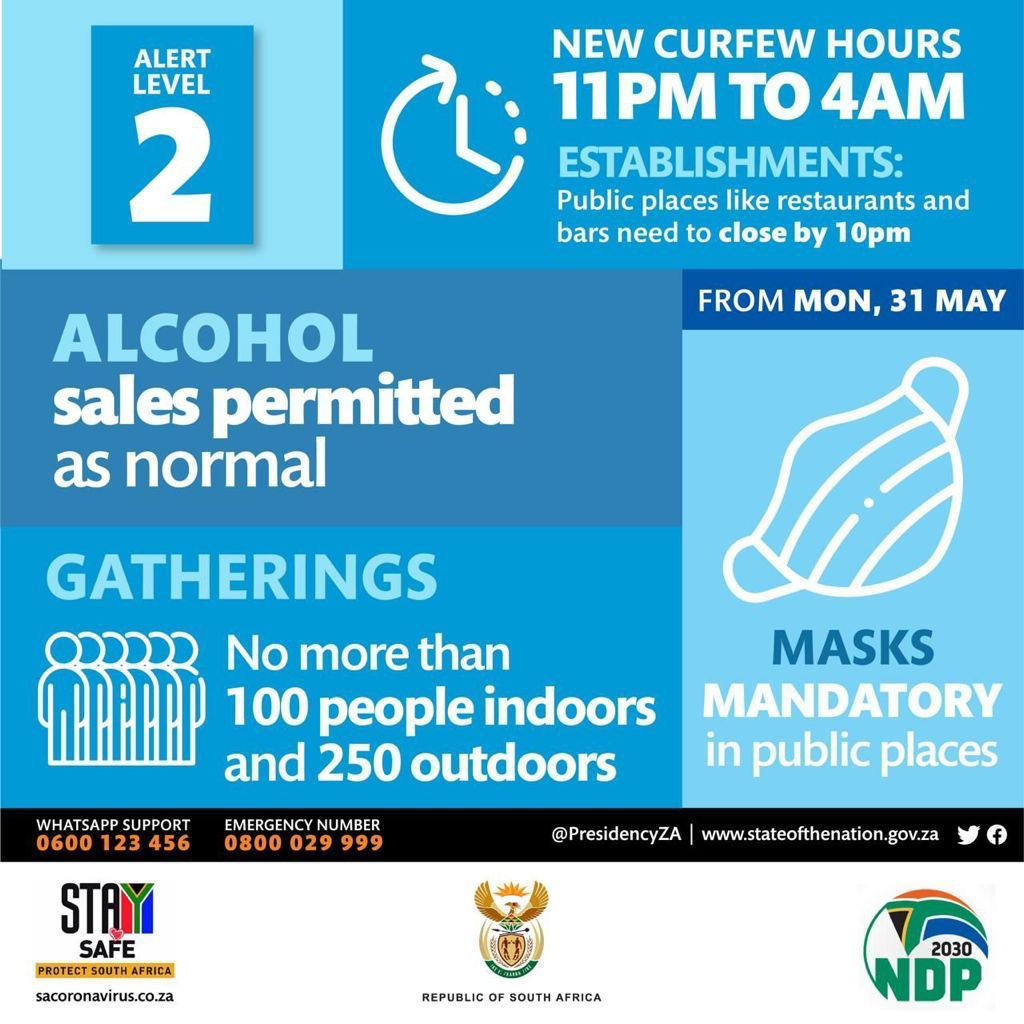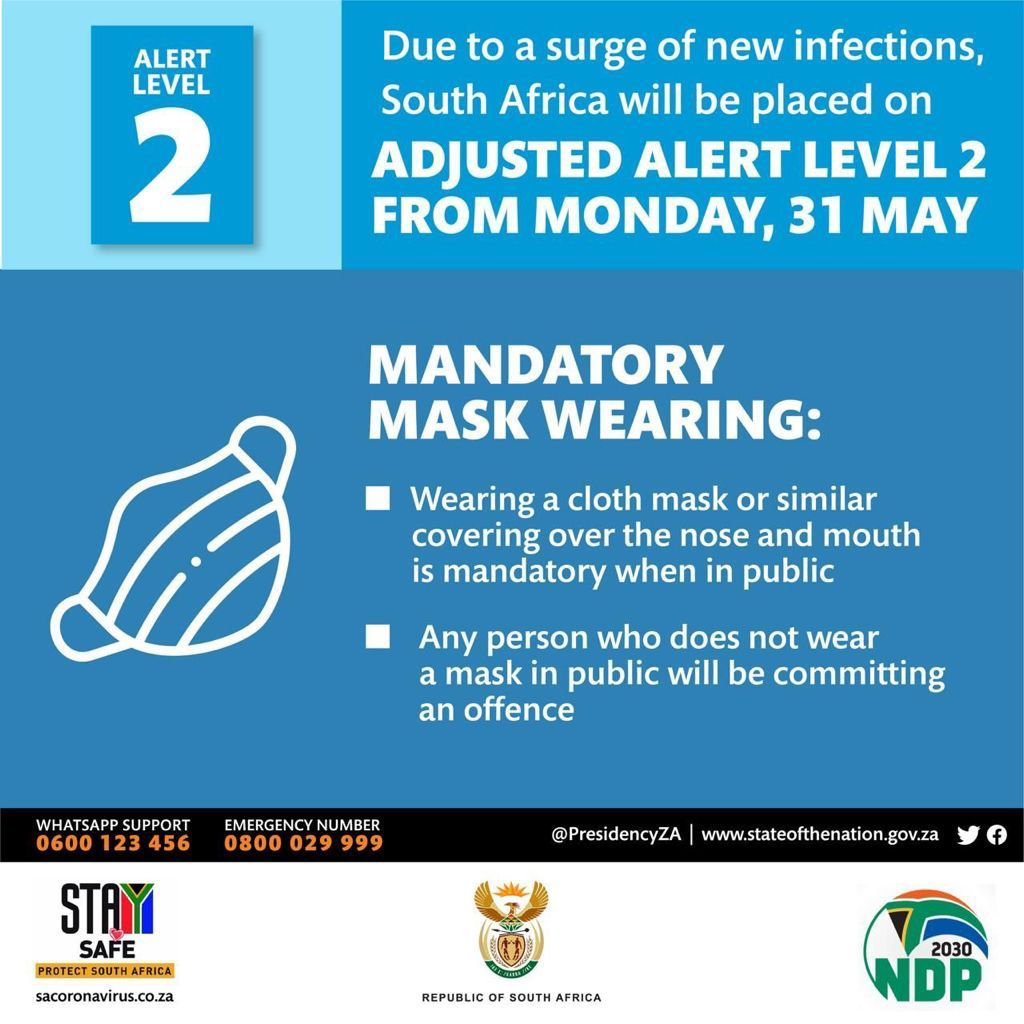 Ramaphosa said a sustained increase of infections, by 31% over one week, and nearly two-thirds since the week before, meant the country has reason to be concerned, and it would only be a matter of time before the whole country was in a third wave, with some provinces (Free State, North West and Gauteng) already in the third wave.
He acknowledged that South Africans are experiencing "pandemic fatigue", with people not following mask wearing and social distancing protocols, but said that there would be "tragic consequences" if the virus continues to spread unchecked.
The national advisory council had advised increased measures to curb the spread based on the increased infection numbers.
The plan would be to allow as many people as possible to be vaccinated before the third wave reaches its peak. Health workers were prioritised for the first rollout, with older people prioritised in the second.
Ramaphosa said on Sunday that the country would reach "1 million of the most vulnerable citizens" … "within the next few days". He said it was "heartwarming" to note the positive experiences of those who received the vaccine so far. He reminded South Africans that the vaccines would play a key role to avoid infections or severe infections.
Other vaccine options, including Russia's Sputnik, were being considered.
31 million Johnson & Johnson (J&) vaccines and 20 million Pfizer vaccines have been ordered, but quality control issues related to the manufacturing of the J&J vaccine have caused a delay, Ramaphosa said.
More than 600,000 vaccine doses would arrive on Sunday evening, said Ramaphosa, with similar numbers expected in coming weeks. He added there were 400 vaccine sites already operating, with many more to come. Pfizer's extreme temperature requirements made it difficult to administer, particularly in rural areas. Once the J&J vaccines were cleared, it would become easier to ramp up the vaccination programme.
Ramaphosa sounded critical of "richer" countries that had the funds to purchase and "hoard" vaccines, and he said the African continent would need to become more self-reliant to manufacture its own vaccines in future.
The nation has not yet vaccinated enough South Africans for immunity levels to be anywhere near what is needed to slow the spread of the virus and ensure there are fewer chances that more harmful variants may emerge.
In March, Ramaphosa's National Coronavirus Command Council moved the country to lockdown level 1 after a decrease in Covid-19 cases following the end of the second wave that started in December.
The second wave was largely driven by the 501.V2 variant first discovered in SA, which was found to be more contagious.
'We bring you the latest Garden Route, Karoo, Hessequa news'