Gallery Video
SEDGEFIELD NEWS & VIDEO - First she became the jewel of the Garden Route when she won the Miss South Africa pageant earlier this year, but after Sunday's Miss Universe pageant, Demi-Leigh Nel-Peters has become the jewel of South Africa, and her name is on everyone's lips.
On Sunday evening 27 November Demi-Leigh was crowned Miss Universe at a glamorous affair at the Planet Hollywood Resort & Casino in Las Vegas, US.
Click here for a photo gallery.
Out of more than 90 contestants from around the globe she was chosen by the judges as the girl who has it all.
Not only did Demi-Leigh fulfil her own dream, but also the hopes of everyone in South Africa who were supporting her, especially given the fact that she is the first Miss Universe from the country in 40 years, since Margaret Gardiner won the title in 1978.
Her biggest supporters throughout her journey to becoming Miss SA, then Miss Universe, as residents will tell you, were the people of Demi-Leigh's hometown Sedgefield, where her mother Anne-Marie Steenkamp still lives.
Her father Bennie Peters lives in Potchefstroom.
Demi-Leigh is a former head girl of both Sedgefield Primary and Outeniqua High in George.
Watch videos below.
Still a Miss SA finalist at the time, here Demi-Leigh Nel-Peters poses with one of her many little fans at the Wild Oats market in Sedgefield earlier this year. Photo: Stefan Goosen
During a visit to Sedgefield in March this year, when she was still just a finalist for the Miss SA pageant, Demi-Leigh told Knysna-Plett Herald that being back in her hometown is always great.
"I am crazy about both Sedgefield and Pretoria, but my heart is definitely here in Sedgefield," she said.
Well-known Sedgefield local and the face of Sedgefield Tourism Belinda Hobson said that although the pageant only appeared on South African television screens at 02:00 in the morning, Sedgefielders who were awake watched from home.
"Those who were awake were Whatsapping each other and Facebooking their support and most definitely voting," she said.
'We screamed when Demi won!'
When Demi-Leigh was announced the winner, Hobson said it was chaos in her home.
"I watched the pageant with my two kids and I'm surprised that no-one called the police the way we screamed when Demi won!"
According to Hobson, locals filled the Tourism Office in Sedgefield's main road the next morning, sharing their happiness and excitement.
"There was this feeling of bliss and intense pride in our girl and Sedgefield Primary's previous head girl," she said.
Hobson indicated that locals would love to host a party for Demi-Leigh if and when she visits from the States. "We are so proud of Sedgefield's hero," she said.
Demi-Leigh's mother said in a voice message sent to George Herald journalist Myron Rabinowitz that they are not sure when this homecoming will happen, though.
"At the moment Demi will live and work in New York as an employee of the Miss Universe organisation," Steenkamp said. "She will probably only come for a visit next year, but we are really not sure when," she said.
Steenkamp believes Demi-Leigh won because of who she is. "We are very proud of her. What you see is what you get.
"She sets goals for herself and achieves them through her hard work. Everything was just beyond amazing and it is still so surreal at the moment I have to pinch myself, but I'm crying so much that I can't even feel the pinching," she said.
No matter where the Miss Universe title takes Demi-Leigh though, her mother maintains that to her, Demi-Leigh will always remain her "Sedgefield kaalvoetkind".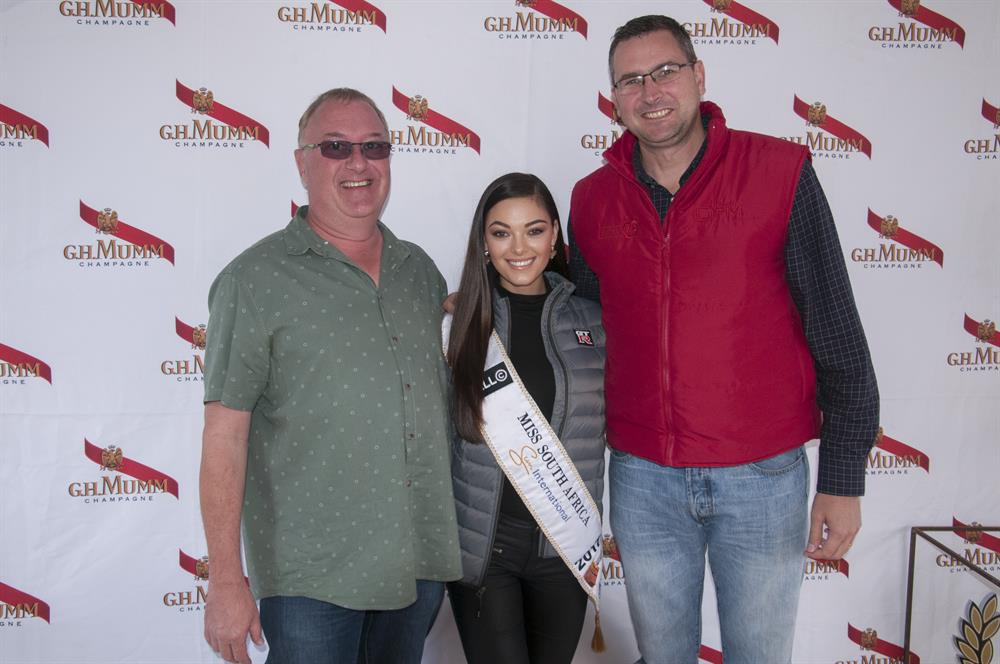 During this year's Hillclimb in May were (from left) KPH sales executive Zirk Jansen, Miss SA and Universe Demi-Leigh Nel-Peters, and Group Editors director Servaas de Kock. Both men said what a privilege it was to have met her, with De Kock adding that Demi-Leigh was an extremely pleasant person and a true ambassador for the Garden Route. Photo: Photo: www.ellephoto.co.za
The new Miss Universe was asked for comment but, understandably so, no communication was received at the time of going to print.
She has been quoted in the press, though, as thanking South Africans for supporting her and has even dedicated her win to her country of birth.
ARTICLE AND VIDEO: STEFAN GOOSEN, KNYSNA-PLETT HERALD JOURNALIST
'We bring you the latest Sedgefield, Garden Route news'