KNYSNA NEWS - Local and district municipal officials and employees have been questioned about their use of masks during a visit to a building site in Hornlee two weeks ago, with Knysna residents expressing dismay at the manner in which the masks were worn.
Knysna-Plett Herald was contacted after pictures appeared in the 25 June edition, of municipal officials, town engineers and contractors accompanying Western Cape minister of human settlements Tertuis Simmers on a visit to a housing project site in Hornlee on Wednesday 17 June.
The visit was aimed at surveying the progress of the project, and whether the contractors were adhering to standards set by the provincial housing protocols.
While Simmers expressed his satisfaction with the project's progress as well as the standards required of the contractors, some Knysna residents were less impressed by Knysna officials flouting the basic coronavirus safety standards that they are expecting citizens to adhere to.
'Poor example'
In a letter to KPH as well as various local and provincial municipal officials, Ritchie Morris stated: "Besides providing a poor example, these officials are all putting themselves at risk – never mind those back at their offices and families back at their homes. The Western Cape will never flatten the curve with this attitude.
"The photos taken from the newspaper article show several people with their masks half on, noses exposed and no social distancing," Morris explained. "In one of the photos, three officials do not have their masks covering their noses. The analogy may sound strange – but it's the same level of risk by only putting a condom half on to prevent your partner getting half pregnant."
Hornlee resident Aschin Klein agreed with Morris' sentiment, adding that those in leadership positions should set an example. "If they don't wear their masks properly then it is just as easy for someone in the community to turn around say, 'Well if they are not wearing masks properly why should I?'," Klein said. "They need to take responsibility, especially when in public, because masks are part of the mandated guidelines."
He further questioned a photo in which Simmers was pictured posing next to a woman after handing over a certificate. According to KPH reporter Blake Linder, who took the pictures in question, Simmers maintained proper social distancing throughout the visit except for the brief moments during the photo opportunities.
Knysna mayor Elrick van Aswegen was also pictured not wearing his mask properly. Knysna Municipality had not responded to queries by the time of going to print.
Western Cape minister of Human Settlements Tertuis Simmers, Knysna mayor Elrick van Aswegen and Garden Route District mayor Memory Booysen, who was able to correct his mask after it slipped while walking to the RDP house. Photo: Blake Linder
'The mask slipped'
In two of the photos in question, Garden Route District Municipality mayor Memory Booysen can be seen with his nose uncovered. GRDM spokesperson Herman Pieters responded on behalf of Booysen. "The mask slipped at that moment while he was walking and engaging with other delegates at the site. Mayor Booysen did not move it below his nose deliberately," Pieters said. "You are aware that this happens to all of us, right? I have stopped counting how many times a day it happens to me when I am expected to wear one."
Community leader Ralph Stander was also questioned for his improper use of a mask. He and community liaison officer Neil Louw are seen in two pictures without any covering over their faces and masks hanging over their chins, and in others with their noses exposed. "Everyone definitely has a mask.
"The problem is that when it came to talking and hearing, there's a problem, and I know I had to take it off (halfway) to audibly communicate," Stander explained. "I apologise if we didn't do everything right or if we set a bad example."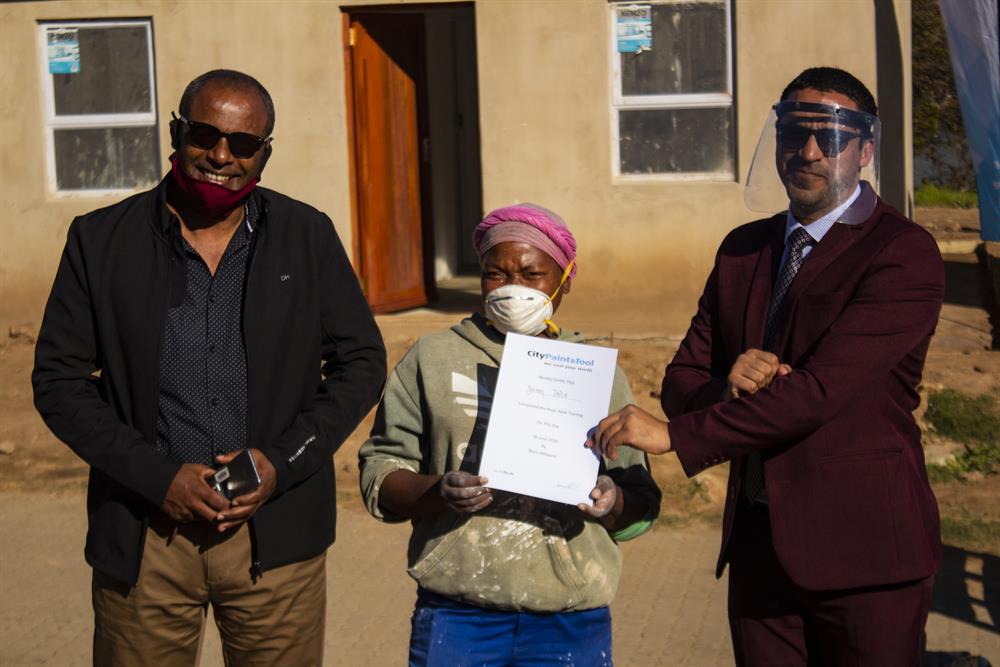 Knysna mayor Elrick van Aswegen and Western Cape minister of human settlements Tertuis Simmers were questioned for not maintaining their distance while handing over a certificate to Doreen Jafta. Photo: Blake Linder
'We bring you the latest Knysna, Garden Route news'