KNYSNA NEWS - More than R60-million has been set aside for the Municipal Energy Resilience (MER) project to assist Knysna in generating its own electricity.
This will not only see Knysna solving its water problems, but the ingenious new project will put it way ahead in terms of electrical supply.
"We have consulted experts and local authorities and have harnessed their knowledge on energy generation over the past two years," said the Technical Director and Forward Planning Department (TD&FPD) spokesperson, Ray Powers.
Recently, Provincial Electricity head Prof Allison Gale announced that Western Cape municipalities will be the first to take advantage of recent announcements by Mineral Resources and Energy Harnessing Minister Jakes Breesy on Independent Power Producers. "Knysna wants to blow the fuse on the Eskom load-shedding and become energy self-reliant," Gale said.
Possible energy generation being considered by the expert panel includes a forest of large wind turbines on the Brenton-on Sea hills (see illustration) which will capture the constant daily breezes along the coast. Winds blowing across the estuary would drive a line of mini-turbines on the old rail bridge (see photo). A tidal barrage with underwater turbines across the eastern and western heads is also considered as a plausible option. This would still allow boats to go to sea as there will be 10m gaps between turbine heads.
"The lower carbon footprint is a critical issue for Knysna, as it is becoming increasingly important in terms of our air and water quality, and a lot of our economic tourism growth is going to rely on energy flows and supply," said Mr Vee Losity, an expert in wind turbine technology who heads up the local expert think tank and who was involved in the establishment of the wind turbine farms in the Jefferies Bay and Humansdorp areas.
Dr Martin Volts noted that, "the recently established group is like a ray of sunshine for Knysna. It is not just looking at wind energy, but also possibilities of tidal-wave energy generation using the daily in- and out-flows of the Knysna Estuary". This happens four times a day and the tidal current is sufficiently strong to drive underwater turbines in a barrage system, as shown in the photograph. It will never stop, unless the moon explodes.
Department deputy head Ms Veronica Wattage said, "The provincial skills development and innovation programme is aligned to the provincial recovery plan and is focused on boasting employment through speedily accelerating skills supply and work placement initiatives."
Knysna will also be asking all property owners to install new foto-fooltake panels on their roofs. An incentive is being considered for those residents who have this completed by 1 April 2022 - one year from now.
Public hearings on the proposed energy generation plans will soon be held. Due to social distancing needs, these will be done virtually, but only if we have power. Else questionnaires with feedback opportunity will be sent out to residents with their next rates bill, which is expected to show a 15% increase to help fund the envisaged projects. "Power to us in Knysna - Viva Power!" said the Residents Non-Payers Association.

Conceptualisation of the wind turbines on the Brenton-on-Sea Hills as viewed across the Knysna Estuary. (Copyright: Prof Allison Gale ©)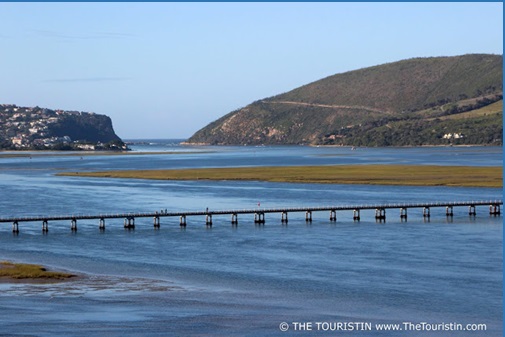 Conceptualisation of the mini-wind turbine line on the old rail bridge to capture daily estuary breezes. (Copyright: Prof Allison Gale ©)
Happy April Fool's Day to all KPH readers – and Ritchie Morris.
Any similarity to real people and events is purely coincidental.
'We bring you the latest Knysna, Garden Route news'