KNYSNA NEWS - Empathy for people unable to access nutritious meals daily has motivated a group of Knysna women to start the initiative, Growing Upwards, whereby they help establish food gardens for those in need.
Each member has a specific role to play in the newly established initiative. The fundamentals include steering clear of political agendas and red tape and identifying suitable leaders in the community who can be assisted and trained to establish and sustain a garden as a food source.
Growing Upwards appeals to the wider community for support. Contributors can donate any amount or, alternatively, pay R250 to "Adopt a Box" or R3 000 to "Adopt a Garden".
Donations of items such as fencing, compost, water tanks, plumbing services and general garden equipment are also most welcome.
The team coordinate the building of the grow boxes, transport of compost and boxes, provision of seedlings, training of the garden managers and follow-ups to monitor progress.
The first project, at The Learning Tree Pre-primary School in Khayalethu South, started a few weeks ago and all aspects fell into place within days. The principal, Julie Hoffman, has the "buy-in" from the tots' parents who will help the teachers maintain the garden. So far all aspects of the garden for this school were arranged by Growing Upwards.
Members of the Growing Upwards team are, from left: Susan Torrance, Ady Lor, Zandile Meneses and Lara Barnard. Absent: Lizelle Genade and Sam Bruce.
Knysna Timber Homes built 10 grow boxes for the Learning Tree, and a large amount of quality compost was donated and transported to the site by Graeme Barnhoorn of Sassenheim Estate and Mike Wishart and Pete Leach of Forest Fresh Mushrooms. Gregory Barnes of Entabeni Guest Farm donated cash to buy seedlings and other items.
Peppe Colarossi donated a truckload of pallets for the grow boxes and Mike Bird of T&T Builders donated a 50m roll of wire. Gary Webber of Kramco Steel donated a gate. The project is now almost ready to go and only lacks another 50m of jackal or pig fencing to proceed.
Please contact Zandile Menesis at zandile@karootocoast.comif you are in a position to donate equipment or if you would like to adopt a box or a garden.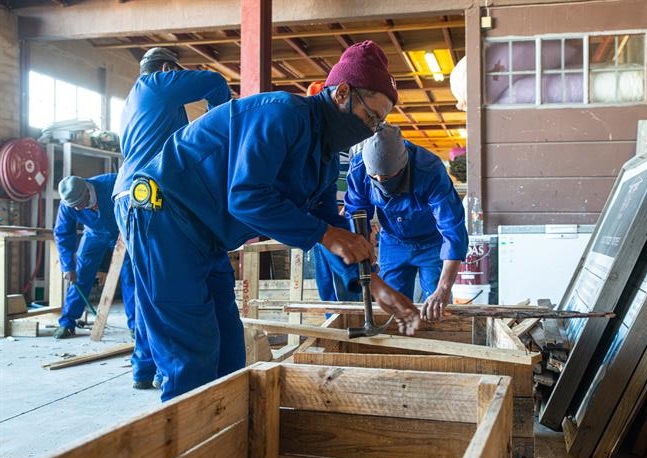 Pat Simmers working on a garden box.
'We bring you the latest Knysna, Garden Route news'