GARDEN ROUTE NEWS - The gruesome murder of Mossel Bay woman Naledi Phangindawo (26) has sent shockwaves across the country and Knysna, sparking outrage, vigils and prayer meetings in honour of the victim and all other women who have suffered because of gender-based violence.
Phangindawo was allegedly attacked with an axe and a knife on Saturday 6 June while attending a cultural function at a residence in KwaNonqaba, Mossel Bay. A suspect, Mlondi Ntlangule (34), has since handed himself over to the police in connection with the murder.
On Tuesday this week, as Phangindawo was laid to rest in her home town, a group of local women gathered near the Masifunde Library in Knysna to pay their respects to Phangindawo and to create awareness around the scourge of women dying at the hands of men.
The group wore black during their candlelight ceremony and held placards asking "Senzenina?" (What have we done?), "Sifelani?" (Why are we dying?) and "Rest in peace, Mamfene", Phangindawo's clan name.
Naledi Phangindawo was murdered in Mossel Bay on 6 June 2020.
"We are tired of how young women are being killed by barbaric men. Today, as Phangindawo's body is buried, we want to send a strong message to men out there that enough is enough," said Nolufefe Mbalo, one of the organisers in Knysna.
Another, Lungiswa Mabondle, said all men should listen. "By doing this we are creating awareness so that every man out there knows that it is wrong to kill, beat or abuse a woman. We are tired of this and we will support each and every victim of gender-based violence. We will march to court in their support and make sure the suspects are not granted bail," she said.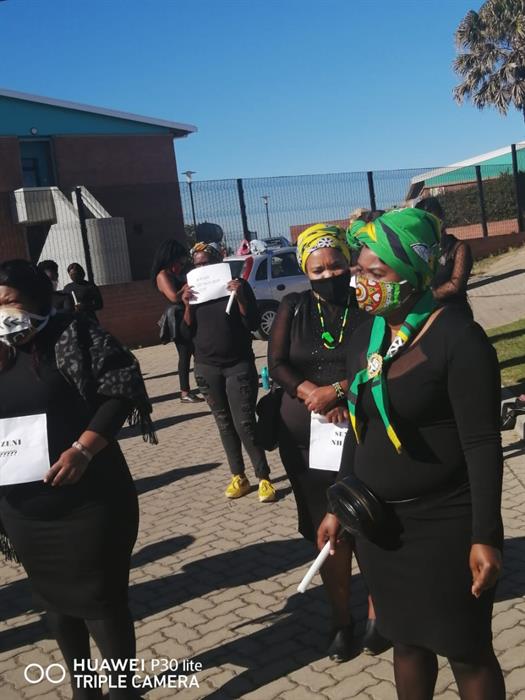 Knysna women stand up against gender-based violence.
The group said they also held a silent protest outside court in Mossel Bay on Thursday last week during the suspect's bail application.
Mabondle said Tuesday's gathering was a success. "I was happy with the attendance. Our main message is, 'no more gender-based violence'."
Lindelwa Ndebongo and Lungiswa Mabondle.
Nomfundo Ndunana and Nolufefe Mbalo ask why violence against women can't be stopped.
'We bring you the latest Knysna, Garden Route news'